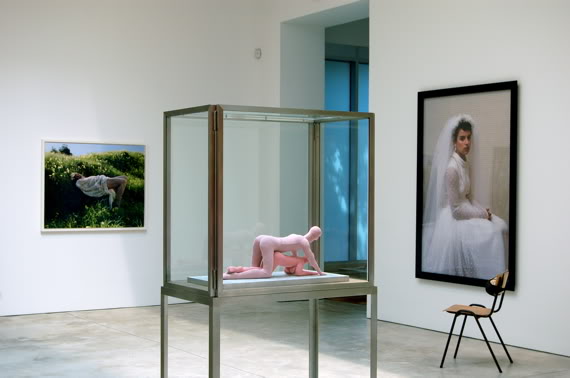 Louise Bourgeois,

Couple

, 2004, in "The Female Gaze" at Cheim & Read, June 25–September 19, 2009. Photo: 16 Miles [more]
The great artist Louise Bourgeois has died.
When I was a docent giving tours at Dia:Beacon, the floor devoted to her sculpture almost always got the most enthusiastic, sustained reactions from visitors. After the rigid, imposing geometry of Heizer, Judd, and Serra, Bourgeois' work, tucked away in a sprawling space above those men, always felt like a revelation: a breath of new (though not necessarily safer) air.
She was the first woman to have a large-scale retrospective at the Museum of Modern Art (in 1982!), the first artist to take over Tate Modern's Turbine Hall, and hosted a salon in Chelsea that became a rite of passage for many New York artists, though there are thousands of reasons to remember her work and life, not least her unflagging belief in and commitment to new art. I wrote a
brief obituary
; here are some wonderful ones: