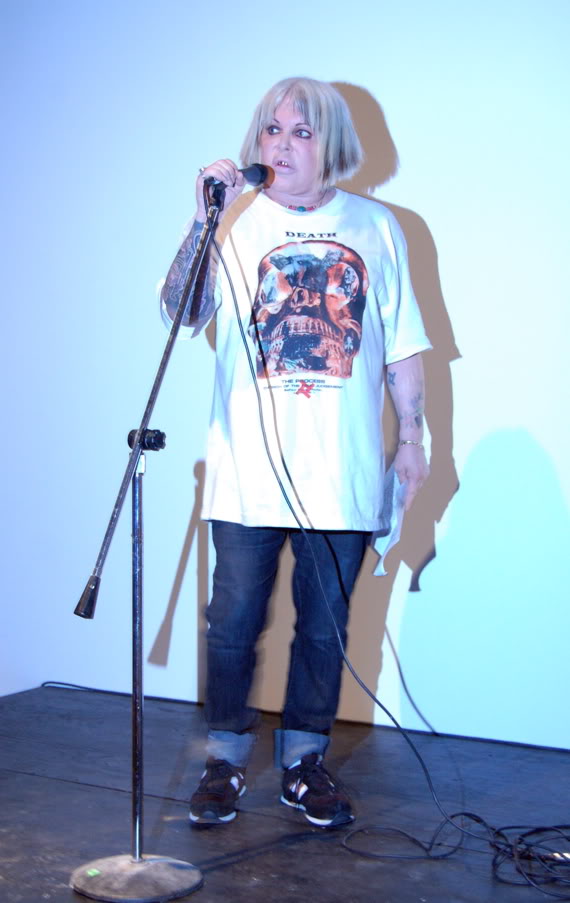 Genesis Breyer P-Orridge performing "Pandrogyny Rant" at Participant, June 20, 2010. Photo: 16 Miles
Genesis Breyer P-Orridge
bounded onto stage at
Participant
on Sunday evening, grabbed hold of the microphone that was awaiting him, and paused, staring out at the large crowd in front of him. That hulking audience — which included the legendary performer and dominatrix
Marti Domination
, star of
Matthew Barney
's
Cremaster I
film — quickly fell silent. One of the core members of industrial giant
Throbbing Gristle
, a collaborator of
Williams S. Burroughs
and
Ray Johnson
, was about to perform. What did P-Orridge have planned?
P-Orridge spoke, explaining that he was dedicated his performance, titled "Pandrogy Rant," to Domination, whom his former wife —
Jacqueline Breyer
, who passed away in 2007 of stomach cancer — considered "one of the most fabulous" ladies in New York. Breyer may have "shed her body," he said, but she would want to be here for Domination, who was celebrating a birthday. A throbbing, danceable electro track came on and the man/woman/they (he prefers the plural,
since he believes that his wife still lives on within him
) was/were off and running, with the voice of Jacqueline Breyer echoing through the speakers.
"This is the final war," P-Orridge sneered. "This! Is the final war!" The crowd dance, as he called for an end to division between genders, fully providing the "rant and rave on the disintegration of identity, the fading state of arbitrary gender and the urgency of a transcendental cadre of transexuality" had had been promised in the evening's invitation.
For those who missed it,
P-Orridge will be out
at the
Watermill Center
out in Water Mill, New York, on July 23, performing something called "Pandrogyne Rising."