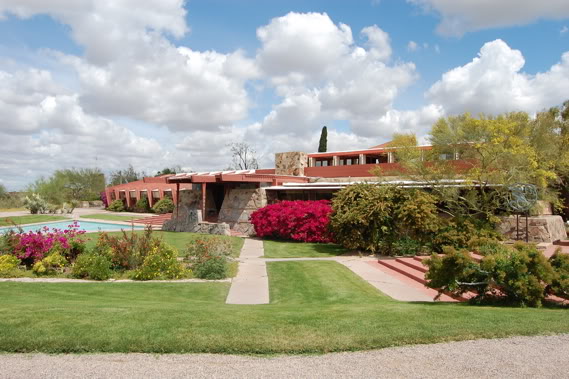 Frank Lloyd Wright, Taliesin West, 1937-1959. Photos: 16 Miles [more]
While in Phoenix recently,
I stopped over at
Taliesin West
, Frank Lloyd Wright's winter estate in Scottsdale, Arizona. (His summer home,
Taliesin
, is located in Spring Green, Wisconsin.) Wright began creating the series of buildings in 1937, with the help of a team of apprentices, and continued adding to it until his death in 1959. (The two Taliesins now host a year-round accredited
architecture school
.) Here are some things that I learned on the very pleasant, rigorously comprehensive tour of the grounds.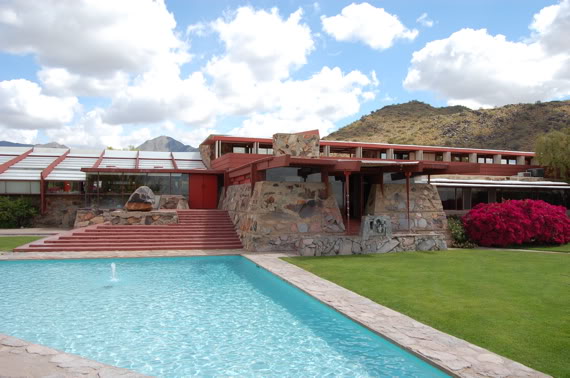 Taliesin suffered from two devastating fires, one set by Wright's servant Julian Carlton, who murdered the architect's lover Mamah Borthwick, her two children, and four other people with an axe as the house burned. (Wright rebuilt it.) At Taliesin West, he built this pond right outside the kitchen area.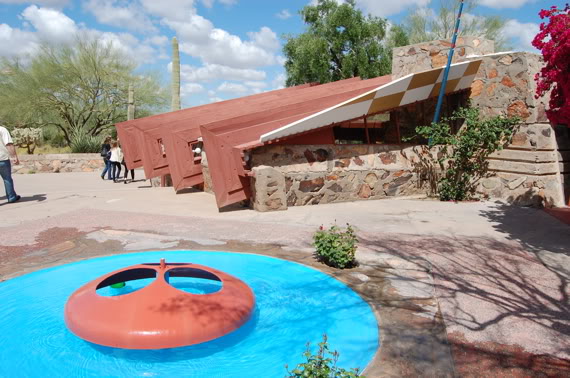 Obsessed with the idea of camping in the desert, Wright originally designed all of the buildings with sporty canvas roofs, which had to be replaced about every other year. Every structure was open to the air; protection from the rare rainstorm was found by tying down canvas sheets. In the 1940s, his third wife, Olga, convinced him to add glass windows to the buildings. (Like Picasso, Wright get a lot of attention for the various ladies that were in his life.)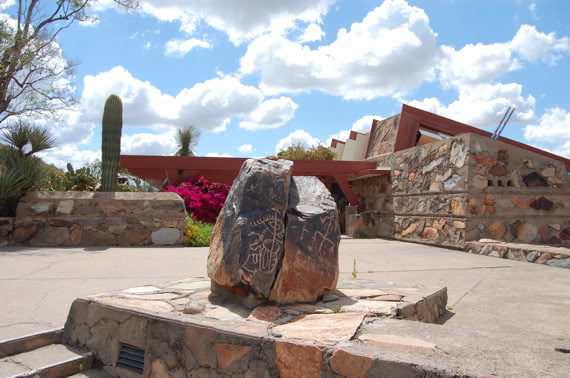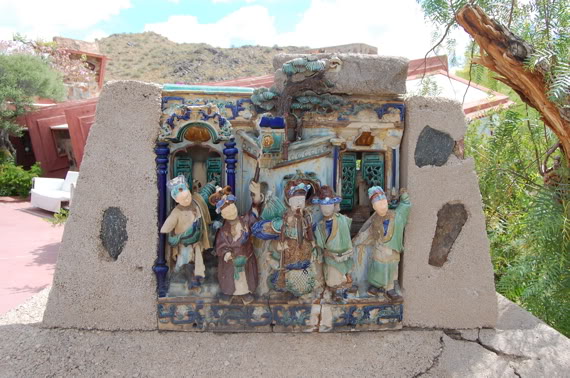 At a West Coast department store, Wright bought up a bunch of boxes of damaged Japanese sculpture scenes, designed to be sold to tourists, and reportedly told a young apprentice to rebuild them as a special assignment. They are installed around the property at transition points between different spaces and buildings.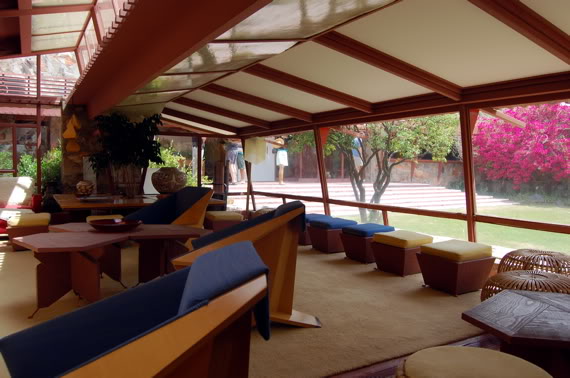 Dig those chairs on the left! They are exhibition copies but rad nonetheless.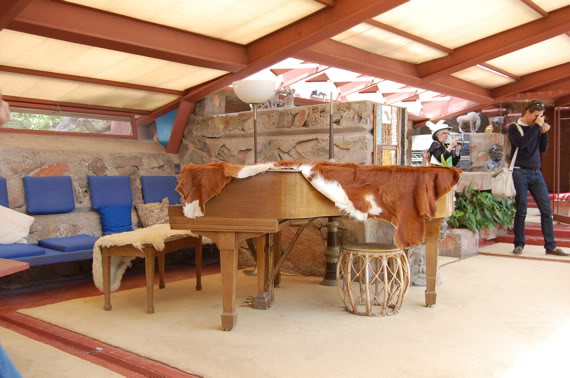 Wright was a solid piano player: the Taliesin West gift shop even has a CD with recordings of him performing for sale. The real highlight here, in the living room/entertaining space is the choice piece of fur draped over the piano.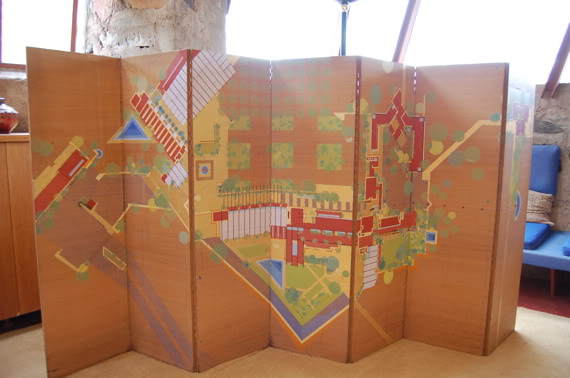 This screen was a gift to Wright from an apprentice and shows an aerial view of the entire grounds of Taliesin. The orchard at the top-center had been planned by Wright but wouldn't be built until after his death.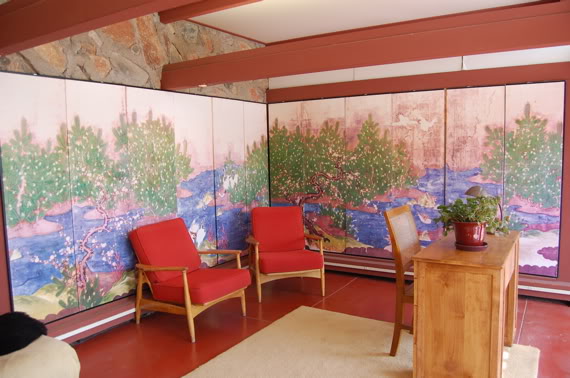 Wright and Olga kept separate sleeping quarters. Pictured above: the architect's bedroom. Not pictured above: the two separate beds he had in the room — one for afternoon naps, the other for overnight sleeping.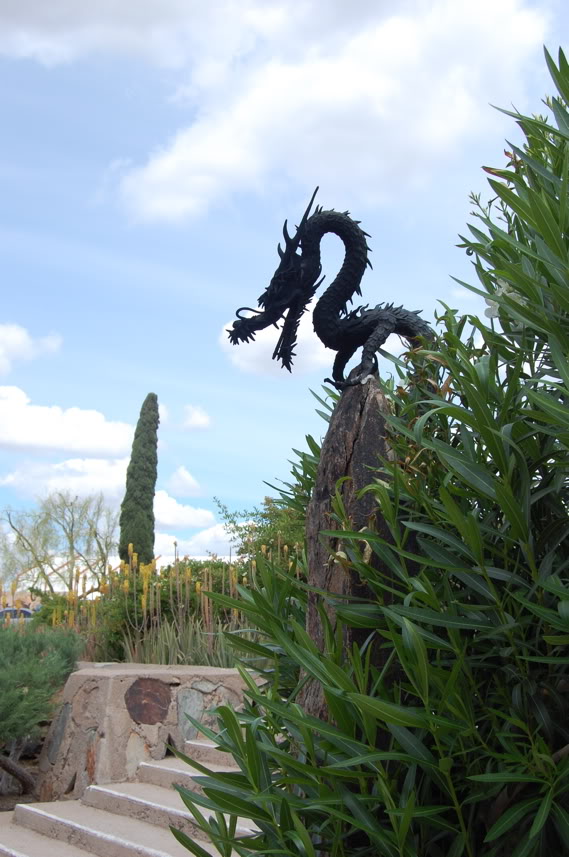 This ferocious black dragon is hooked up to a gas line and spews fire when presented with an open flame. Wright, alas, never had the chance to see it. It was a gift to Olga after his death.