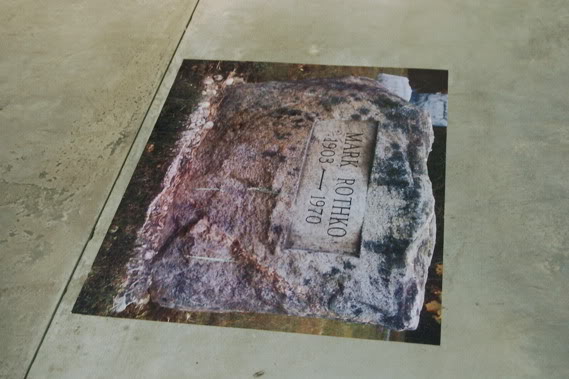 Rob Pruitt,

Mark Rothko

, 2008, in "The Living and the Dead," at Gavin Brown's enterprise, July 1 through August 7, 2009. Photo: 16 Miles [more]
When one of the chief criticisms levied against an artist is that his success is a result of relentless, soulless networking, it's somewhat refreshing to see him unashamedly create a book reviewing his entire career that is comprised almost entirely of quotations culled from influential friends, acquaintances, hangers–on, and famous names. And that appears to be what Rob Pruitt has done for his new book,
Pop Touched Me
.
The quality of these testimonies vary from the pleasantly kind (Jeff Koons: "I've always loved Rob's work.") to the somewhat lackluster (Sofia Coppola: "I like his pandas, and he seems like a cool guy."), but it amounts to a fairly comprehensive history of the last two decades of a certain group of artists working in New York. Jerry Saltz and Jeffrey Deitch present some of the book's more entertaining moments:
The last time I ever did cocaine was when Rob laid his fifty-foot long line of coke on mirrors on the floor of that loft on 14th street.
– Jerry Saltz
The most arresting memory that I retain from the most historic downtown art event of the early 1990s, the opening of Jeff Koons's "Made in Heaven," is not of Jeff, but of Rob Pruitt and his partner, Jack Early. Jeff's old friend Andy Moses had hosted a party at his Broome Street loft after the public opening at the Sonnabend Gallery. I was standing in the kitchen area, talking with some friends, when I was halted in mid-sentence by an astonishing image. Rob and Jack were moving toward us, propping up Anthony Haden-Guest, holding his penis as they gingerly guided him toward an open garbage pail. With a courtly gesture, which reminded me of the way a gentleman would help a lady with her coat, Rob directed Haden-Guest's penis into the center of the garbage can and held it there as the famous journalist relieved himself.
– Jeffrey Deitch, "The Story of Rob Pruitt"