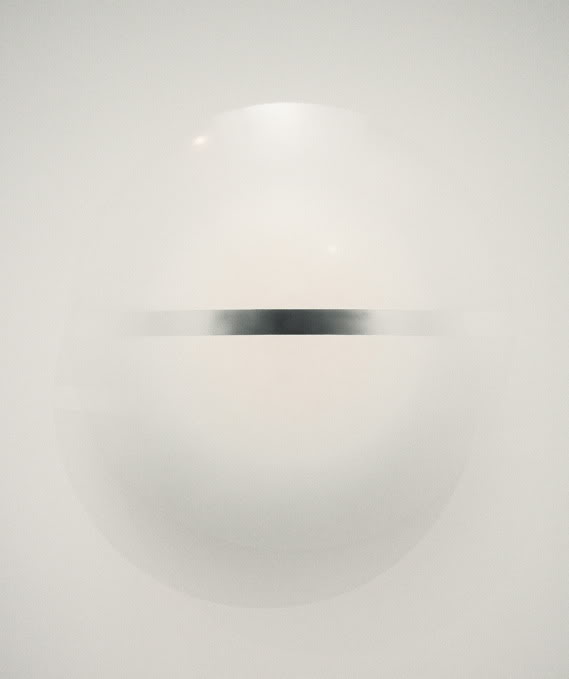 Robert Irwin,

Untitled

, 1969.
Acrylic lacquer on formed acrylic plastic, 53 in. diameter. Photos: 16 Miles [more]
The Hirshhorn Museum's acquisition and display
of
works from the collection of Count Giuseppe Panza di Biumo
was one of the better ideas a museum has had in recent years, picking up a
disc
,
dot painting
, and
column
from Robert Irwin, a radiant
light environment
from the painfully underrated Doug Wheeler, and some nice, early On Kawara date paintings, among other choice pieces.
It didn't seem likely we'd see that cross-section of 1960s and '70s art again any time soon, but David Zwirner, continuing his ongoing campaign in minimalism, has unveiled "Primary Atmospheres: Works from California 1960-1970," which could almost be viewed as a sequel to the Hirshhorn's show. Irwin, Wheeler, and Bell are back, complemented by a handy mix of West Coast greats, many of whom will be familiar to viewers of the remarkable
Cool School
.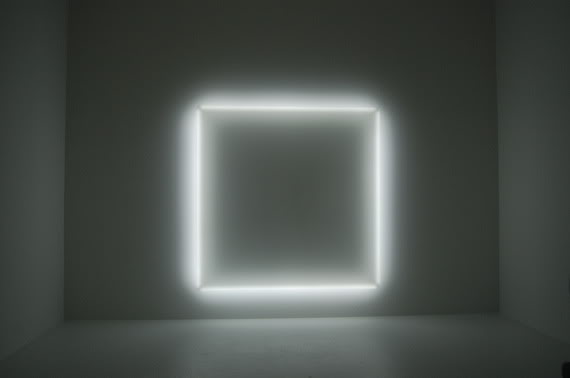 Doug Wheeler,

Untitled

, 1969.

Acrylic, neon tubing, and wood, 91 1/2 x 91 1/2 x 7 1/2 in.
Irwin gets a well-deserved room with — you guessed it — a disc, a column, and a dot painting. Did art ever get purer than this? (Question: How does it look without knowing about Irwin's unceasing experiments detailed in
Seeing Is Forgetting the Name of the Thing One Sees
?) Savor those three Craig Kauffmans along one wall — the largest, most alluring cough lozenges ever made. But don't forget to thank collector
Beth Rudin DeWoody
, who lent one to the show, and certainly don't miss the
strange, plastic Kauffman
slung over a steel cord fastened from the ceiling.
Other delights include two fine, fine Turrells, a handful of Larry Bells, and two John McCracken planks from 1967: one red, the other light, hazy pink. McCracken's titled the latter "Think Pink," which is a charming command that doubles as a welcome reminder: The history of American minimalism is far weirder and more wonderful than
some
would have us believe.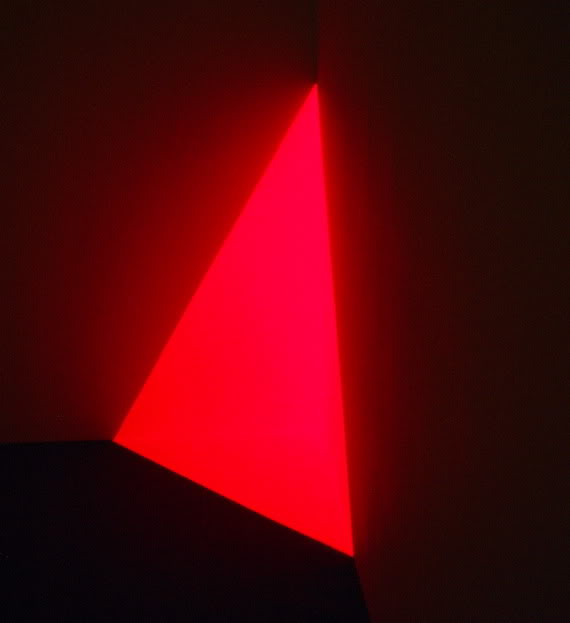 James Turrell,

Gard

, 1968. Light projection, dimensions variable.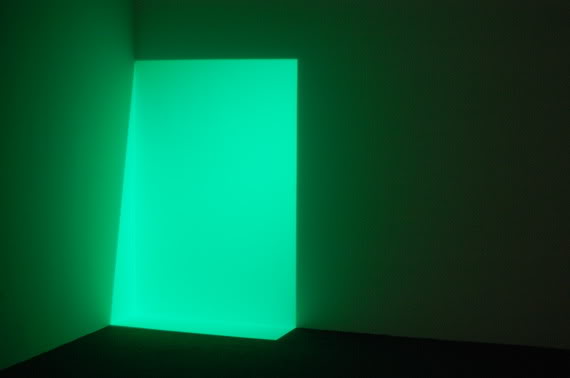 James Turrell,

Juke Green

, 1968. Light projection, dimensions variable.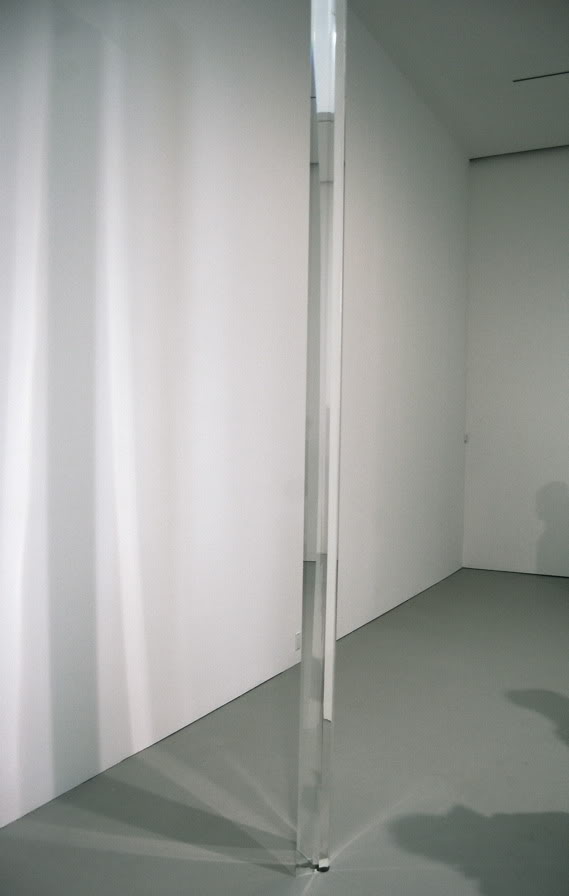 Robert Irwin,

Untitled (Acrylic Column)

, 1970-71. Acrylic,
144 x 9 x 5 1/2 in.

"Primary Atmospheres: Works from California 1960-1970"
David Zwirner Gallery
519, 525, & 533 West 19th Street
New York, New York
Through February 6, 2010