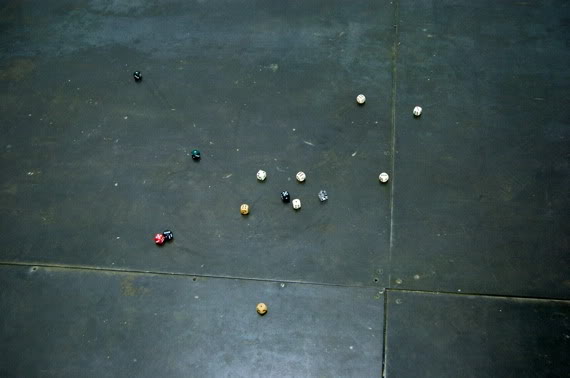 Nina Beier and Marie Lund,

42

, 2008. Fourteen dice thrown by the artists hitting the sum of 42 by chance, dimensions variable, at "A sensed perturbation" at Murray Guy. Photo: 16 Miles [more]
Before venturing forth into the new year (and decade),
here is a quick compilation of lists and articles looking back on art in the year 2009:
Anaba (Martin Bromirski), "Favorites (and Worst of) '09" — Massive list of favorites from around town with comprehensive DIY-space coverage.
Another Bouncing Ball (Regina Hackett), "Top 11 Exhibits in Seattle and One in Tacoma" — #1: "Target Practice: Painting Under Attack, 1949-79" at the Seattle Art Museum.

Art21, "Top 10 Entertainers Who Moonlight as Artists" — Stallone, Beyonce, M.I.A., and #1: James Franco.

Art Fag City, "The Best of the Web 2009" — Jen Bekman, Tom Moody, Felix Salmon, and other share their favorite Internet link of the year.
Artinfo, "2009 in Review: Gallery Exhibitions" — Caragh Thuring, William Pope.L, Lisa Kirk, "Venice. 3 Visions in Glass," Tauba Auerbach, and more.

Artnet, "Top 10 Stories of 2009" — #1: M.F. Husain Banned from India Art Summit

Vince Aletti, "10 Great Photographs" — Works from Ryan McGinley's "Go Forth" campaign for Levi's, which "stand out in an environment that's over-polished and over-calculated."
C-Monster, "The 420 List" — The people from 2009 "we most want to eat pink cake with." On Maurizio Cattelan: "How do you say whoa in Italian?"
Holland Cotter, "Times Are Tough? Bring on Vermeer and the Pianos" — "Thanks to X Initiative, a smart, temporary exhibition project housed in Dia's former Chelsea premises, we got a trippy soak in the early Super 8 films of Derek Jarman (1942-94) and a taser-hit of films by the 40-something Polish artist Artur Zmijewski."
The Daily Beast, "Best Art Books of 2009" — Beautiful, glorious photographs.
Tyler Green (Modern Art Notes), "MAN's 2009 Top 10" — Kandinsky at the Guggenheim, Anne Truitt at the Hirshhorn, the under-appreciated Joan Miro show at MoMA, and Sol LeWitt at MASS MoCA: "Institutional commitment(s) defined."
Heart as Arena, "2009 Top 10" — The Mattress Factory's reinstall of Greer Lankton's It's all about ME, Not You (1996) in all 10 slots.
Christopher Knight, "Top 10 of 2009" — "Kandinsky," "MOCA's First 30 Years," "Two Germanys," and more.

Richard Lacayo, "Top 10 Art Exhibitions" — #1: Francis Bacon: A Centenary Retrospective, "Seventeen years after his death, Bacon's paintings look more and more like the 20th century's most deadly accurate representations of the basic human predicament."
Joanne Mattera, "Miami 2009, The Wrap-up Awards" — Monumental coverage of this year's Miami mayhem.

NEWSgrist (Joy Garnett), "Top 10 Most Scathing Art Review Zingers of 2009" — #1: "If you spend more than twenty minutes with the three-floor extravaganza, you're loitering," from Peter Schjeldahl's Urs Fischer review.
Jerry Saltz, "The Best Art of 2009" — #1: Diego Velázquez, "Portrait of a Man" at the Metropolitan Museum of Art.

Peter Schjeldahl, "The 11 Best Museum Shows" — On the Philadelphia Museum of Art's "Arshile Gorky" show, "If you don't share my passion for the seraphic Armenian-American, we could use couples counseling."
Andrea K. Scott, "Best Non-Museum Art Goings-On of 2009" — On Sara Greenberger Rafferty's "Tears" at Rachel Uffner Gallery: "Who knew that an image of Goldie Hawn, let alone one of a rubber chicken, could emanate a transubstantial mystery worthy of the shroud of Turin?"
16 Miles of String, "Top 10 New York Gallery Shows of 2009"

Roberta Smith, "Cutbacks in Plans but Not in Energy" — "Chelsea was further rocked by the Gladstone Gallery's exhibition of exuberantly grotesque if sometimes sexist drawings by the

Mad

magazine cartoonist Basil Wolverton."
Time Out New York, "Best (and Worst) Art of 2009" — Find out in which category Lisa Yuskavage landed.

Calvin Tomkins, The Best Museum Shows of 2009 — Most unusual inclusion? "Heat Waves in a Swamp: The Paintings of Charles Burchfield" (curated by Robert Gober), at the Hammer Museum.
Judd Tully, "2009 in Review: Auctions" — "What is most amazing in this fast-recovering year is the paucity of contemporary works that earned above ten million dollars at auction."
Two Coats of Paint (Sharon Butler), Top 10 List of Painters — Richard Tuttle, Nicole Eisenmann, Alice Neel, et al.

Edward Winkleman, The Top 10 Art World News Stories of 2009 — #1: The NuMu Controversy.