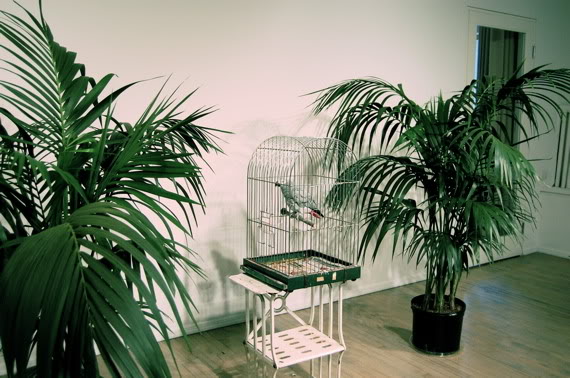 Marcel Broodthaers,

Ne diets pas que je ne l'ai pas dit - Le Perroquet

, 1974. Photos: 16 Miles [more]
Even if you have seen a live
cat
,
mouse
,
coyote
,
maggots
,
flies
, or a
donkey
in an art gallery, it is possible that you have never seen a live bird. (I certainly had not.) Until Wednesday, December 23,
Peter Freeman is showing
Marcel Broodthaer's 1974 commentary on retrospectives, which involves a parrot, a recorded poem, and some nice potted plants. It is called
Ne diets pas que je ne l'ai pas dit - Le Perroquet
, which translates to "Don't Say I Didn't Say So – The Parrot." While it didn't speak during my visit — it was too busy enjoying grapes — it does supposedly talk every once in a while. If you're lucky.