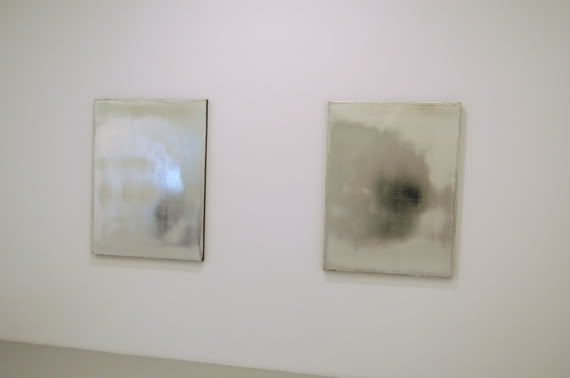 Left: Jacob Kassay,

Untitled

, 2009. Right: Jacob Kassay,

Untitled

, 2009. Photos: 16 Miles
"People are redoing and redoing figurative art," Brice Marden said in the mid-'70s. "Why can't they redo and redo monochromatic art?" Artists have tried over the intervening three decades, though rarely as successfully as Jacob Kassay, the most celebrated name in this three-person show devoted to pleasantly disheveled work.
Kassay primes his canvases, then runs them through a chemical bath, drying the silver paint to a crisp and burning it along the edges. He stops just before their destruction, before Warhol's urine or Stingel's boots might hit the canvas. They are charred, brittle relics: monochromes as survivors — quite a gambit on which to start a career.
Brendan Fowler, meanwhile, takes a framed concert promotion poster and launches it like a lightning bolt through two others. The three posters are intricately interwoven, and glass shards hang on the frames, threatening to drop to the ground. It is a curious act of mediated rage from the young artist/musician.
Strangely, the three-decade veteran, James Hyde, makes the most current-looking work, the show's only misstep. His
OK
(2007) sculpture spells those letters in brown, painted foam. Resting on a series of bricks and strung haphazardly with an electrical cord, it looks self-consciously unmonumental and exhausted.
Rumor has it that Kassay's solo show, at Eleven Rivington earlier this year, sold out. If he has a second act, he could become a lasting presence. Fowler, though, will get to prove his mettle first. His solo show opens Oct. 24 at Rental, a sixth-floor space in Chinatown.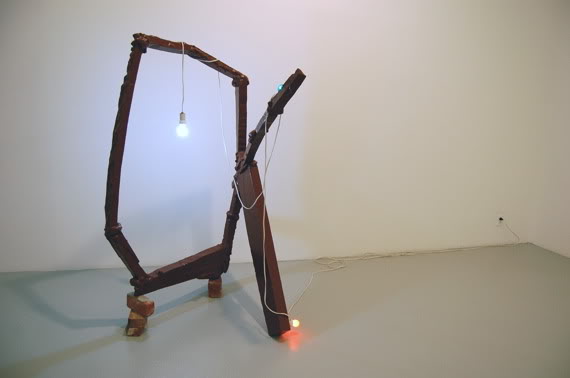 James Hyde,

OK

, 2007.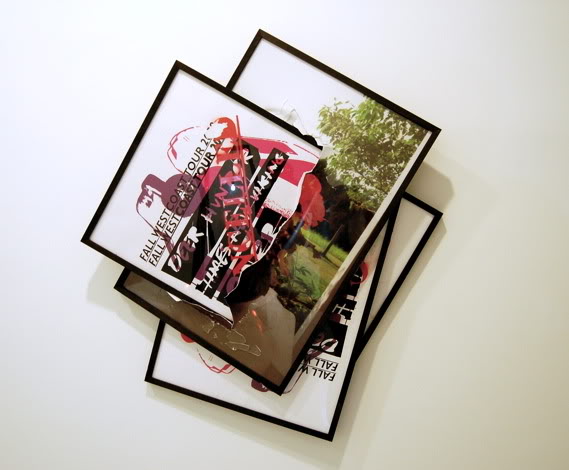 Brendan Fowler,

Fall West Coast 2008 Tour Poster CANCELLED (2 + Flower)

, 2009.
Brendan Fowler, James Hyde, Jacob Kassay
Nicole Klagsbrun
526 West 26th Street
New York, New York
Through October 31, 2009