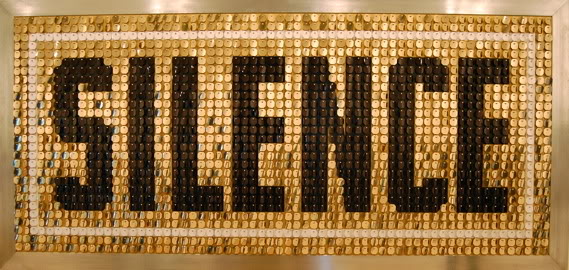 Jack Pierson,
Silence
, 2002.
Photographs: 16 Miles
[more photographs]
James Cohan's front desk employees deserve a reward
for all the cacophony they're sitting through this summer. "Too Many Creeps" by the Bush Tetras is blasting on outdoor speakers, wafting into the gallery as each visitor strolls through the door. Louise Lawler's 1972 audio piece
Birdcalls
, in which she chirps out the names of famous male artists, plays in the foyer. Inside the galleries, there is plenty of other noise. It's all part of
White Noise
, a group show that deftly and maniacally unites works - infamous, classic, new, and old - that explore the meeting points between visual and aural experience.
One of Nick Cave's gorgeous, hilarious performance suits stands in the main gallery, alongside a winding accordion of colorful record covers assembled by Jim Lambie. If I had the money and the entrée, these would be two obvious purchases.
The text of Lawler's piece is emblazoned on the front wall of the gallery's entrance room if you feel like following along as she squeaks out the artists' names. (You may recognize the piece from the napkins at Dia:Beacon's café.)
Classic posters from Pettibon, who designed Black Flag's four-bar logo.
The great pleasure of
White Noise
is its quirky generosity. It's rare to find a show in Chelsea that actually seems to want you there. There's a listening station, where you can listen to Rodney Graham Band's collaboration with
Japanther
, Reena Spaulings
White Light / White Heat
project, and a new Lydia Lunch record, among other treats. There's a bizarre, relatively early Robert Smithson on display not far Brendan Fowler's memorial to his canceled tour (as
BARR
) with
Deerhunter
: something for everyone.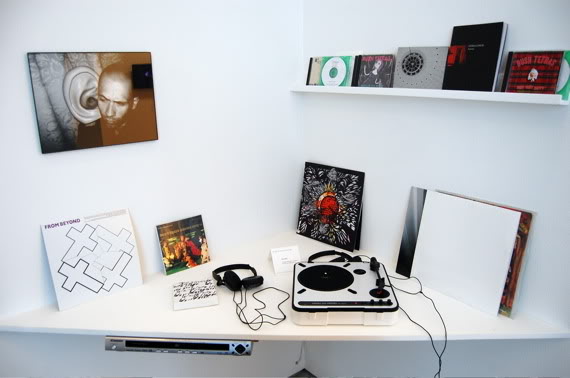 White Noise
[view of listening station] at James Cohan Gallery.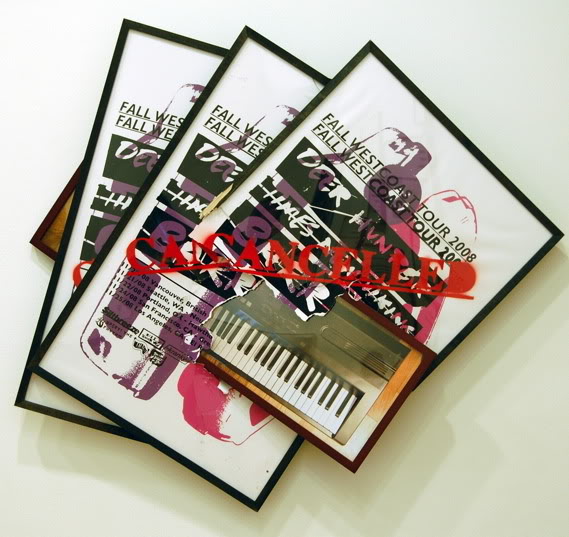 Brendan Fowler,
CANCELLED Fall 2008 Tour Poster (2 1/2 with Keyboard)
, 2009.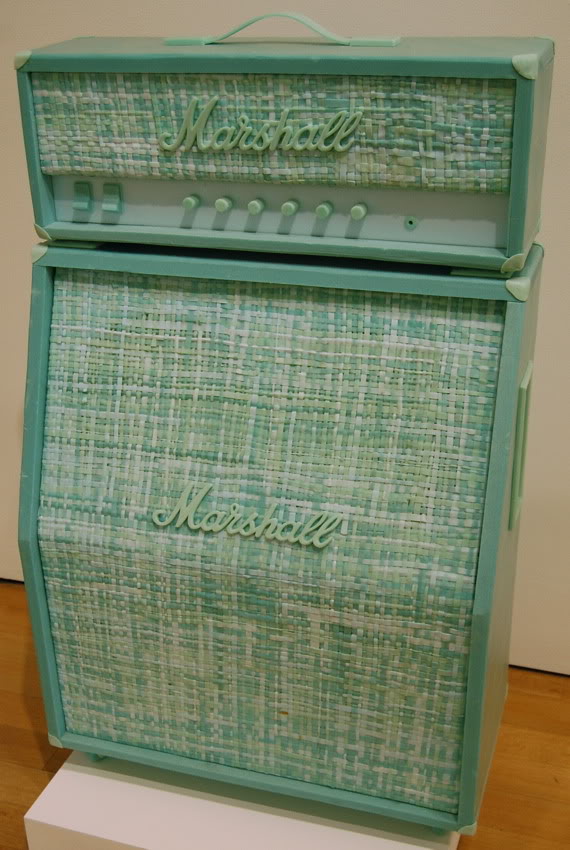 Chris Hanson and Hendrika Sonnenberg,
1/2 Stack
, 2003-2004.
I almost missed the nondescript wooden box on a pedestal in the main room of the gallery. Some kids were tip-toeing to put their ear next to it, so I wandered over and discovered Robert Morris'
Box with the Sound of Its Own Making
! (It consists of a tape loop of exactly what its title describes.) The sculpture has been canonized in textbooks as sort of the
ur
-postminimalist piece, but there it is, sitting right inside James Cohan. John Cage supposedly
sat attentively throughout the entire three hour loop
when he first encountered it. Even if you can't manage that (and I certainly can't), see it (hear it) before it gets shipping off to a private collection or museum. This is easily one of the best shows of the summer.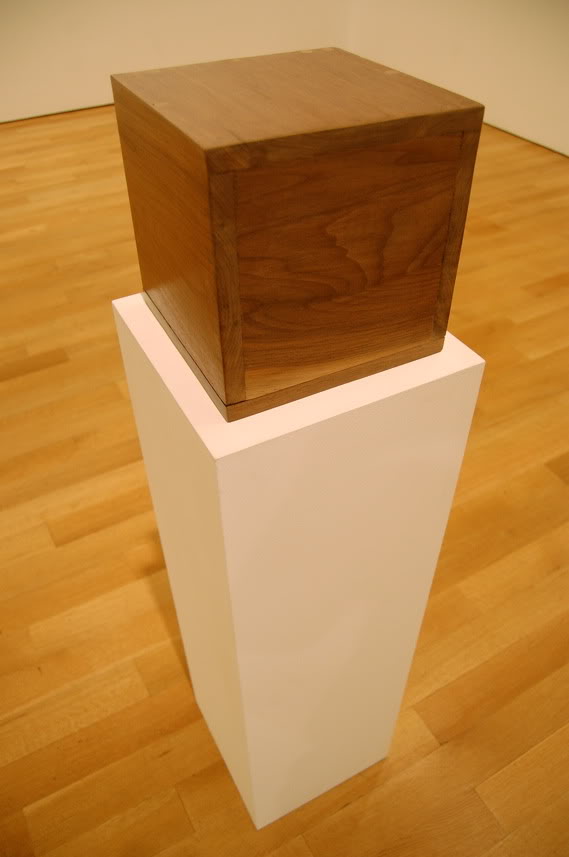 Robert Morris,
Box with the Sound of Its Own Making
, 1961.
White Noise
James Cohan Gallery
533 West 26th Street
New York, New York
Through August 12, 2009
[more photographs]