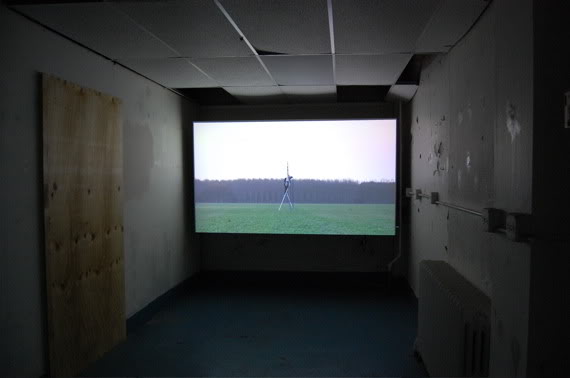 Guido van der Werve,
Number Seven: The clouds are more beautiful from above
, 2006. Photo: 16 Miles
[more]
Part 1
of our

PLOT09

coverage, a series of photographs, is also
available
.
In the press release for their 1978 exhibition Art on the Beach,
Creative Time quoted O. Henry's on Manhattan: "It'll be a great place if they ever finish it." They were showing art on the Battery Park landfill, the center of the island's latest transformation, created with dirt excavated for the building of the World Trade Center. Thirty years later, the organization has organized
PLOT09
on Governors Island
, just four hundred yards away from Battery Park in New York Harbor. A former Army and Coast Guard site, it is everything that Manhattan is not: pastoral, isolated, and historically static.
Curator Mark Beasley invited nineteen artists to contribute work for spaces on the island, and, perhaps not surprisingly, many of their responses attempt to puncture the island's impermeable cultural wall, challenging the bureaucratic structures that underpin much of its past. Teresa Margolles contributes a bullet-ridden wall from her hometown of Culiacán to a quiet field. In a great photo-essay on the show
Carefully Aimed Darts
describes it as "bloodstained post-minimalism," which is a neat summation. Violence, weapons, and death, all absent from this former military complex are brought into view.
Video scores the greatest triumphs and failures. In the former category, Bruce High Quality Foundation's zombie film Isle of the Dead, shot on the island, is hilariously sublime, as is Judi Werthein's
The Land of the Free
, which shows Colombian musicians, who have fled drug violence, singing their own translation of
The Star-Spangled Banner
. Presented inside an old Victorian house a quick hop across the water from Ellis Island, it merits repeat viewings. On the other hand, Adam Chodzko's documentary about an imagined potlatch among children of military families stationed on the island, is a mess of ideas that never quite coheres.
Reviewing
PLOT09
,
Roberta Smith wrote
, "The world has an endless supply of sites, but more and more the specifics look very much the same," arguing that some of weaker entries amounted to "garden variety Conceptualism … a tad obvious or exploitative." This could include Edgar Arceneaux, who channels low-frequency sounds through subwoofers, gently shaking the walls of one of the old mansions. Experiencing it is as exciting as listening to a washing machine run.
Insular Act
, a piece by the collective Tercerunquinto, is at least a bit more curious. The three artists decided to throw a rock through the window of one of old administrative buildings for their contribution, documenting the act in drawings and a video. Happily, they first dutifully received all of the requisite governmental permissions. Institutions once vigorously resisted such institutional critique, as when the
Guggenheim rejected Hans Haacke's 1971 exposé
on its trustees. Now they know it's better simply to play along with the harmless fun. The window was replaced at a cost of $2,500, and the work amounts to a farce on the way in which bureaucratic institutions have come to operate in the service of purportedly radical, often-banal conceptual agendas. One hopes the satire is intentional.
One of the best moments comes from Tue Greenfort's
Project for the New American Century
. To view it, one walks or bikes through Brick Village, a condemned field of tract housing straight out of Dan Graham's
Homes for America
. Rounding the corner of one brick house, in the middle of this manufactured suburbia (slated for demolition to make way for recreation grounds), one encounters the logo for
William Kristol's organization
emblazed across its side, along with a plaque celebrating its cause. It is a perfect tribute to its location and our uncertain time.
The real surprise, though, comes from Patti Smith and her daughter Jesse Smith, who proffer a fifteen-minute recording to listen to while exploring the exhibition. Over a slow, drifting piano accompaniment, Patti Smith recites a panegyric to the beauty of Governors Island, the soldiers and families it held in isolation, and the sacrifices those that passed through the area over the past centuries endured. In a field enamored of dissonance, it is a rare call for a sincere commitment to engaging the island's complex historical legacy. This seems essential. Crowds from across New York are flooding the ferries. Large swaths of buildings will be razed over the next few months. The artist's interventions will be removed and shipped away. Governors Island is finally changing. There are things worth remembering.