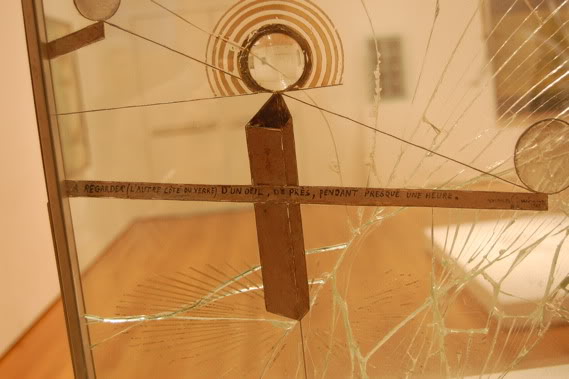 Marcel Duchamp,
To Be Looked at (from the Other Side of the Glass) with One Eye, Close to, for Almost an Hour [detail]
, 1918 at the Museum of Modern Art, New York.
"Why refuse to recognize the possibility that contemporary music has reached a stage long since attained by other forms of activity? The time has passed when the normally well-educated man without special preparation could understand the most advanced work in, for example, mathematics, philosophy, and physics." - Milton Babbitt,
Who Cares if You Listen?
, 1958
"When painting becomes so low that laymen talk about it, it doesn't interest me. Do we dare to talk about mathematics? No! Painting shouldn't become a fashionable thing. And money, money, money comes in and it becomes a Wall Street affair." - Marcel Duchamp,
The New Yorker
, 1957
"I don't believe in the sacred mission of the painter. My attitude toward art is that of an atheist toward religion. I would rather be shot, kill myself, or kill somebody else, than paint again. Anyway, I quit long ago, and took up chess. - Marcel Duchamp,
The New Yorker
, 1942