Superflex,
Burning Car
, 2008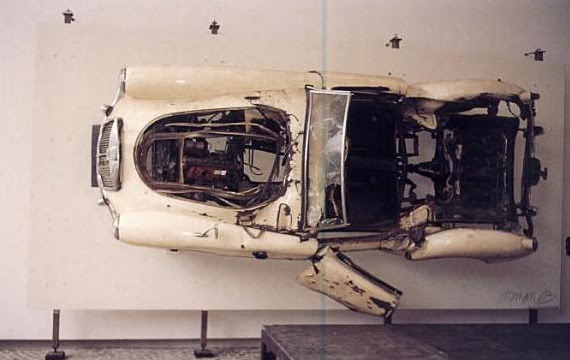 Arman,
White Orchid
, 1963. Photo courtesy of Archives Denyse Durand-Ruel.
Superflex is out with a new video

(thank you,
Rhizome
),
Flooded McDonald's
(
an excerpt
), which very literally enacts its title. The empty architecture recalls Thomas Demand, though this set is meticulously produced. It's an amazingly tranquil piece. In its odd production of calm, it recalls their previous video
Burning Car
(2008) (first fire, now water), which is similarly serene, a slow-motion version of Arman's
White Orchid
, in which he took advertising executive
Charles Wilp
's MG and blew it up with dynamite.
In a
recent interview
, the collective makes the case for the subversive content of the videos: "If you don't challenge the system, then the machine just keeps on running and being happy." At first, the incredible elegance of their videos seems to belie that stance. On the contrary, after watching both a few times, the visual pleasure engendered by slow, violent destruction seems to prove that the opposite is true.