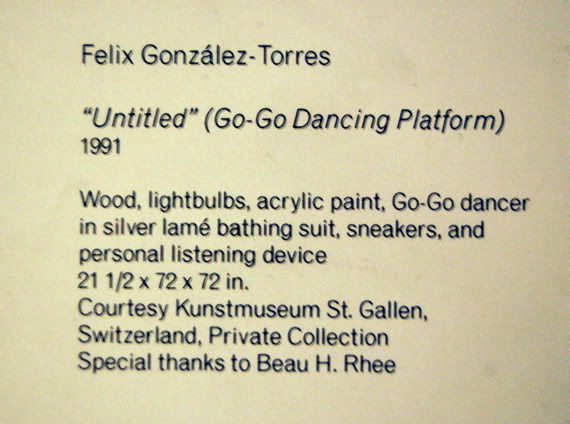 Placard for Félix González-Torres,
"Untitled" (Go-Go Dancing Platform)
, 1991, at P.S.1 in
NeoHooDoo: Art for a Forgotten Faith
.
"Even without the dancer I thought it was really kinky.
Kinky minimalism." -
Robert Nickas
Yes, a go-go dancer clad in a silver lamé bathing suit regularly climbs on top of the sculpture and dances to the quiet hum of his headphones. There are videos available of the fully-assembled piece at
P.S.1
and the
Museum für Moderne Kunst in Frankfurt
, which may be slightly unsafe for more conservative workplaces. It's such a great, bizarre piece; I can't think of anything else that requires a performer separate from the artist and the viewer to function. It's easily also the funniest work I've seen recently, though some of the inclusions in
Funny Not Funny
at Bellwether Gallery (by Wayne White and David Shrigley) come close.
Update (01/12/09):
The Los Angeles
Times
has an extensive article about the work at the Hammer Museum [via
c-monster
]. How many go-go platforms did González-Torres make?