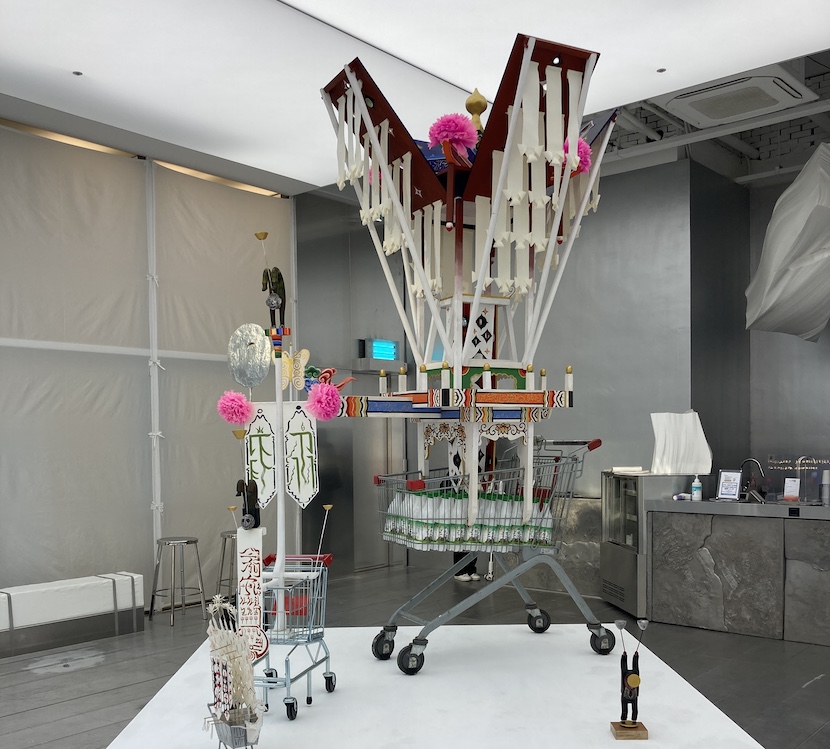 Sangdon Kim's "Monkey Forest," presented at 2021 Gwangju Biennale, on view in a
Saga
–organized show in December at Log in Seoul, where the coffee is served by a skilled robot.
This is a year-end post about where I spent almost the entire year—South Korea—but I just got back from the United States, and I have to say that there were an astonishing number of great exhibitions on view in every city I visited, from the Joan Mitchell blowout at the San Francisco Museum of Modern Art to the Barbara Kruger takeover of the Art Institute of Chicago to Wolfgang Tillmans's characteristically pitch-perfect exhibition at Regan Projects in Los Angeles. New York was looking particularly strong (perhaps the result of artists finally bringing out their big guns now that the pandemic seemed to be subsiding). The highest highs there included Arthur Jafa's AGHDRA tour de force, Nolan Simon at 47 Canal (he keeps getting better, and weirder), Jennifer Packer at the Whitney Museum, Robert Gober at Matthew Marks, Wade Guyton at Reena Spaulings, and the O'Flaherty's enterprise.
In Korea, galleries and museums have largely remained open throughout the pandemic—a blessing for gallery goers—and 2021 saw huge developments on the ground, like the donation of much of Samsung chief
Lee Kun-Hee
's collection to the nation, the return of the fabled, treasure-filled
Leeum
museum after being closed during the pandemic, and the christening of the new
Herzog & de Meuron
–designed
SongEun Art Space
. Before my top 10 of 2021, a few additional favorites:
Junghae Park
's slippery, ultra-alluring paintings at
Whistle
,
Jinu Nam
's squid fantasia at
Outsight
,
Hernan Bas
at
Space K
,
Robert Barry
at
Gallery Shilla
's Seoul branch and
KIAF
booth (which
he closed
),
Michael Dean
at
Barakat
,
Hyungkoo Lee
at
P21
,
Minjung Kim
at
Gallery Hyundai
,
Lee Keun-bae
's inkstone collection at the
Gana Art Center
, "Planitia" at
L.A.D.
,
Chang Ucchin
also at
Hyundai
, and
"Transposition"
at
Art Sonje Center
.
And now, the top 10—and then 2022.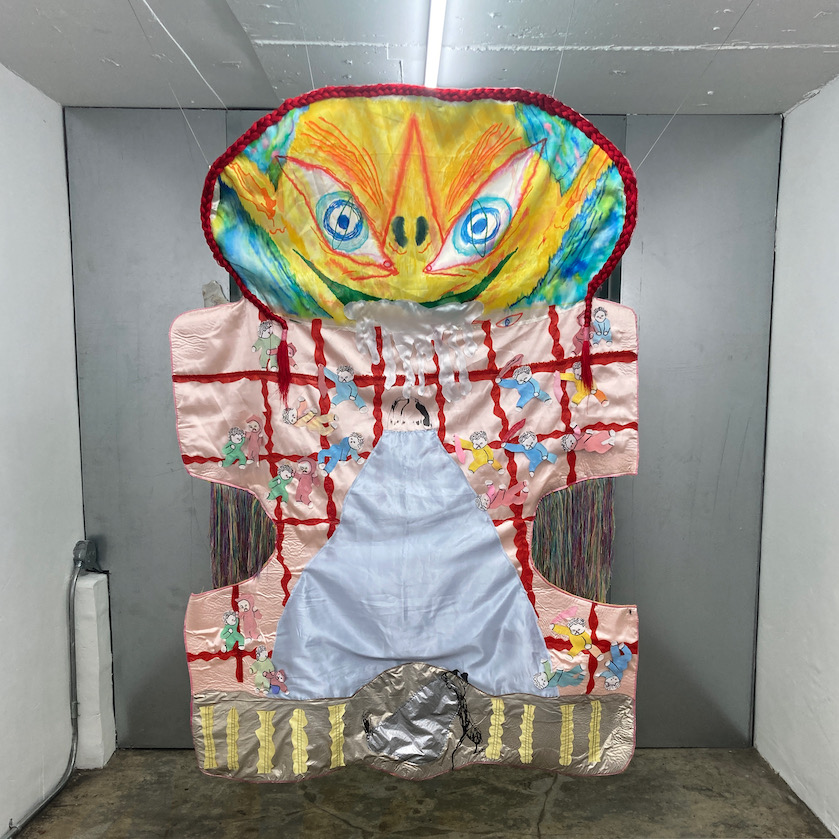 A hanging fabric work by Rondi Park.
10. "Rondi Park: And I Need You More Than I Want You" at White Noise, Seoul
In her thrilling solo effort, Rondi Park managed the rare feat of conjuring a cohesive, satisfying aesthetic world—scrappy, inventive, and joyous—across a wide variety of materials. A fiendish demon-like creature, fashioned from fabric, hung from the ceiling, and tiny constructions, showing people, stars, and a dragonfly, dotted the space. The offhand wit of
Ree Morton
, and the radiant fabric constructions of
Tina Girouard
came to mind. The showstopper was a long, energetically colored painting of a fast-galloping horse being guided by a lone rider—Park, perhaps?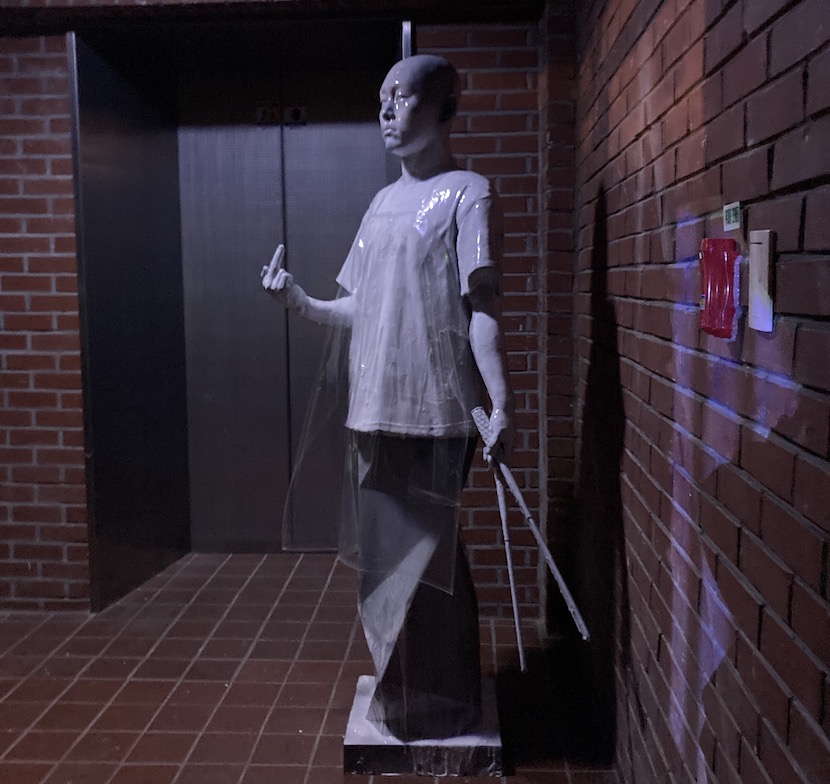 Haneyl Choi,
The Sculptor
, 2021.
9. "The Middle Land: When Time Unfolds into Land" at the ARKO Art Center, Seoul
It can be a pleasure to watch a curator pursue a bizarre curatorial idea—when they execute it well. One example: this unusual smorgasbord of a group show, which its organizer,
Zoe Chun
, described as a "cross-genre play consisting of five acts," inspired by, of all things, the work of the legendary fantasy novelist
J.R.R. Tolkien
. Along narrow corridors, on staircases, and in dimly lit galleries, she positioned irreverent sculptures by
Haneyl Choi
, a deep-cut
Kara Walker
film, a transfixing
Paul Chan
balloon, and more. It was all high drama and mystery—shadowy, in a word—as bewildering as it was satisfying.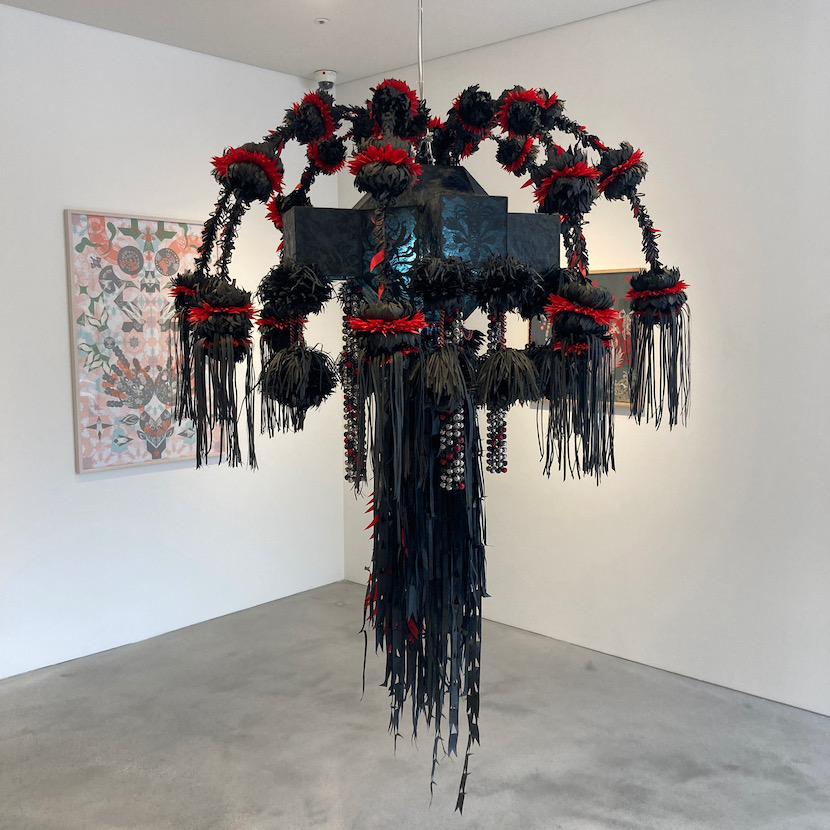 Installation view of "Haegue Yang: Mesmerizing Mesh" at Kukje.
8. "Haegue Yang: Mesmerizing Mesh" at Kukje Gallery, Seoul
Following a
barnburner of a survey
at the nearby Seoul branch of the
National Museum of Modern and Contemporary Art
that closed in February, Haegue Yang staged this intimate display of new paper works, which are informed by Korean shamanistic rituals incorporating that material. It was billed as something less than a full show—just a presentation in one room for a few weeks—but no matter: these intricate works stun, tenderly. Composed of precisely sliced pieces of paper in a limited number of shades, each seems to present a topsy-turvy world populated by ever-evolving abstracted figures.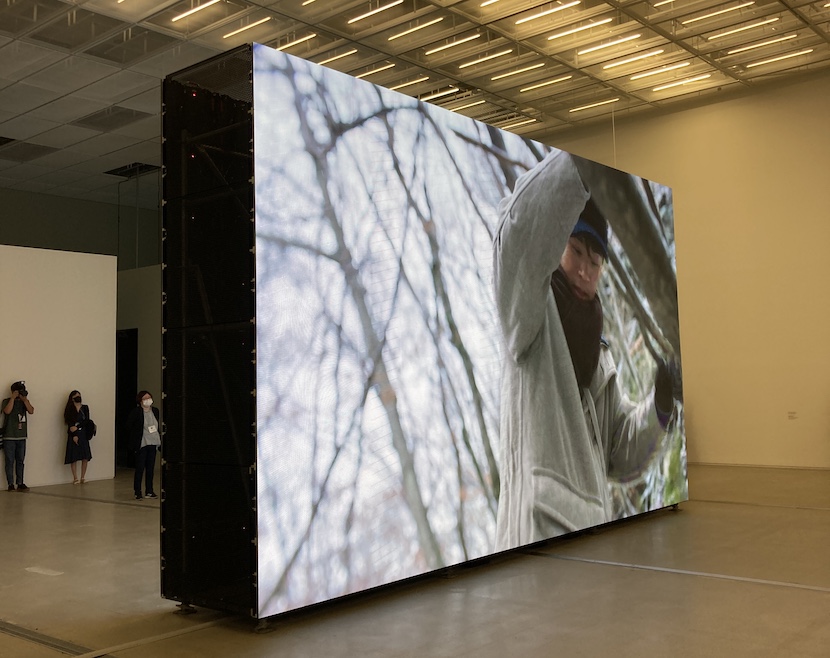 Installation view of "MMCA Hyundai Motor Series 2021: Moon Kyungwon and Jeon Joonho – News from Nowhere, Freedom Village" at the MMCA, Seoul.
7. "Moon Kyungwon and Jeon Joonho: News From Nowhere, Freedom Village" at the National Museum of Modern and Contemporary Art (MMCA), Seoul
Moon Kyungwon and Jeon Joonho conceived this multifarious project before the pandemic, but it nevertheless feels like a key work for grappling with the present era. A quietly sumptuous two-channel video follows two people living in isolation—one in futuristic, hermetically sealed environs, the other in a remote landscape. (Let's not give too much away.) Joined by doctored photos of the DMZ and an expansive painting of a dense forest, the show (running into February) is a master class in using deep research to tell a captivating story about important, universal things like communication, borders, and survival.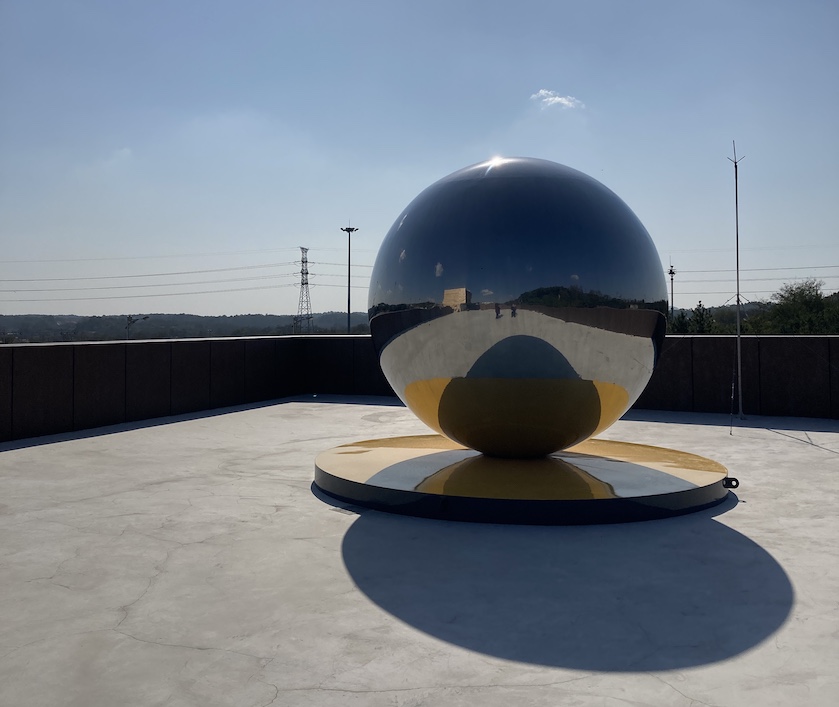 Hyungwoo Lee,
Untitled: Borderless, 2021
, at UniMARU.
6. DMZ Art & Peace Platform at UniMARU, Paju, and Other Venues
Beyond a military checkpoint near the Demilitarized Zone, the architect
Hyunjun Mihn
has transformed a disused building into an airy, light-filled exhibition space,
UniMARU
, which art historian
Yeon Shim Chung
inaugurated for part of her nuanced group show about propaganda, transit, surveillance, and the DMZ itself.
Jae-Eun Choi
showed ceramics with the names of endangering plants that grow in the area, and a winsome 2001
Nam June Paik
sculpture consisted of an elephant attached to a cart piled with televisions and phonographs, apparently ready to embark on a long journey that fences, guard towers, and weapons forestall, for now.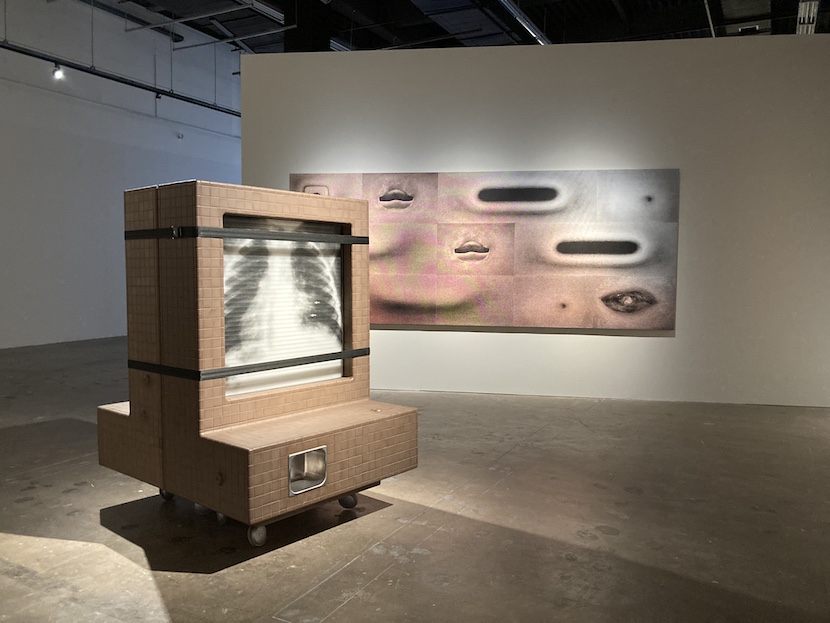 5. The 13th Gwangju Biennale
It is painful to think about how few people got to see this year's many-layered Gwangju Biennale, "Minds Rising Spirits Tuning," which was long-delayed and then opened when South Korea had a 14-day travel quarantine (now 10). Organized by
Defne Ayas
and
Natasha Ginwala
, it intertwined alternative histories and modes of political resistance, via remarkable contributions from
Cecilia Vicuña
,
Sylbee Kim
,
Sangdon Kim
,
Korakrit Arunanondchai
,
Vaginal Davis
, and more. A big-hearted, ambitious show that was also graceful, it delivered diverse visions of life, death, resurrection, and love. (Here's
the New York Times story
I wrote about the show.)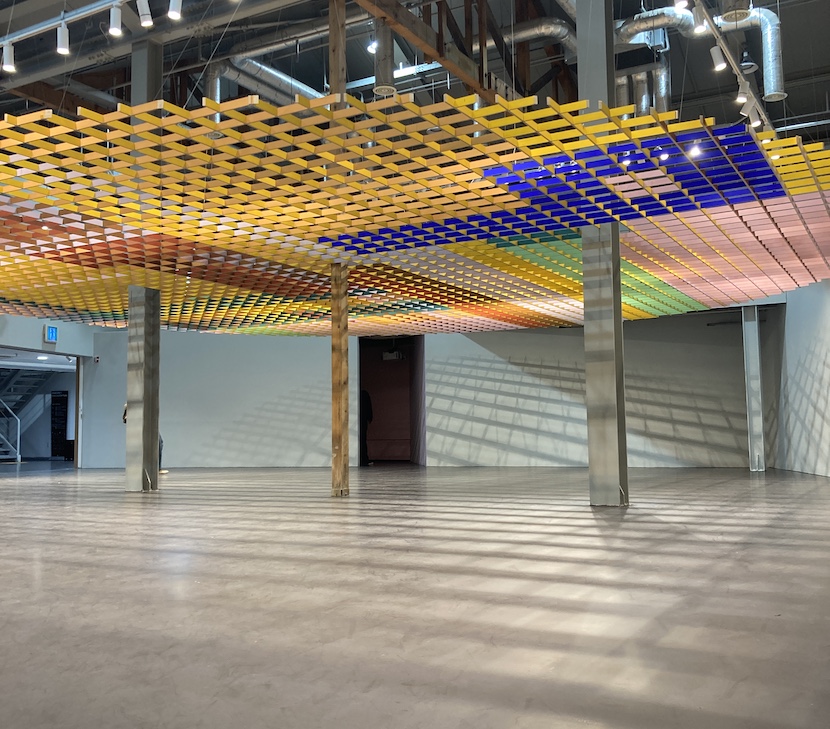 Partial view of Seulgi Lee's
Slow Water
, 2021, at Incheon Art Platform.
4. "Seulgi Lee: Slow Water" at Incheon Art Platform
I will admit that I almost never revisit shows, even when I love them (there are places to be), but I road the subway from Seoul to Incheon three times to see Seulgi Lee's exhibition because the more I read about it and thought about it, the more intriguing it became. Using ultra-minimal means—a huge circle of traditional lattice suspended from the ceiling, textiles printed with grids, a brief song—Lee conjured a time-bending vision of the surrounding city, of its history and its people. It was bewitching. (
A review I wrote
of it is in the January 2022 issue of
Artforum
.)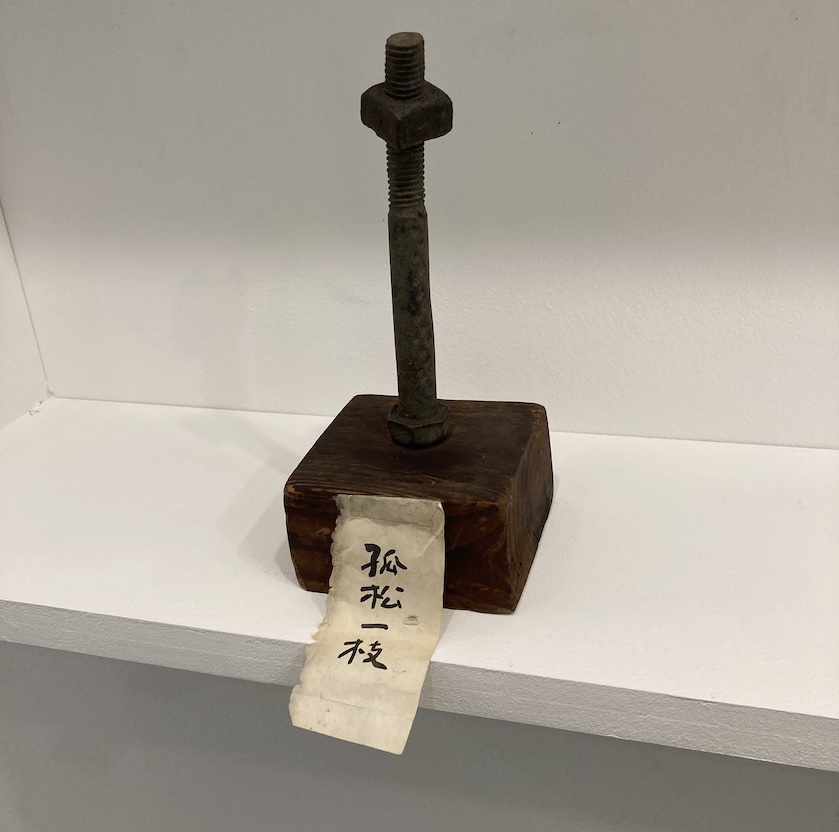 Sung Chankyung,
One Lonely Pine Branch
, 1980, at the Um Museum.
3. Sung Chankyung at Um Museum, Hwaseong
A renowned poet, Sung Chankyung (1930–2013) also made wry, humble sculptures from castoff, recycled materials, as this concise overview demonstrated. In Sung's remarkable hands, a nut and bolt could become a tree, part of a sewing machine a bust, and a few pipe pieces an uproarious cartoon head with its tongue blasting out. An exhibition of Sung's work is on deck at one of the Seoul Museum of Art's locations in 2022, which will provide another welcome opportunity to delight in his charming work. (Here's
a review I wrote
for
Artforum
about the show.)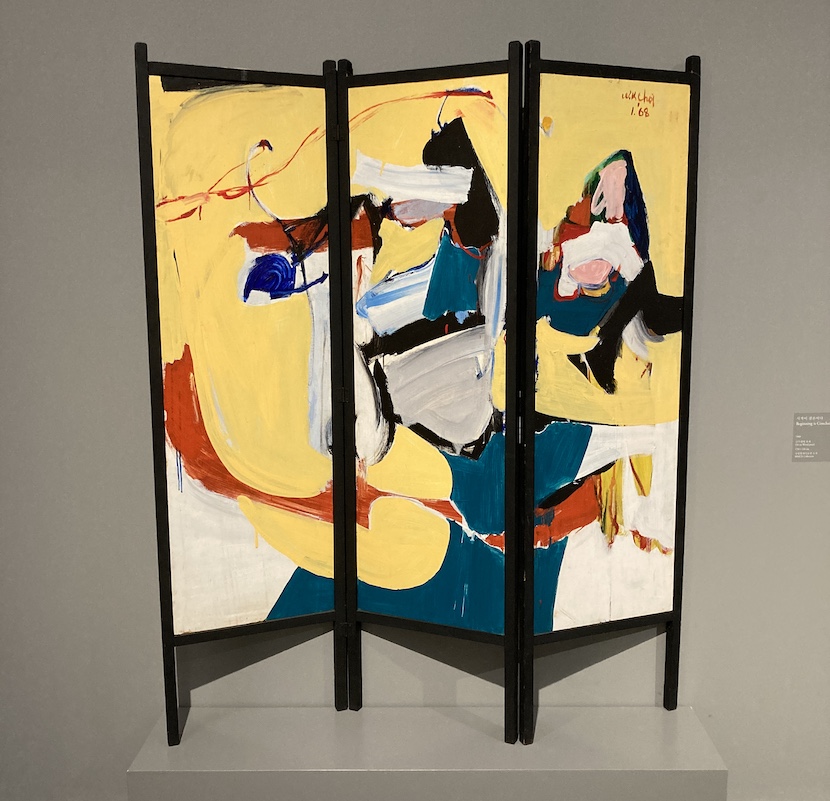 Choi Wookkyung,
Beginning Is Concluding
, 1968, at the MMCA in Gwacheon.
2. "Choi Wookkyung: Alice's Cat" at MMCA, Gwacheon
Once described, quite condescendingly, as "a young lady of small stature who produces the largest paintings in Korea," Choi Wookkyung (1940–85) made painted blazing abstractions that are variously sharp and geometric, frenetic and expressionistic, and otherworldly and lyrical. (Sometimes she snuck in text, too: "CARELESS BITCH" in one memorable work on paper.) This judiciously curated retrospective was a superb guide to her freewheeling, and too-short, career. A surprise came at the end, with a room of enigmatic, outrageous, and charismatic self-portraits that Choi made but did not intend to exhibit. They depict an artist with boatloads of energy and talent to burn.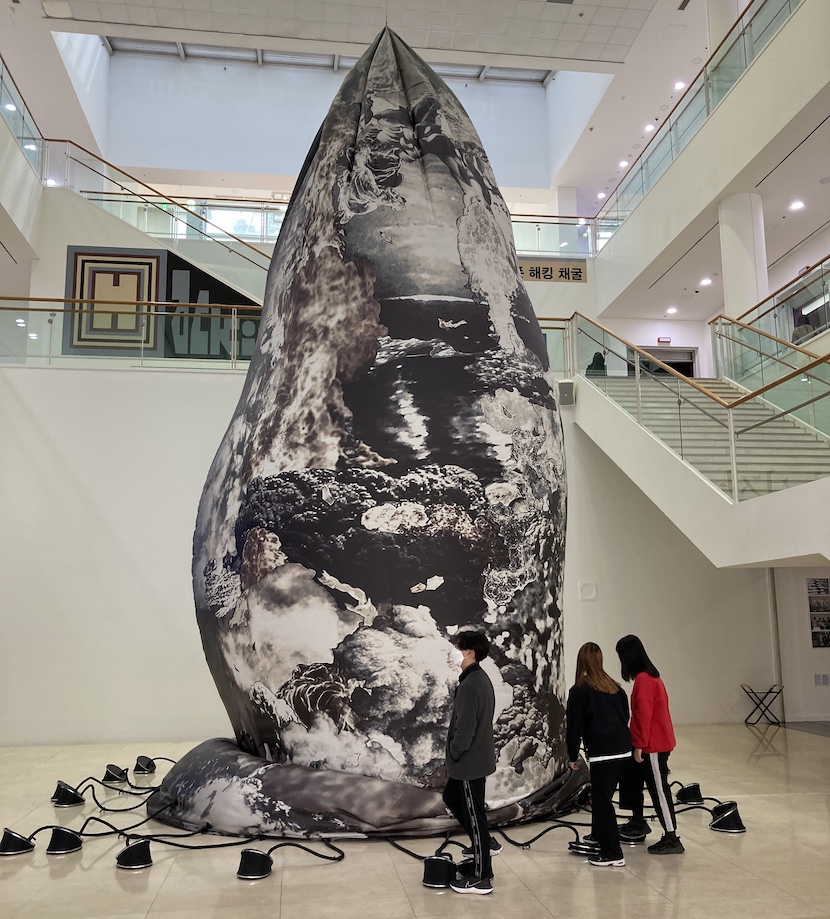 Lee Bul,
Hydra (Monument)
, 1996/2021, at the Seoul Museum of Art's main branch.
1. "Lee Bul: Beginning" at the Seoul Museum of Art
In an ideal world, a building would be found to permanently display documentation of Lee Bul's searing performances from the late 1980s and early '90s, where it could serve as a kind of gold standard against which to measure all other live artworks. Lee was utterly fearless in these years, walking city streets in a grotesque costume and suspending herself naked while discussing her abortion, to name just two of her actions. Through huge video projections and a mountain of photographs, this survey of the period managed to transmit the fleeting but vital activities of an unstoppable artist. (Here's
my Artforum review
of the show.)
See you next year.