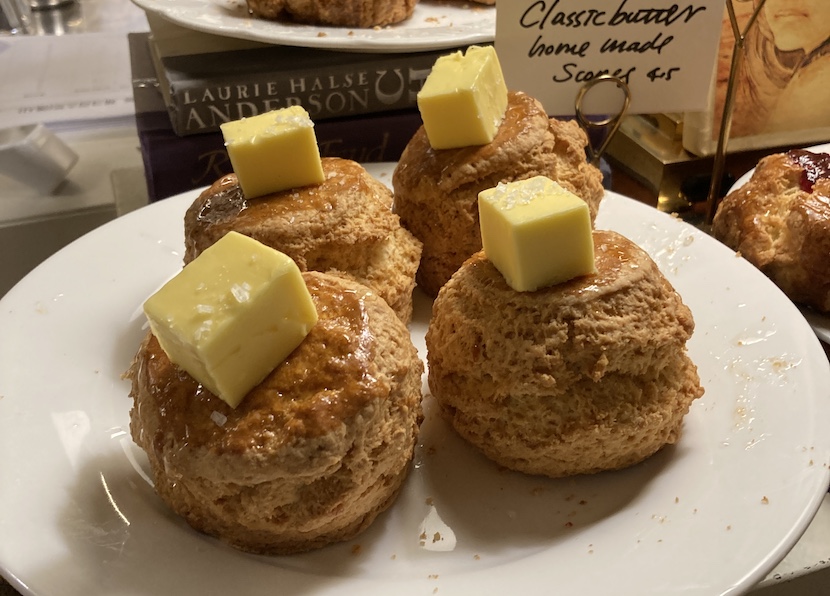 The most butter I have ever seen adorning a baked good—at Layered in Seoul.
No writing activity gives me greater pleasure each year than assembling a top-10 list of art shows as the holidays approach. Combing through notes and cell-phone photos, I'm always bowled over by how much astonishing work is being made—and shown—every single day. However, assembling the list for 2020 has elicited more complicated feelings. Seeing art in person carries a special poignancy now, and organizing exhibitions is a precarious task. This has been a year of incredible loss.
Art looks very different in this atmosphere—when we can see it. "Inaccessible, the works conjure in the imagination a significance that we have taken for granted," critic
Peter Schjeldahl
wrote in April
. On the July day that the last coronavirus patient was discharged from a hospital in Rivoli, Italy,
Carolyn Christov-Bakargiev
, the director of the Castello di Rivoli Museo d'Arte Contemporanea,
tweeted
, "After a ferocious time, there was a cool breeze and the artworks hung proudly in the museum."
On March 12, when the Metropolitan Museum of Art announced it would close in the face of rising virus cases, I was sitting a coffee shop in Brooklyn and mulled grabbing a car to catch the just-opened
Gerhard Richter
survey at the Breuer. No point, I figured. It would be back in a couple weeks. I was very wrong. It never returned, and the Met welcomed back visitors only in late August.
That was a glorious day
.
Despite the long lockdowns, with museums and galleries prudently going dark, there were still enough exhilarating shows to make assembling a top-10 as difficult as ever. My list comes from trips to Los Angeles and Philadelphia before the world changed, gallery strolls in New York when those were possible, and a few trips around South Korea, to which my wife and I moved in October.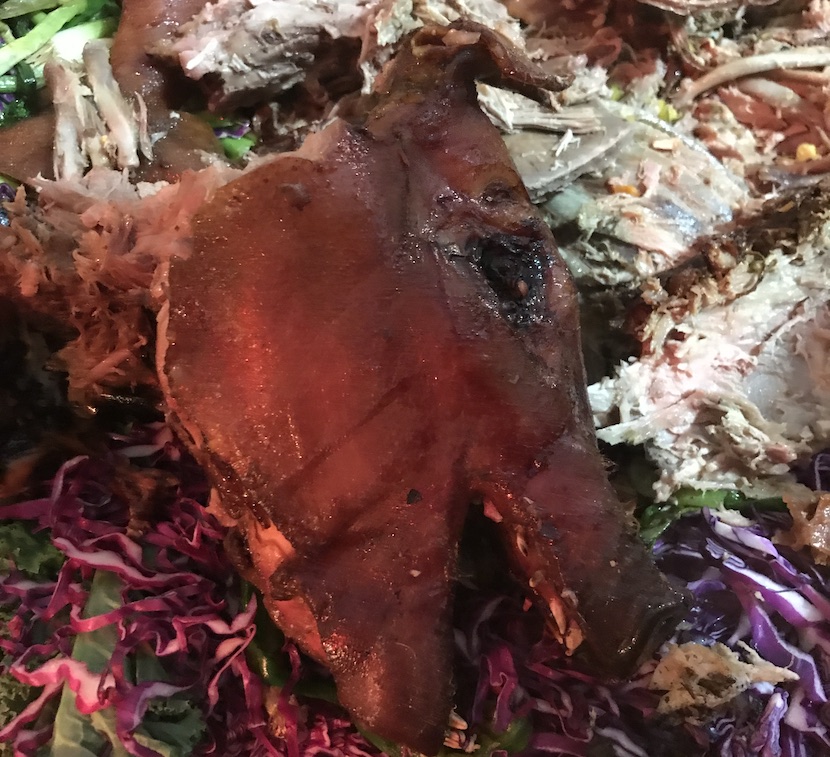 The head of a roasted pig at La Kaje in Brooklyn on Leap Day, as part of G. William Webb's "Leaping" event.
I saw no real, in-person exhibitions between March 6 and July 8, but I did make it to the refurbished LaGuardia Airport in Queens to see
Laura Owens
's
majestic love letter
of a mosaic to New York City. Even if you are not flying anywhere anytime soon, walk over and have a look.
Here is a too-brief string of other great shows not on the top-10:
Paul McMahon
at 321 Gallery,
Jana Euler
at Artists Space,
Ja'Tovia Gary
at Paula Cooper,
Michael Buthe
at Alexander and Bonin,
Jasper Marsalis
at Kristina Kite Gallery,
Thomas Kovachevich
at Callicoon,
Abigail DeVille
in Madison Square Park,
Christopher Wilmarth
at Craig F. Starr,
Parker Ito
at Château Shatto, "New Images of Man" (curated by
Alison M. Gingeras
) at Blum & Poe,
Michael Krebber
at Gaga & Reena Spaulings,
Jacob Fabricius
's
Busan Biennial
,
Sofu Teshigahara
at Nonaka-Hill,
Kathe Burkhart
at Fredericks & Freiser. Before the pandemic set in, on Leap Day, one particularly memorable evening was a bacchanal/one-night art festival at
La Kaje
in Brooklyn, organized by
G. William Webb
, with performances by
Miles Huston
,
Guy Henry
, and more and more. The centerpiece was a roasted pig. It feels like a very long time ago.
And now, a list.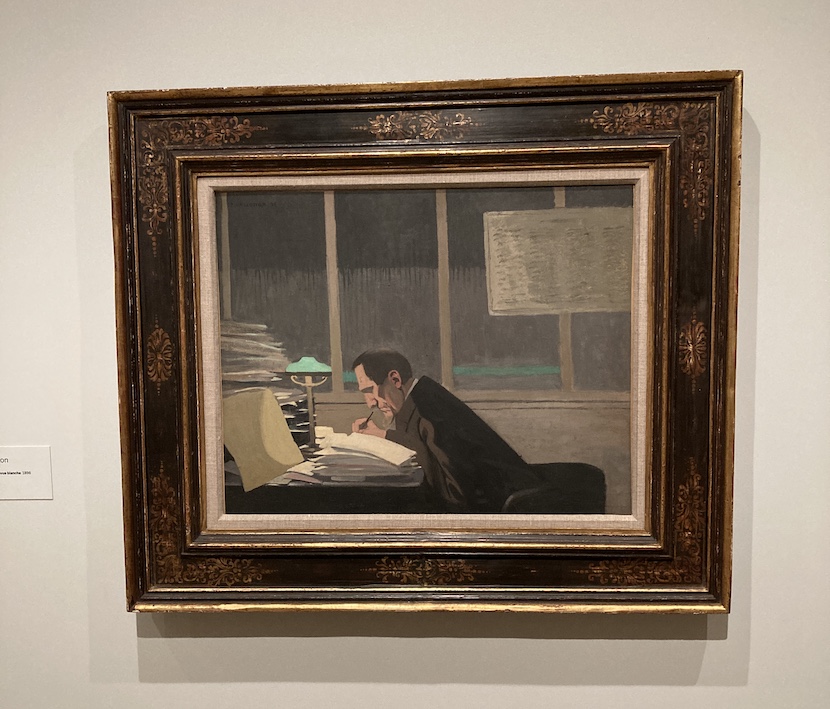 Félix Vallotton, Felix Fénéon at La Revue blanche, 1896, at the Museum of Modern Art.


10. "Félix Fénéon: The Anarchist and the Avant-Garde—From Signac to Matisse and Beyond" at the Museum of Modern Art, New York
There should be more exhibitions about art critics, says I. Of course, Félix Fénéon (1861–1944) was no ordinary art critic. He was a force of nature. His unsigned
"Nouvelles en trois lignes"
alone secure his place in history. Most are mordant, and some are dad jokes (charming in their own way). As this treasure-filled show by
Starr Figura
,
Isabelle Cahn
, and
Philippe Peltier
made abundantly clear, he also had a gimlet eye for talent, boosting key figures like Seurat and Signac. It had me reading every wall label, to learn the owner of certain works and plot how to see them again.
Félix Vallotton
's portrait of a studious Fénéon bent over his desk is, regrettably, in a private collection.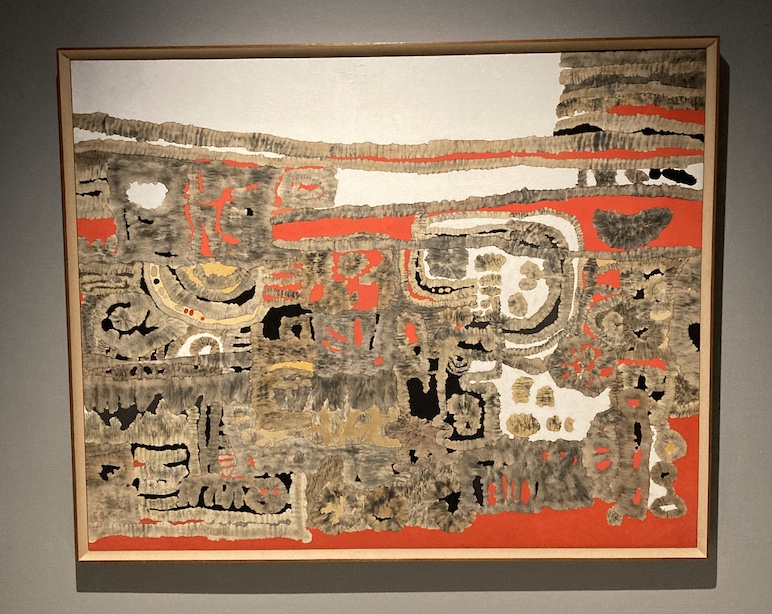 Park Rehyun, Glory, 1966–67, at the National Museum of Modern and Contemporary Art, Seoul.


9. "Park Rehyun: Triple Interpreter" at the National Museum of Modern and Contemporary Art, Seoul
A mind-blowing exhibition. Park began her career making elegant ink-wash paintings of people and street scenes. She ended it making some of the 20th century's most beguiling abstractions—networks of colors that suggest polychromed spider webs or luminous tapestries. She died in 1976, only 56 years old, of cancer. Curator Park Kim Ye-jin's show was not only a fireworks-filled retrospective but also a moving portrait of an artist finding her way while being overshadowed by her artist-husband, Kim Kichang. Park's in the canon now, but her art still needs to reach a far wider audience.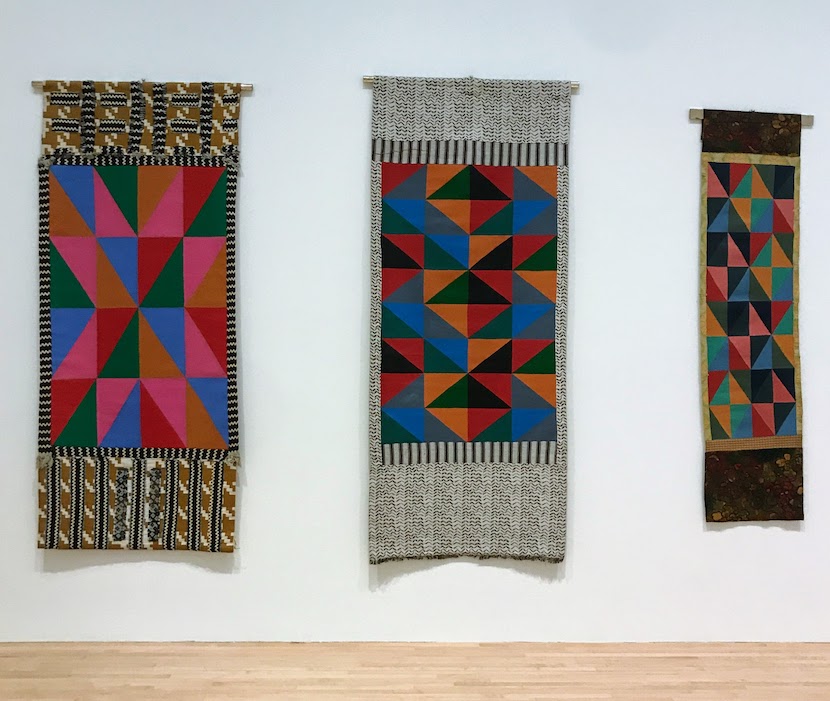 Works by Faith Ringgold in "With Pleasure" at the Museum of Contemporary Art, Los Angeles.
8. "With Pleasure: Pattern and Decoration in American Art 1972–1985" at the Museum of Contemporary Art, Los Angeles
Yes! This is what it (art history, curatorial work, the museum) is all about: taking a too-little-seen art moment and diving in deep. Anna Katz marshaled work by Joyce Kozloff, Faith Ringgold, Robert Kushner, Emma Amos, Billy Al Bengston, Sylvia Sleigh, and a boatload more, making the case that Pattern & Decoration has been wrongly sidelined in many narratives of the 1970s. This is art born of—and imbued with—cosmopolitanism and feminism and activism. It's perfect for right now. It's been perfect for a long time. Some very good news: the show lands at the Hessel Museum of Art in upstate New York next year.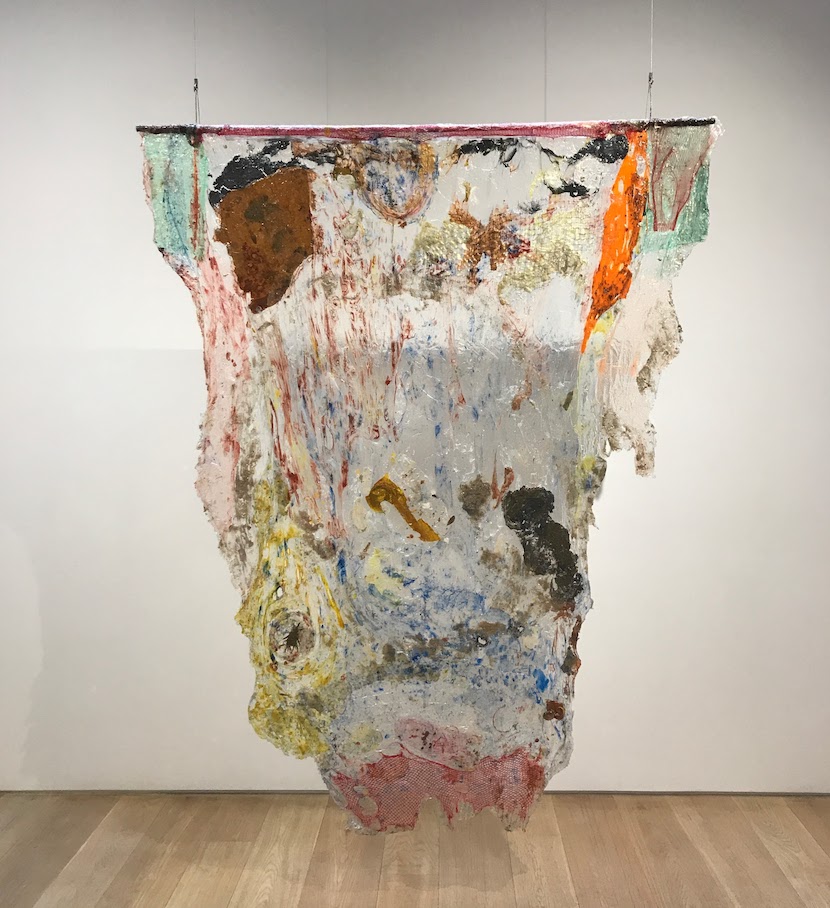 Suzanne Jackson, Light, light into being (2019) at Ortuzar Projects.


7. "Suzanne Jackson: News!" at Ortuzar Projects, New York
Ortuzar has been delivering one revelation after another for a couple years snow, and Suzanne Jackson's solo outing was my favorite of its 2020 offerings. (Admittedly, it opened in 2019, but please let me count it.) Now in her mid-70s, Jackson showed astonishing wall works made with layered acrylic and harboring nets, seeds, and other disparate materials. They are utterly original paintings and also living things, full of stories, joys, and mysteries.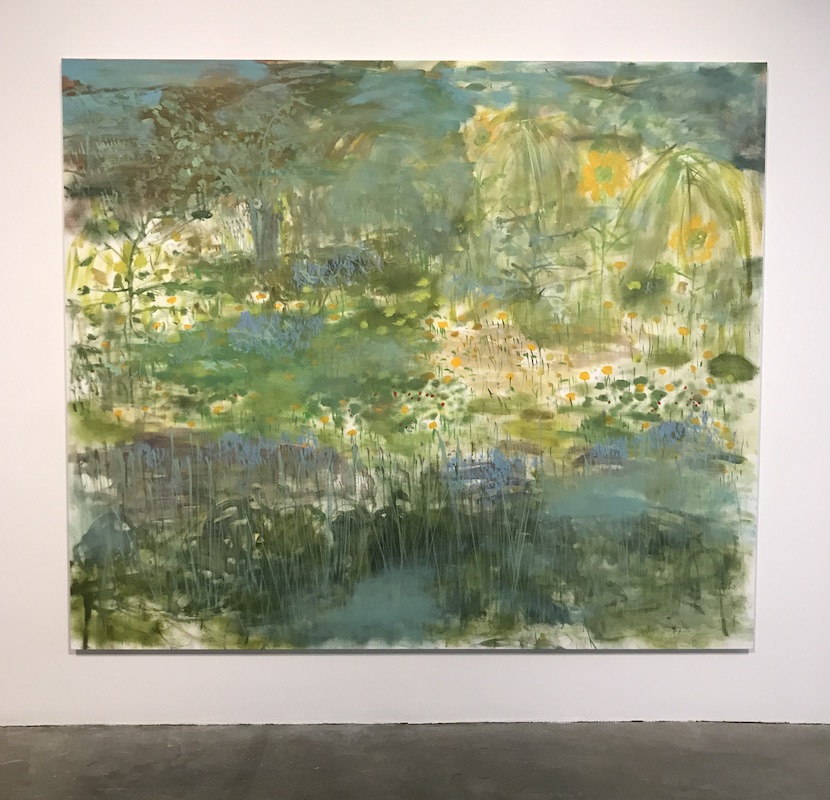 Trevor Shimizu, Garden, 2019, at the Institute of Contemporary Art, Philadelphia.


6. "Trevor Shimizu: Performance Artist" at Institute of Contemporary Art, Philadelphia
Even at Trevor Shimizu's most slapdash moments with his paintbrush, his pictures never feel desolate or unfinished. He aims to please, and he succeeds. ICA Philadelphia's survey, curated by
Alex Klein
, was a taut primer for Shimizu's curveball-filled career, from video to canvas, while his
latest outing at 47 Canal
suggested an intriguing new chapter as a maker of masterful Impressionist scenes. I would bet good money that they would look pretty fresh next to a Mitchell or a Monet. Here's hoping.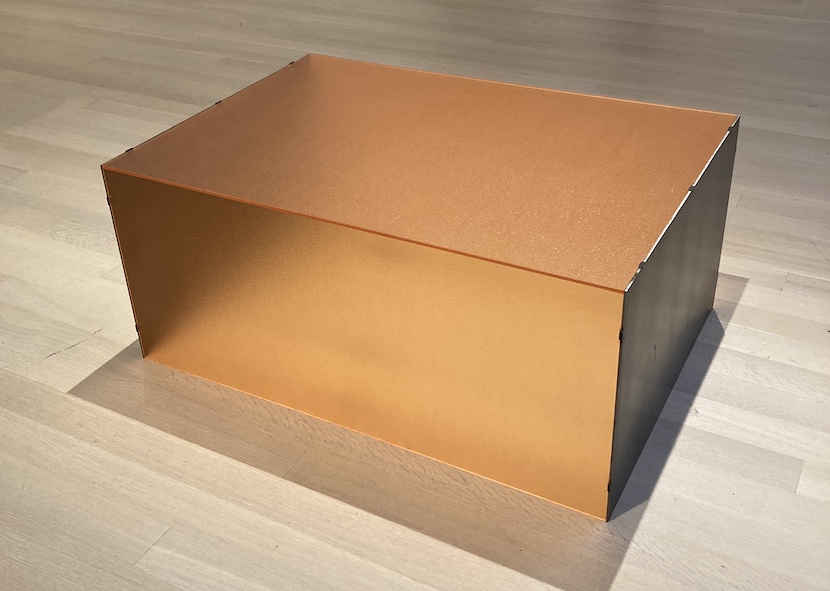 Donald Judd, Untitled, 1964, at the Museum of Modern Art. (Collection Stephen Flavin.)


5. "Judd" at the Museum of Modern Art, New York
I'd happily sign on to view a Donald Judd retrospective that is two or ten times larger, but through ruthless editing that one imagines the artist would have begrudgingly respected,
Ann Temkin
assembled a razor-sharp portrait of his practice that ranks as one of the great MoMA shows of the past 20 years. In an era when Minimalism goes down smooth, it channels the radical tone of Judd's art: its expansive range, strange visual pleasure, and perverse meticulousness. The icing on the Judd cake was Gagosian's staging of
an untitled 80-foot-long wonder
from 1980.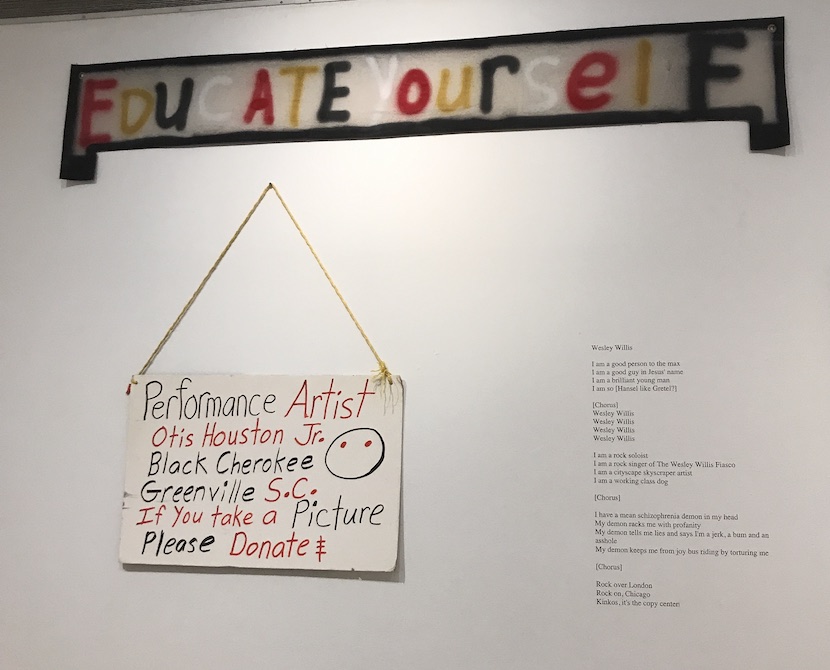 Installation view of "Souls Grown Diaspora" at Apexart with work by Otis Houston Jr and text by Wesley Willis.
4. "Souls Grown Diaspora" at Apexart, New York
The curator and dealer
Sam Gordon
assembled this showcase of 10 key contemporary African-American artist who ought to be more widely known:
Alvin Baltrop
,
Raynes Birkbeck
,
Stephanie Crawford
,
Curtis Cuffie
,
Otis Houston Jr.
,
Dapper Bruce Lafitte
,
Reverend Joyce McDonald
,
Sara Penn
,
Frederick Weston
(
RIP
), and
Wesley Willis
. Each was a kind of rich introductory survey. Now it is time for other institutions to stage complete shows. In the meantime, go see Houston's inimitable work
along Manhattan's FDR Drive
.
Diane Simpson, Constructed Painting #1 (1977) at Wesleyan's Zilkha Gallery.


3. "Diane Simpson: Cardboard-Plus, 1977–1980" at Wesleyan University's Zilkha Gallery, Middletown, Connecticut
In the 1970s, the magnificent Chicago sculptor Diane Simpson composed abstract sculptures out of slices of cardboard that are held together by wooden dowels and sometimes ornamented with tender dashes of crayon or pencil. They nod to architectural and fashion forms while eluding any straightforward reading, and they looked wonderfully at home inside this jewel of a building by Kevin Roche John Dinkeloo and Associates, in a show organized by Benjamin Chaffee. The only heartbreaker: it did not travel. It should, minting new fans and teaching artists how humble materials can be wielded with great ingenuity.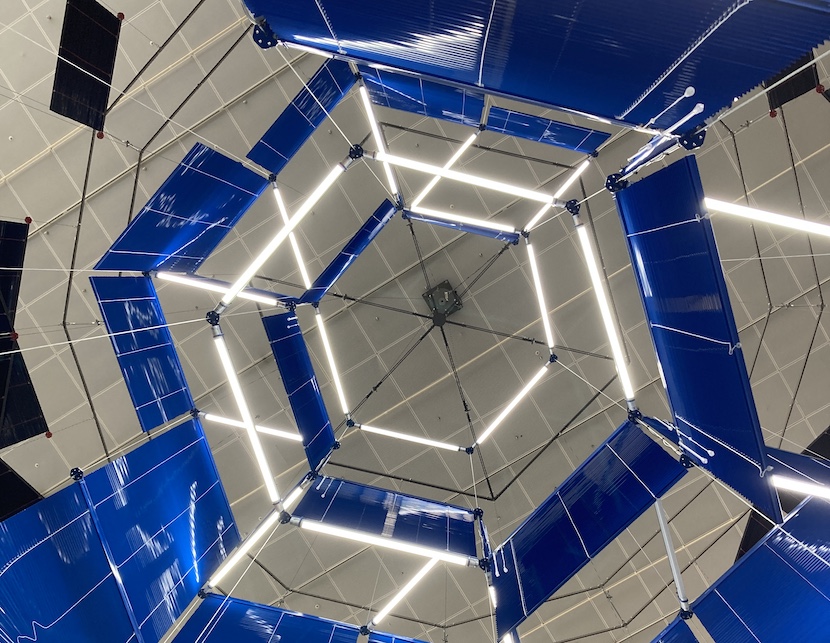 Inside Haegue Yang's Silo of Silence – Clicked Core (2017) the Museum of Modern and Contemporary Art, Seoul.


2. "Haegue Yang―O₂ & H₂O" at the National Museum of Modern and Contemporary Art, Seoul
An absolute barnburner of an exhibition, "O₂ & H₂O" shows Haegue Yang at her most inventive. She has turned Venetian blinds into enchanting installations and adorned abstract sculpture on wheels with bells: portable, sui generis instruments. Yang envisions a modernism gone electric, flying deep into hyperspace and yet still attuned to the rituals and politics of the world. Is it clear I'm at a loss for words? She is firing on all cylinders.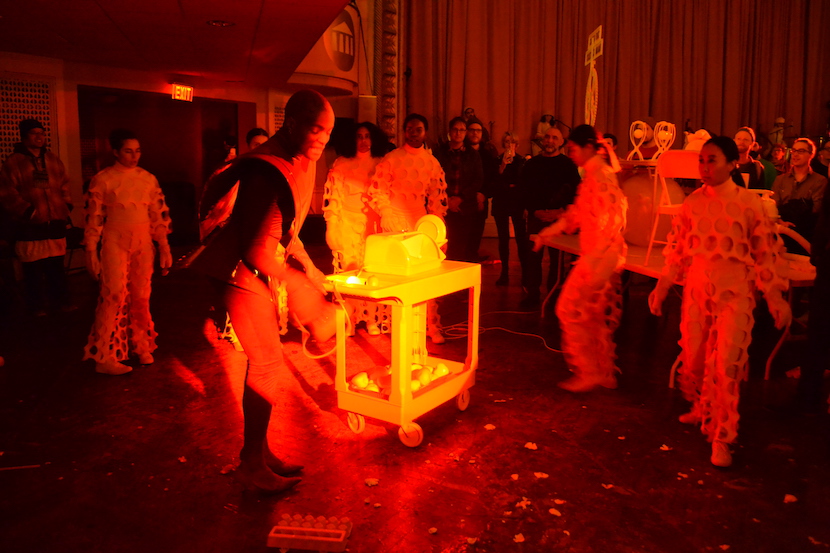 Alex Da Corte's Chicken (2020) at the University of the Arts, Philadelphia, Gershman Hall, March 5.


1. "Invisible City: Philadelphia and the Vernacular Avant-garde" and Alex Da Corte's Chicken at the University of the Arts, Philadelphia
The last museum show I saw before the shutdown was a great one:
"Invisible City,"
a multi-venue feast organized by
Sid Sachs
that dove deep into Philadelphia's rich postwar art scene. The highlight, in a show full of them: Alex Da Corte's reimagining, on March 5, of a storied
Allan Kaprow
performance,
Chicken
, in the same auditorium that hosted it in 1962. Da Corte presided in Kaprow attire—burly beard, brown vest—as he orchestrated delirious, mischievous mayhem. (Here's a
report of the action
.) There were no live chickens this time, but the artist's band of gifted collaborators threw eggs, launched confetti, and conjured one incredible sight after another in a dreamy (sometimes slightly frightening) narrative. It was utterly impossible to summarize. It was also utterly unforgettable. A few days later, the country shut down.