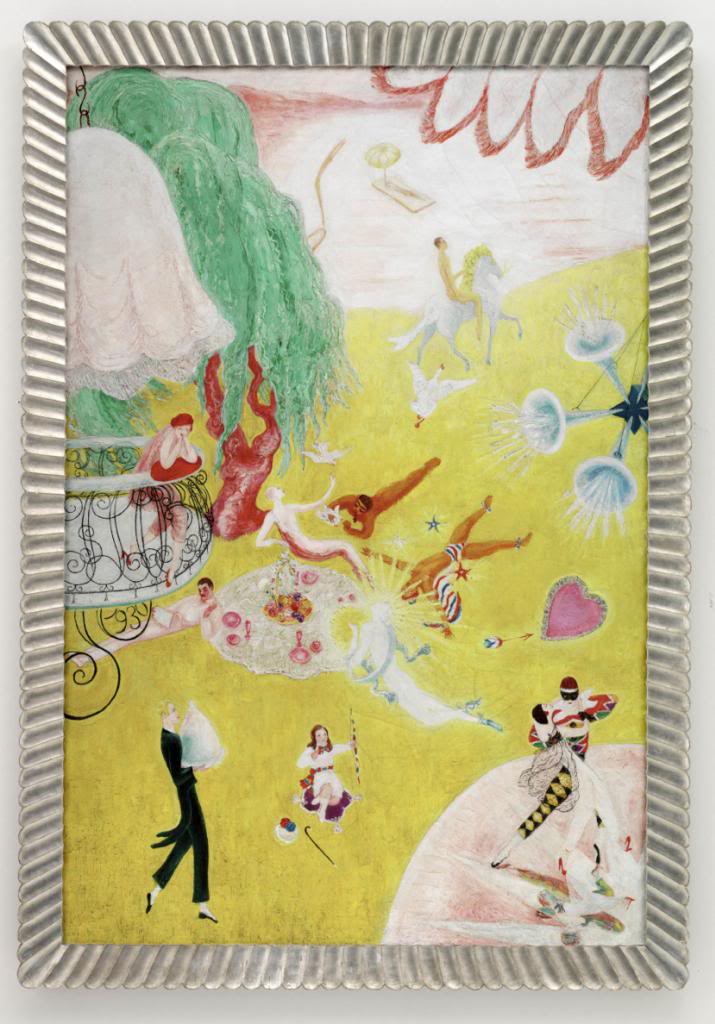 Florine Stettheimer, Love Flight of a Pink Candy Heart, 1930. Photo courtesy the Detroit Institute of Arts.
It's a thrilling thing when it happens. You're wandering through an American museum, probably in its modern-art wing, when suddenly you find yourself in front of a painting by the inimitable Florine Stettheimer (1871–1944)—a confection of whites, pinks, and yellows offering up a scene of a chic-looking salon or picnic, or a portrait of a luminary of the time.
This happens more frequently than you might expect for an artist who generally refused to part with her paintings during her lifetime (she had a single solo show, at Knoedler). Thankfully, her sister, Ettie (1875–1955), ignored her request that her artworks be destroyed after her death, and spent the last years of her life carefully placing them in collections across the U.S., in
Philadelphia
,
Los Angeles
,
Minneapolis
,
Manhattan
,
Burlington
,
Dayton
, and among other places, Detroit, where I had the pleasure of coming across one this past weekend.
The DIA's painting, from 1930, has the best title of any painting by her that I know of: Love Flight of a Pink Candy Heart. According to a catalogue from the museum, she actually wrote that title on the the back of the work, along with a free-flowing poem. From the stretcher:
My romance Past NY
House Party Eden, New York
In Memory of a Sugar Coated Heart
My House (?) on Paradise
(my party)

←

Arcadia
Beautiful Yong men
I have known
Paradise, NY
House Party Eden N. York
April 1930
And then on the back of the canvas, there is this:
THIS ONE

→

Love Flight of a Pink Candy heart
The title

→

LOVE FLIGHT OF A PINK CANDY HEART
In a note that Ettie penned at the time of her donation to the DIA, she wrote that the work "represents Florine…contemplating various friends of her youth whom she has portrayed with a mingling of symbolism and realistic observation."
According to the DIA, the gentleman in white lounging on the grass is probably the painter Charles Demuth, with whom Florine was friends, while the gentleman in tails is likely the photographer and writer Carl Van Vechten, a longtime associate of the Stettheimers who snapped some really
amazingly strange, even creepy, photos
of Ettie and the third sister, Carrie, who's responsible for the
dollhouse replica
of their home that is on permanent view at the Museum of the City of New York. Florine's to the left on the balcony in that great pink number, and also at the lower right, dancing with an anonymous harlequin whom some scholars have identified as Duchamp, another family friend. (Florine organized his 30th birthday party).
There are a lot of things that I love about Stettheimer's paintings, but here are three of them. One is that the more time you spend with them, the stranger and more interesting they get. You notice odd messages and codes that she had secreted within them. She hides inscriptions and captions in plain sight, and often includes seemingly random bits of architecture that actually have deep personal significance once you know what she's referring to (thanks to the work of some intrepid scholars). They're ideal permanent-collection works, in other words, generously repaying repeat viewings.
The second thing I love is that they seem almost preternaturally confident and brave in their idiosyncratic style. Florine was hanging out with some of the most accomplished, ambitious, radical modernists of her day and making these sensual, sweet, and thoroughly bizarre figurative paintings. And at the age of almost 60, she was at work on this sensual, thoroughly feminine look back on her life. Her work stands as a reminder that tidy, linear histories of modernism are simply false.
The third thing is that, in her paintings, definitions of gender and sexuality, as well as narrative and formalism, become gloriously unmoored and free-floating. They embody and promote a permissiveness that I suspect I am not alone in finding deeply comforting. In short, they present attitudes and feelings that everyone should be able to encounter and experience at their local art museum.
(This is part of a series of pieces by various art websites that are posting about art in Detroit today. More are available here.)