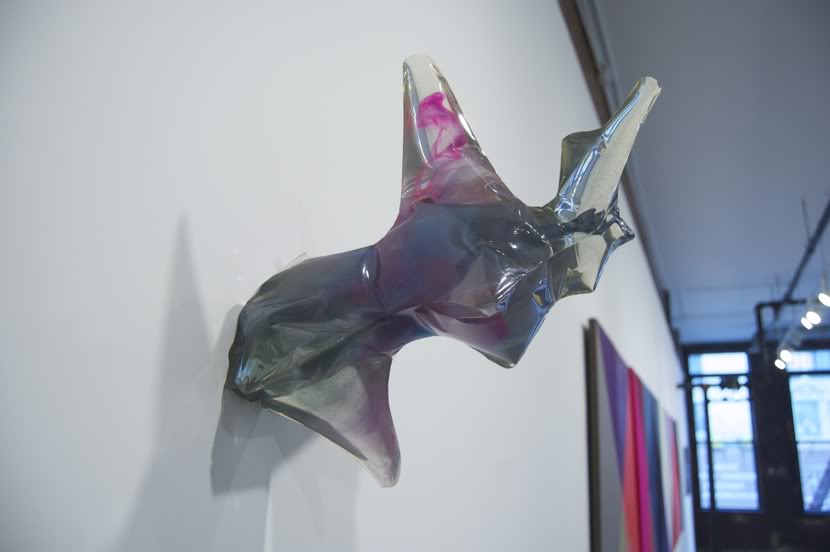 Nancy Arlen, Untitled, ca. 1981, cast polyester resin, mounting hardware, 12 1/2 x 9 1/4 x 12 3/4 in., in "Zoom, Shift, Abstract" at Simone Subal Gallery, 131 Bowery, 2nd Floor, New York.
What is your stance on Energism? Is it the hottest thing today? Is it enduring a backlash, or is there a comeback underway?
Truthfully, if I ever knew about Energism, I had forgotten about it until this afternoon, when I visited
"Zoom, Shift, Abstract,"
a group show at the
Simone Subal Gallery
on the Lower East Side, where there are two works by Nancy Arlen, who was, for a brief moment, grouped under that term by the critic and historian Ronny Cohen in the late 1970s.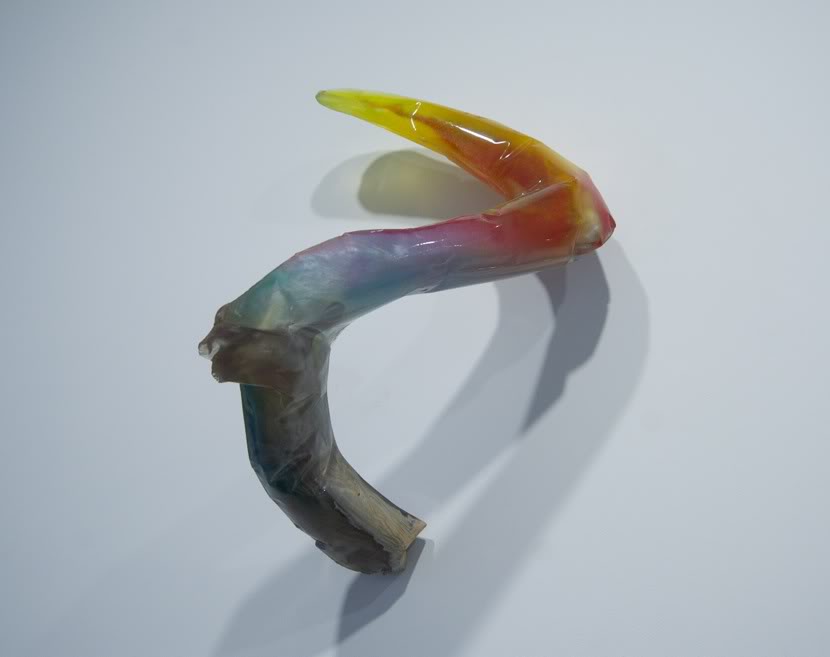 Nancy Arlen,

Untitled

, ca. 1981, cast polyester resin, mounting hardware, 20 1/2 x 13 3/4 x 12 in.
In a 1998 obituary for Arlen, Artnet's estimable
Rosetta Stone declared Energism
"still-born," while Roberta Smith summarized it this way in 2007, in a
capsule version
of her review of Mitchell Algus's "Canal Street" show: "The brief and hapless trend sometimes called Energism parlayed the plastics and glitter of the discount stores of Canal Street and a revived interest in Russian and Polish Constructivism into a punked-out version of Post-Minimalism."
According to Subal, Arlen did indeed find her materials at the plastic shops of Canal Street, just a few blocks from the show. But only for a brief period: she dropped out of the art world in the mid 1980s and, despite a 1998 one-person show at Mitchell Algus, her work has appeared in exhibitions only very infrequently. Few artists from Energism,
Smith wrote
, in a capsule review of the Algus solo show, "have suffered such complete oblivion"
Arlene had more success in the music world, drumming for No Wave pioneers Mars, one of the four bands to appear on the Brian Eno-produced compilation
No New York
. But here she is at a new contemporary gallery, if only momentarily, with these two sculptures, which look like they could be reject inflatable pool toys or deformed Ziploc bags, filled with gelatin or formaldehyde, injected with oozing colors, and made to float off the wall. They are pretty stunning.
Mars, "Plane Separation," from

Mars: Live NYC 1977-1978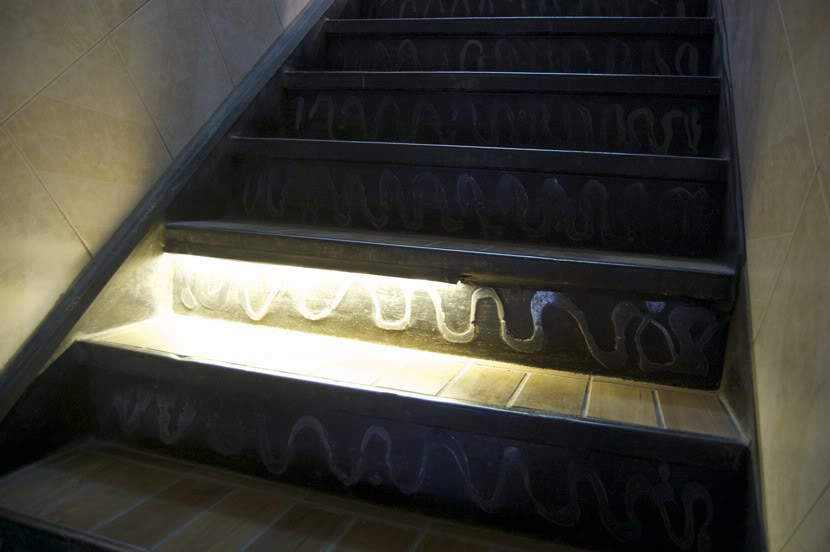 A work by Rey Akdogan, who cares, 2011, light source, packaging foam, textured plastic filter, cotton strings, plexiglass, electric tape, 1 x 24 in., on the stairwell of 131 Bowery, New York.
One addition: when making your way up to Subal, take a peek at the tiny light highlighting the building's wonderfully weird stairs, a piece by Rey Akdogan, who also has work in the show.