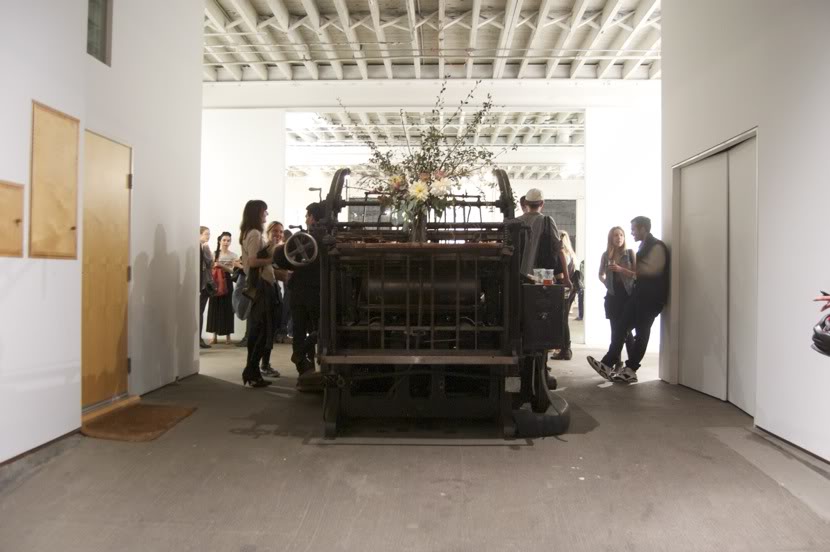 Installation view of "160 km" at Kid Yellin, Brooklyn, New York, through November 6, 2011.
"160 km," the current show at
Kid Yellin
in Red Hook, derives its title from the fact that somewhere around 90 percent of Canadian residents are believed to live within 160 km—or about 100 miles—of the border with U.S. This is, at least, what
Kayla Guthrie says
in a moving essay about drives along the coast of British Columbia. We are dealing, in other words, with slight separations—partial awarenesses across short distances. Also, all ten of the artists are from Canada.
A few of them are young and promising, while others were, for me, totally unknown. In the former camp is Elaine Cameron-Weir, who is here (albeit too briefly) with two sculptures, one of which is
100 (steel)
(2011), a thin steel rod propped against a wall, covered with brown tobacco that looks like moss. A quiet, crucial grace note in her
one-person show
at Ramiken Crucible back in May, it looks tough and strong on its own.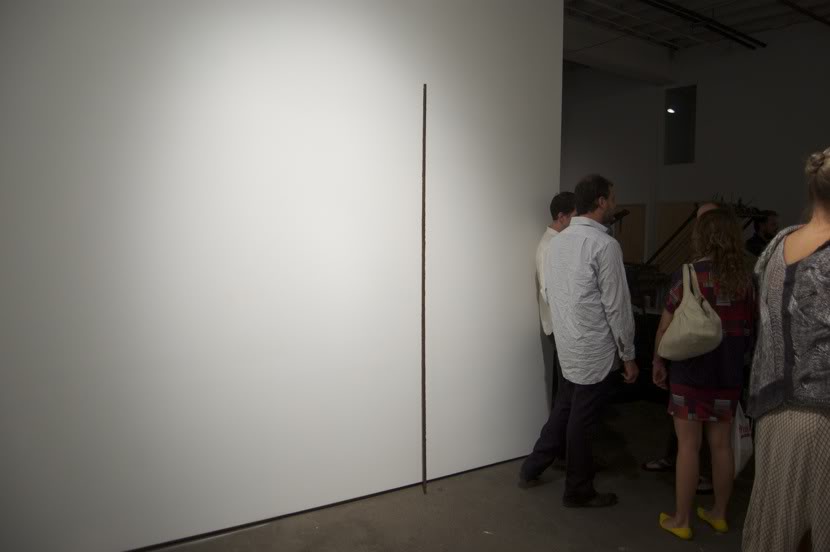 Elaine Cameron-Weir, 100 (steel), 2011, rolling tobacco, 96 x 5 x 5 in.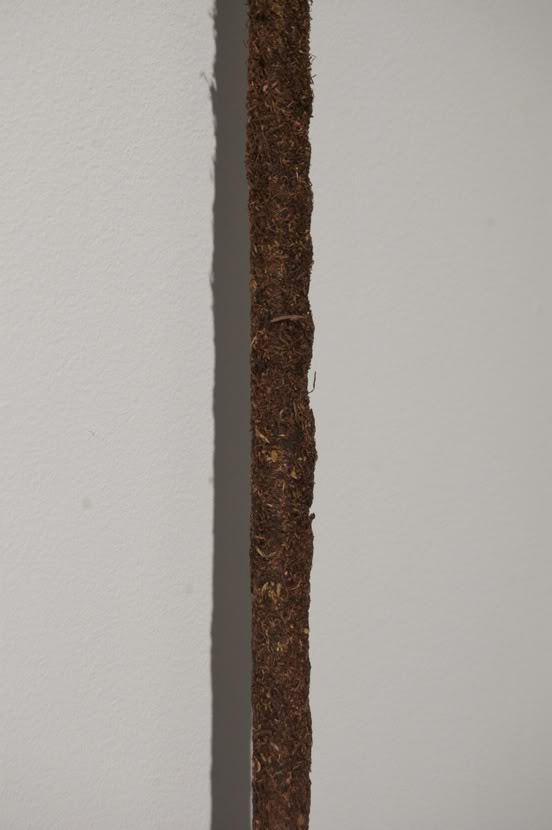 Kid Yellin is gigantic, and the show is sparsely populated, so there is room for everything and everyone to breath—even on opening night, October 8. Only a few sculptures—including two wild Rochelle Goldbergs (one nine feet tall), a Cameron-Weir and a Ben Schumacher floor work—are in the gallery's main room. The Schumacher, titled
217 251
(2011), consists of a long white faucet (Glacier Bay brand, the checklist says) wrapped with translucent micro-mesh that the artist printed with a light-blue metallic streak.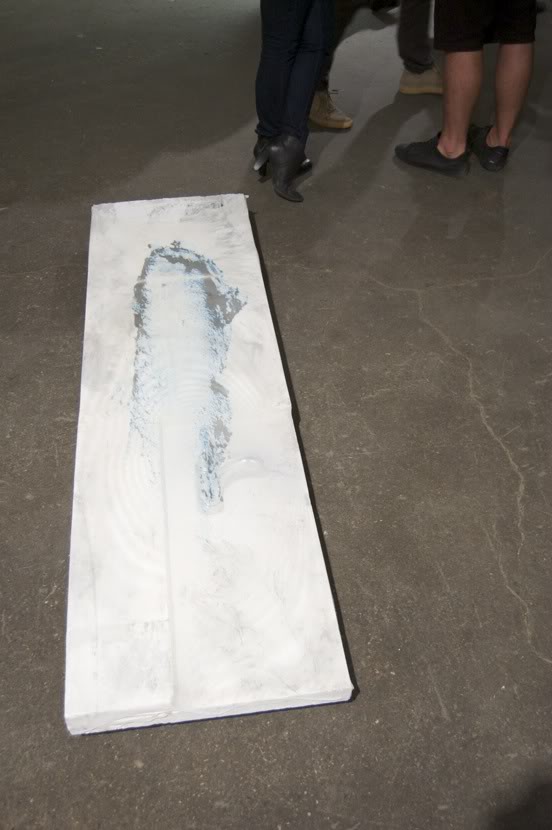 Ben Schumacher, 217 251 Chrome, 2011, inkjet print on micro-mesh, plaster, Glacier Bay bath faucet, steel, staples, inkjet print on paper, 24 x 72 x 4 in.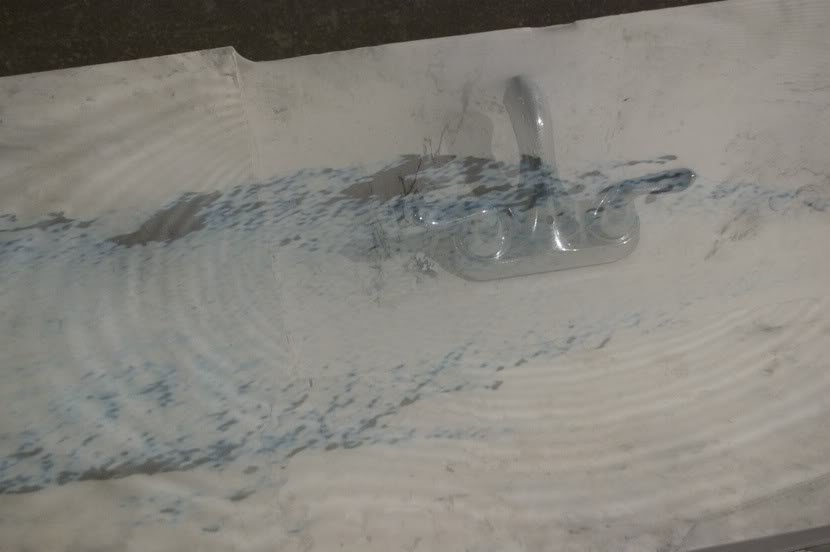 An untitled Lukas Geronimas, in a side gallery, looks uncannily similar to that Schumacher, though Geronimas's streak is a lustrous gold—gold leaf, as it happens—that he has made to glide across a blue canvas. His work is varied. Two pieces consists of large spools of paper—pale yellow and green—each hanging from a wall-mounted rack like maquettes for
Craig Kauffman's hanging pieces
. They are a little beat up, a little worn, and a fluorescent light hangs on the bottom of one, its cord stretching loosely to an outlet on the floor. Another is a simple mahogany grid made of four squares, which is almost imperceptible near the gallery's entrance.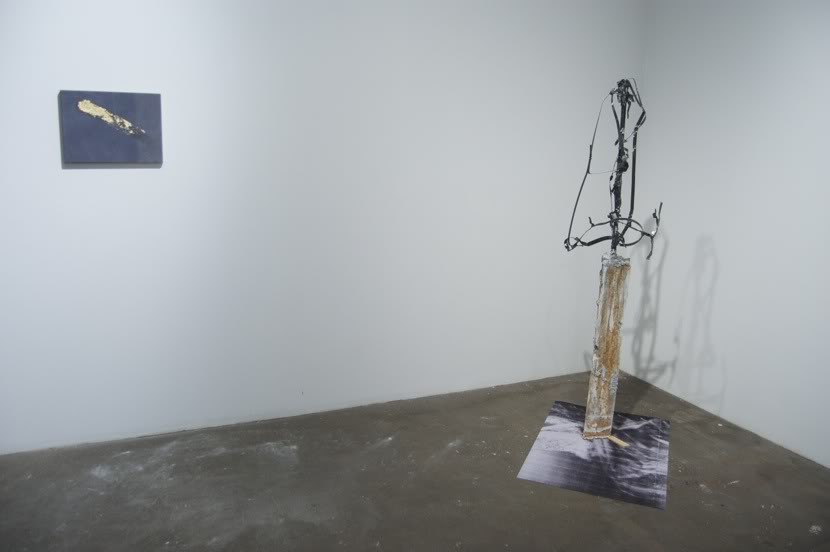 Lukas Geronimas, Untitled, 2011, dyed canvas, gold leaf, dust, metal, waxed string, wood, 12 x 16 in., and Rochelle Goldberg, Flatlander, in space, vertical, 2011, wood, background paper, paint, acrylic polymer, 108 x 21 x 12 in.
Aaron Aujila's work was a nice surprise: just two tall white pieces hung on a wall that look like slabs of a prefabricated room interior. Austere and honest and a little bit funny; Anne Truitt's 1961 picket fence, First, made contemporary and cheap. Also on view: works by Dylan Eastgaard, Shawn Kuruneru, Matt Creed, Robin Cameron, and Ryan Foerster.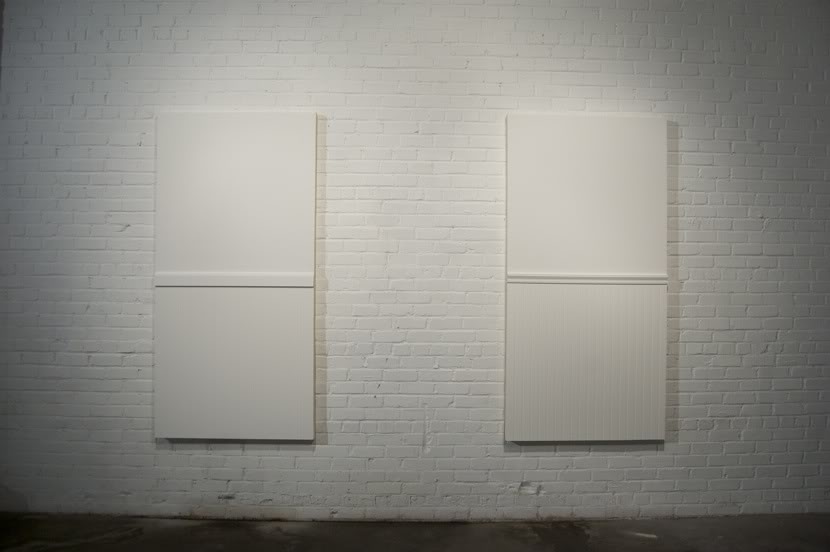 Aaron Aujla, Divine Pleasure, 2011, wood cast polyurethane, joint compound, and acrylic house paint, 80 x 40 in., and Aaron Aujla, Vermont Cream, 2011, wood, cast polyurethane, joint compound, and acrylic house paint, 80 x 40 in.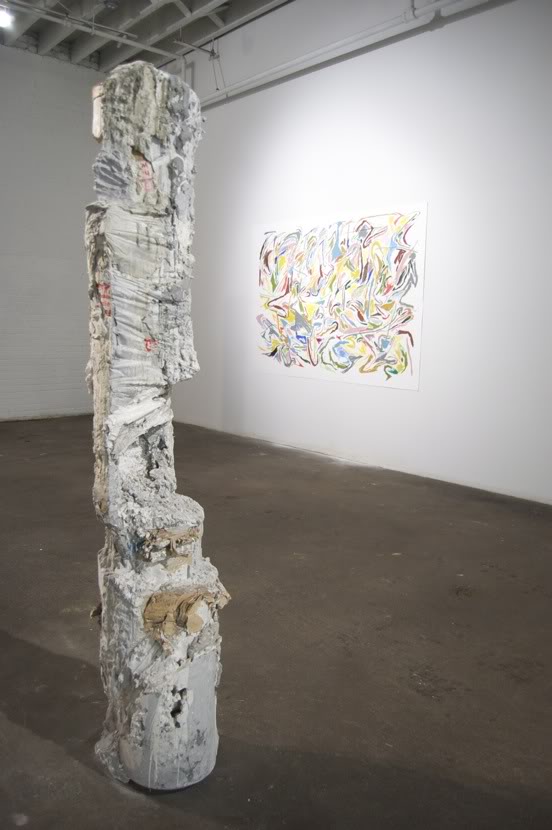 Rochelle Goldberg, Exit Through the Inside, 2011, cardboard, Hydrocal, paper pulp, paint, 72 x 12 x 12, and Robin Cameron, Dancing while drawing, 2011, oil stick and oil pastel on paper, 60 x 88 in.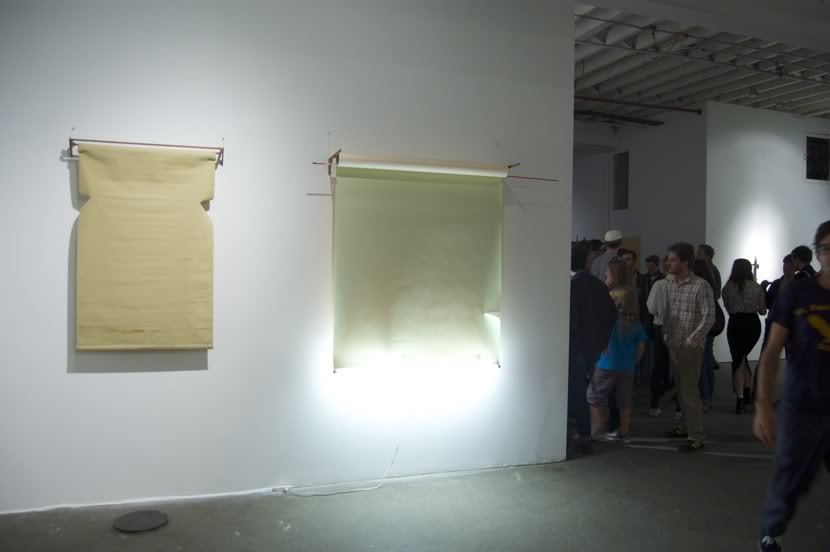 Lukas Geronimas, Subtitled, 2011, mahogany, textile, brass, tacks, string, adhesives, metal, 50 x 32 in., and Lukas Geronimas, Subtitled, 2011, mahogany, paper, plastic, brass, string, tacks, fluorescent light with transformer, wiring, 62 x 57 in.
Later, after a burger and beer at Brooklyn Ice House, I ran into an art dealer who was heading to a nearby bar. He was also curious about Aujila's work, and said that it reminded him of
Gordon Matta-Clark's Bingo
(1974), just a bit, the long section of a house that was on view at the second floor of the Museum of Modern Art until last month. I was excited, and pleasantly annoyed, because I had been thinking the same thing a few minutes earlier, and had been really pleased with the idea.