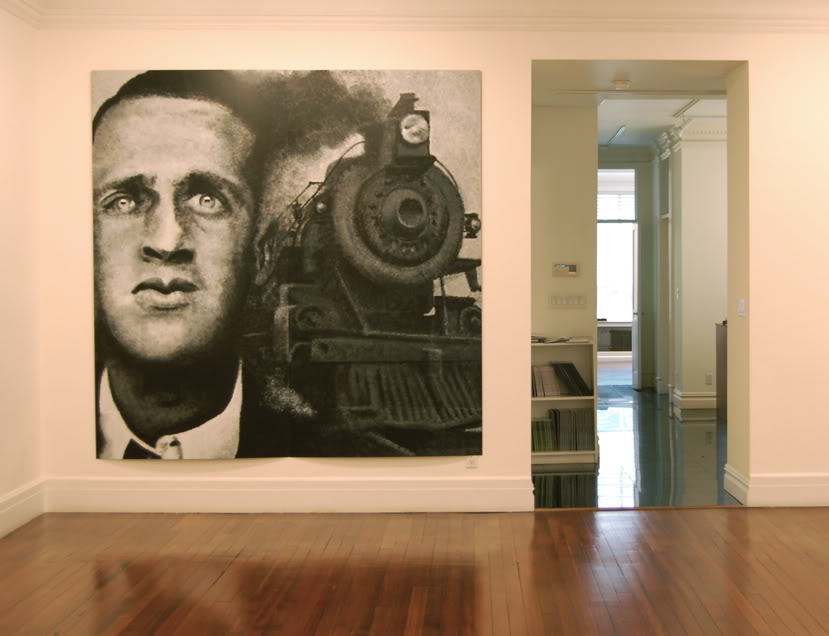 Robert Morris,

Father/Engine

, 2010. Acrylic on aluminum panel, 8 x 8 ft., in Robert Morris, "1934 and Before," at Castelli Gallery, New York, through June 30, 2011.
"Some drawings will be rotated throughout the course of the exhibition," the
press release
for
Robert Morris
's recent show at the
Castelli Gallery
, "1934 and Before," advises. Sure enough, when I visited a few days before the end of its run, three of the eight paintings — or drawings, as Morris refers to the works, aluminum panels marked with acrylic or epoxy — that were purportedly included in the exhibition were missing. An accompanying catalogue depicted the absent works — a grainy black-and-white profile of a Neanderthal, a sepia-toned Midwestern landscape being engulfed by a sprawling dust storm, and a Nazi rally at Nuremberg, all copied from photographs.
These new works are huge. Each measures at least eight feet tall, and some, like an image of a Depression-era breadline, stretch twelve feet long. It would impossible to hang comfortably all eight works at once in the Castelli Gallery, which makes the rotation, at least in part, an issue of practicality. But there is more to it than that. Most artists recognize their space constraints and respect them, keeping additional extra works out of the exhibition, in a back room in some instances. Morris didn't do that. Instead, he matter-of-factly worked around his spatial constraints, cycling his drawings through the gallery. "These works will know bigger spaces one day," is seems to say confidently. It's an unusual gesture, and remarkably similar to one made by
Joe Scanlan
and a few other artists in recent years.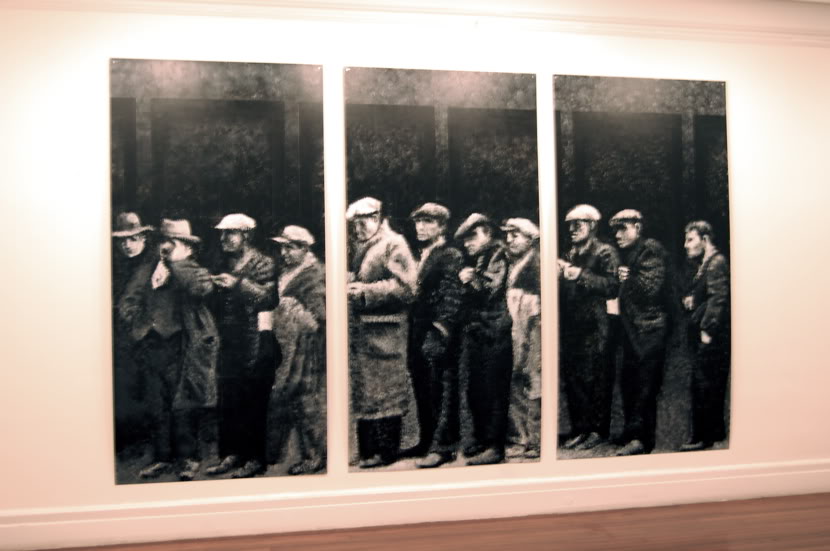 Robert Morris,

1934 Bread Line

, 2010. Acrylic on aluminum panels, three pieces: 8 x 4 ft. each.
Recall
the announcement
for Scanlan's February
Wallspace
show
, deceptively titled
"Three Works"
(there were more), which promises an exhibition that would '"take the form of a 'round robin." It continues, "[A] single work will be shown for a brief period of time before another work takes its place… [T]he works will proceed as the artist and gallery see fit." And so they did, with more than three pieces slowly making there way through different sections of the gallery over the course of the exhibition's run.
Wallspace billed Scanlan's show as "[p]art audition, part slide show, and part lot sale," and it's that last analogy that seems most apt, since the exhibition strategies of Scanlan and Morris closely resemble those of art-fair exhibitors, who often replace sold work for fresh new pieces throughout a fair's run. Time is money in such situations.
Stephen Prina
and
Wade Guyton
seemed to farcically acknowledge as much in their
collaborative painting show
at
Friedrich Petzel
, which took place this year on March 31 —
a one-day affair
, its opening reception reception doubling as its closing reception. If you were planning to see their new paintings on April 1 — April Fool's Day, no less — you were out of luck, a consumer arriving after a store's one-day sale.
What all of these strategies share is a willingness to toy with and rework the standard exhibition format, to compress it or render it topsy-turvy for the viewer. Your experience of Scanlan at Wallspace or Morris at Castelli depended, at least in part, on when you happened to visit those respective shows, an experience not entirely different from the one offered in the 1985 murder mystery film
Clue
, which had three different endings, with each screening featuring just one. Like the makers of
Clue
, Scanlan and Morris sidestep the fixed format promised by a gallery exhibition, opting instead to send out a few different variants, none equaling what one typically thinks of as a complete, 'correct' show, and Guyton and Prina, for their part, pretty much eviscerated that promise altogether. (For the record,
Universal Studios
is
reportedly at work on a Clue remake
, with
Pirates of the Caribbean
director
Gore Verbinski
at the helm. It is due out in 2013.)
There are more examples, like
"Genesis I'm Sorry,"
the show that painter
Josh Smith
curated at
Greene Naftali
in the summer of 2007, which
played host to a variety of events and installations
, as work was added and removed throughout the length of the show. It concluded with a re-creation of
Duchamp
's string–filled room (the inspiration for the title of this blog). The newfound interest in
Charlotte Posenenske
's mutable sculpture also seems notable, especially as
Artists Space
presented it last summer
, reinstalling one of her large works in a new configuration every two weeks.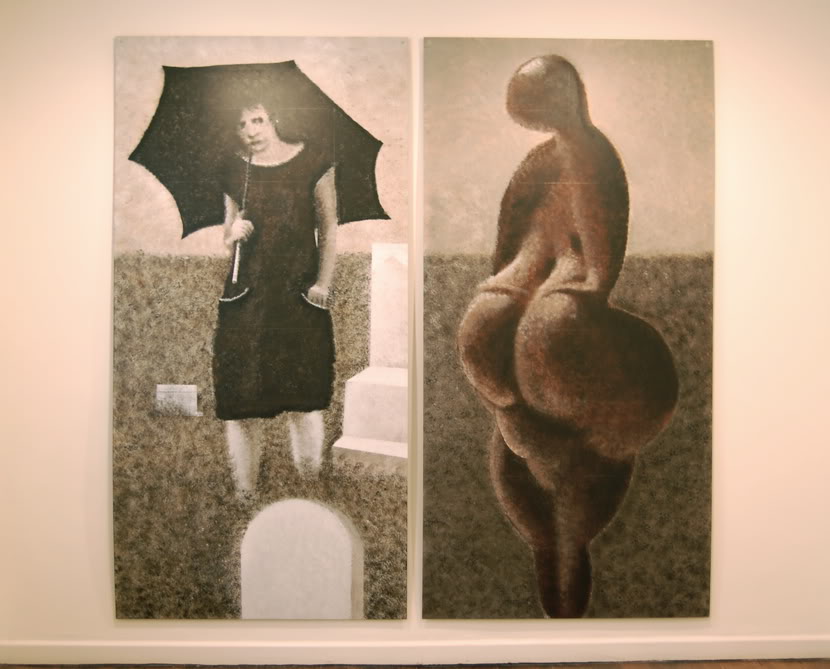 Robert Morris,

Two Women Before 1934

, 2010. Acrylic on aluminum panels, two pieces: 8 x 4 ft. each.
What all of this means is, as ever, another matter. The motion of these works suggests an allegiance with the "transitive painting" that
David Joselit
identifies in his 2009 essay
"Painting Beside Itself,"
work that portrays the various networks of circulation to which they belong. Placed in a gallery, artworks are only momentarily halted on their journey from a studio to a storage facility, a collector's wall, or an auction block. Scanlan, Morris, Guyton/Prina, and Smith make that stay even briefer and more tenuous. One thinks of the story that
Dave Hickey
once told about the late art dealer
Robert Shapazian
, in which Shapazian reportedly confided in Hickey, of his decision to leave the
Gagosian Gallery
: "I sit around, a crate comes in, I see who the crate's from, I go to the waiting list, I make up this outrageous number and send it out. … I am creating value, but it is not real value.'"
At the same time that these spinning, evolving exhibitions highlight their international networks of capital and distribution, they also evince a persuasive commitment to the real, here-and-now art experience. Much of today's most thrilling work largely disregards such concerns. We can, for instance, watch
Ryan Trecartin
's video suites at
MoMA P.S.1
,
on YouTube
, or
on Vimeo
. The former is preferable, but only marginally. In a few years, as young video artists really get going, exploiting online video for all it's worth, one suspects that such distinctions will look increasingly quaint. Morris, Scanlan, and their compatriots are making a radical case for the opposite: the in-person visit. They want you to return again and again, to see their exhibitions develop. Admittedly, that's asking a lot of viewers. But if you can't make it, ask a friend. "How," they want you to inquire, "did the show end?" Or, at least, "Which ending did you see?"