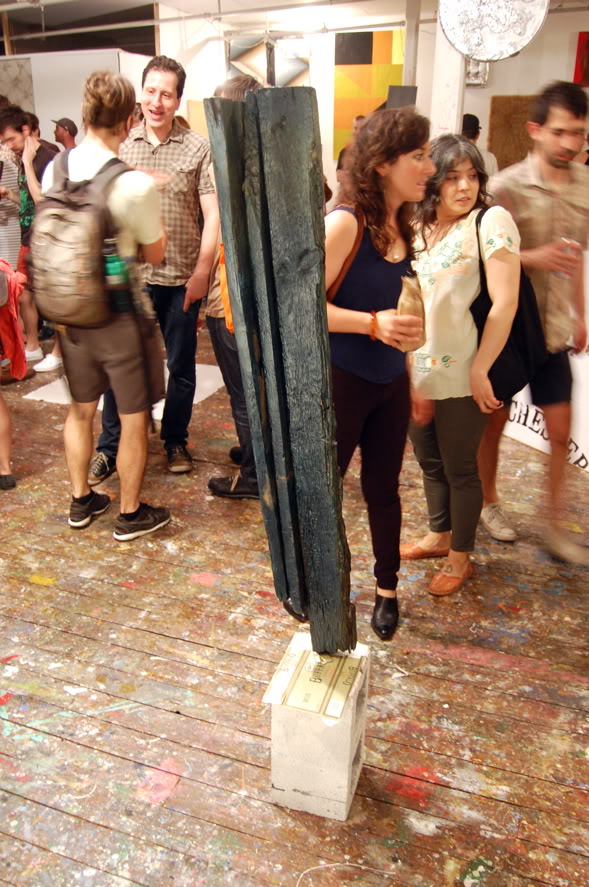 Graham Collins in "Control Alt Delete," curated by HKJB, at 840 Broadway, 4th Floor, Brooklyn, New York, May 27, 2011. Photos: 16 Miles [more]
The official start of summer may still be three weeks away, but
HKJB
,
the curatorial nom de guerre
of artists
Benjamin King
and
Jay Henderson
, has already delivered what feels like the first show of the season: a one-night-only affair held last Friday on the fourth floor of 840 Broadway in Bushwick. It was, for one thing, gorgeously hot up there. My camera fogged up for a few moments as I tried to photograph the revelers, who were keeping cool with large, cold beers bought in the bodegas below. More to the point, though, the show, "Control Alt Delete" (a Windows reference from the art crowd!), had the raucous, anarchic spirit that we expect of the city's summer shows, with roughly fifty works by fifteen artists installed around the premises.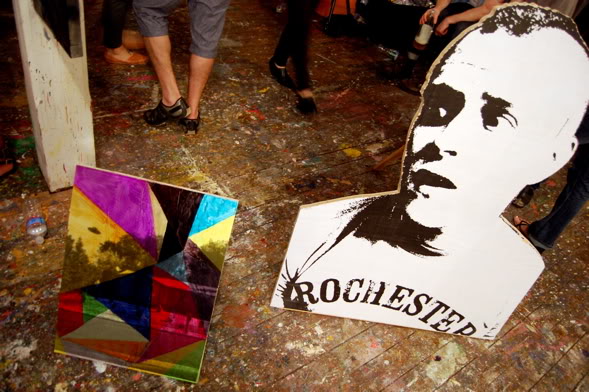 Matt Jones
A few participants had enough work on view to fill entire solo shows of their own, like
Wayne Adams
, whose
trademark paintings
of repeating chevrons were installed around the walls of the room. There were also two small ones leaning against a wall and an enormous one, ominously titled
Ask Me No More Questions, Tell Me No More Lies
, hanging off the side of a column.
Matt Jones
had a bounty on offer, too, mostly paintings that were propped up like sculptures and scattered around the floor. (Jones has already produced a book of photos of the show that he snapped with his iPhone; its available in a
full-color
or a
thrifty black-and-white
edition.)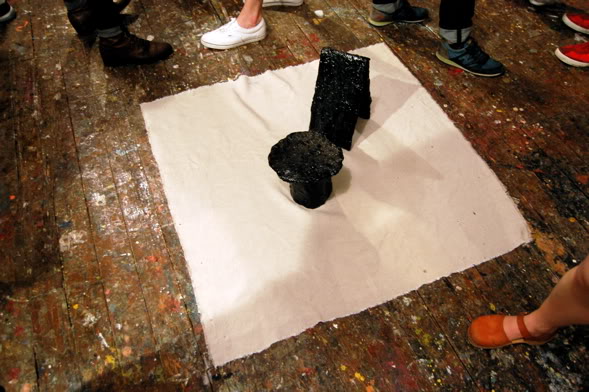 Stacy Fisher
Though brutally outnumbered by the painters, the sculptors (or, at least, the sculpturally-minded) fared well. The California transplant
Ernesto Burgos
delivered on the promises of
the work he showed at Kate Werble Gallery at the beginning of the year
. His best piece (partially pictured below) was a curiously crumpled sculpture balanced against a wall that features an image of a hand proffering a stiff-looking cocktail. Yes, please! He also had two wall-hung constructions — one silver, one black, both sleek — that looked like immaculate, high-gloss seat cushions.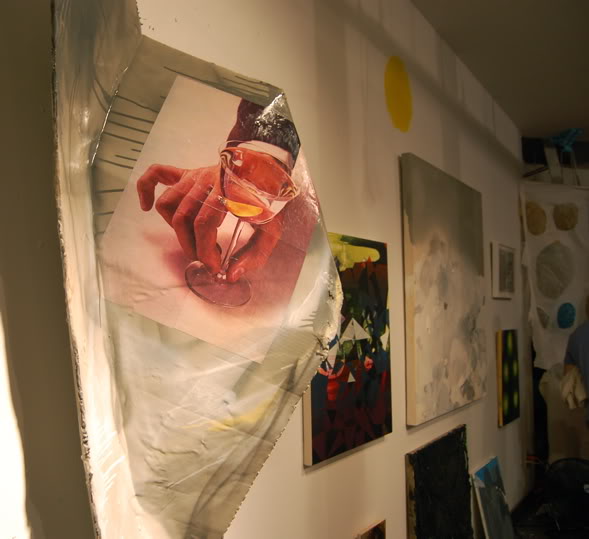 Left to right: Ernesto Burgos, Vince Contarino, Benjamin King
A new name for me:
Graham Collins
, whose painted slab of wood on top of a cinderblock (pictured at top) was a welcome moment of smart, quiet presentness, matched in that regard only by work of a trusty established name,
Stacy Fisher
, whose intimate black constructions held their ground impressively, tempting viewers to touch them.
With so much work placed on the floor and hung low on the walls, there were ample opportunities to admire the paint-splattered floors, the slow, steady work of
Lauren Luloff
and
Tisch Abelow
, who both use the space as their studio and had work in the show. Luloff offered a large painting (pictured below) with sections of bunched-up fabric — filled with white-on-dark-green leaves and snakeskin prints of umber, amber, and ocher — that abutted a swath of flowing, potable abstraction, all smooth grays and tans that almost tilted into peach. It looks like two or three or maybe four pieces seamlessly spliced into a single work, a multitude of divergent ideas operating in unison — not a bad metaphor for any successful group show.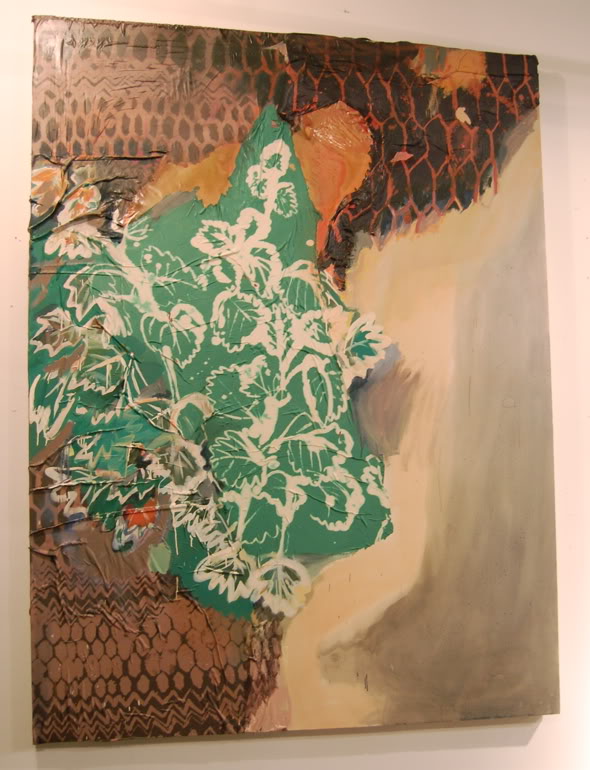 Lauren Luloff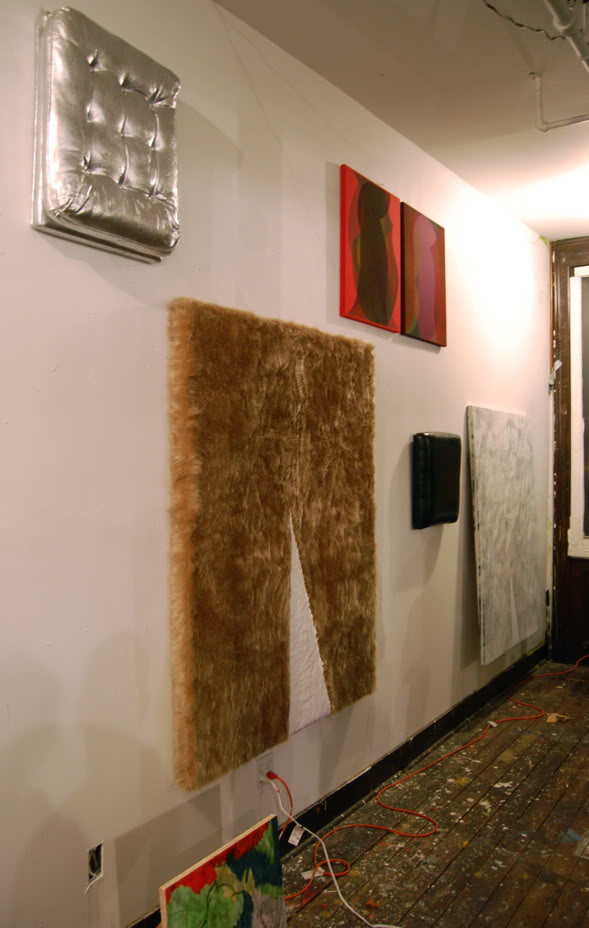 Top row: Ernesto Burgos, two paintings by Halsey Hathaway; middle: Wayne Adams, Ernesto Burgos, Wayne Adams; floor: Matt Jones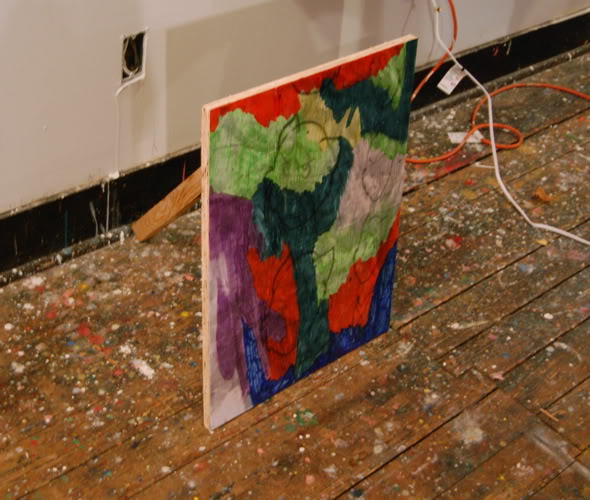 Matt Jones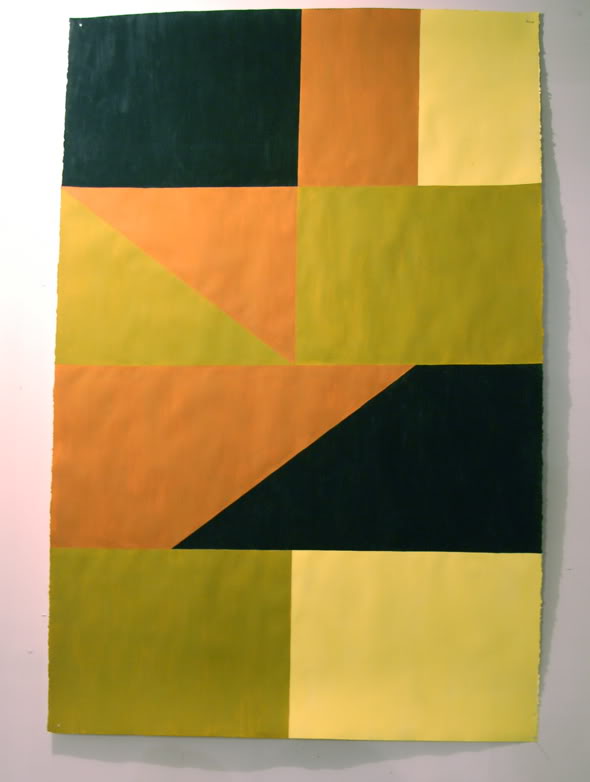 Tisch Abelow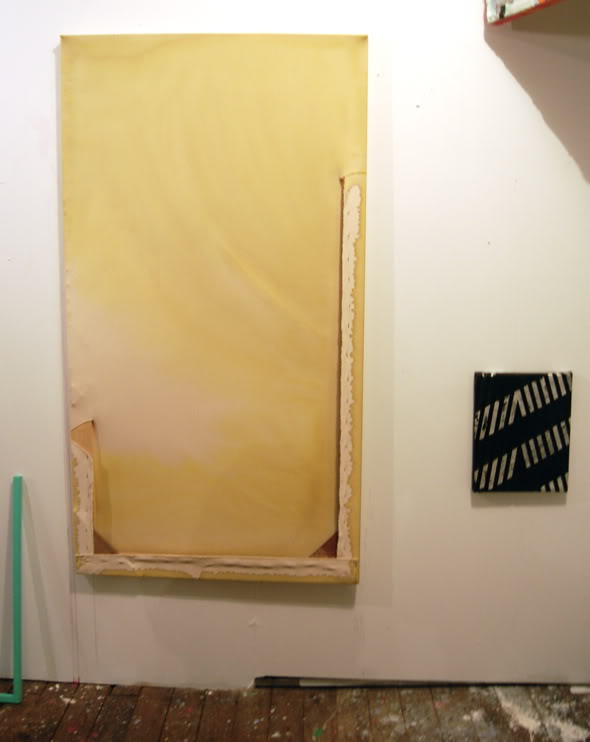 Floor left: partial view of Brion Nuda Rosch; center: Maria Walker; right: Wayne Adams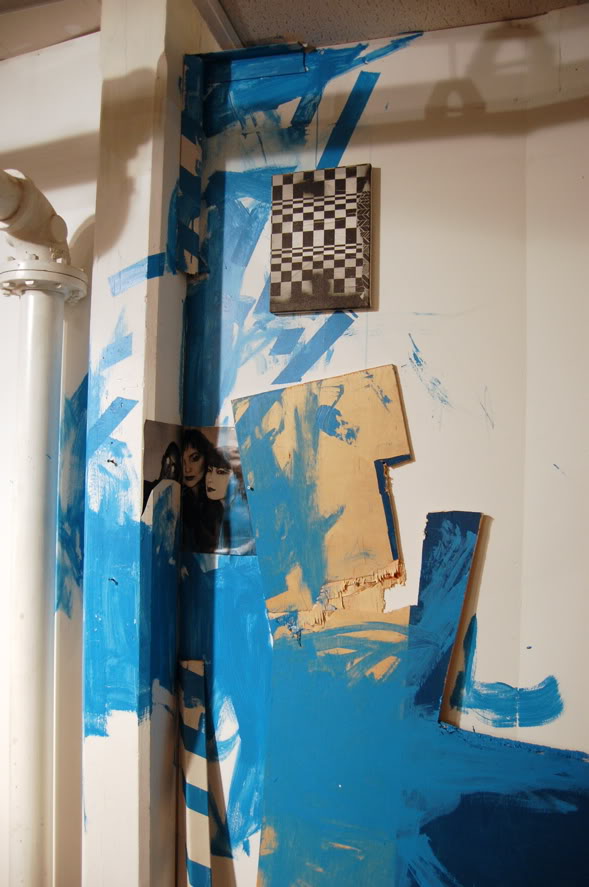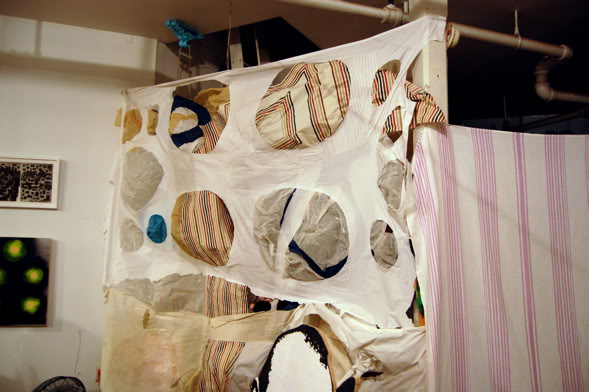 Lauren Luloff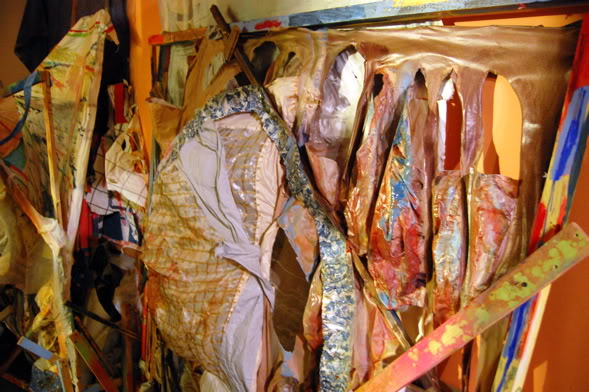 Lauren Luloff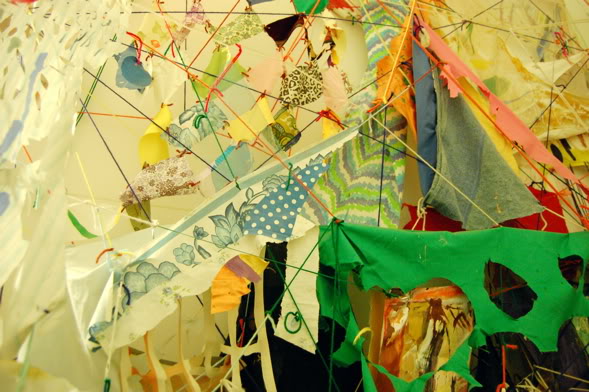 Lauren Luloff in the stairwell
Excepting the paint-bedecked floors, the joyous heat, and
the strange indoor garden
, the best part of the temporary, makeshift gallery may have been that it was on the fourth floor, meaning that twice — coming and going — visitors received a bonus show in the form of stairwells lined with art, mostly large canvases holding their walls against the streams of people visiting friends and eying their latest work.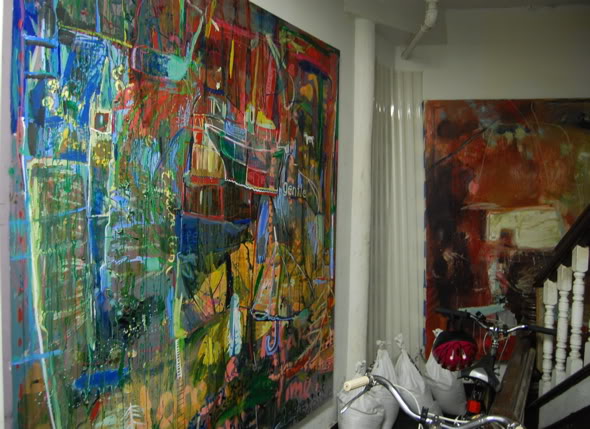 The stairwell of 840 Broadway
Previously:
HKJB's first show, "Personal Abstraction,"
held in May 2009, out in Sunset Park, Brooklyn, with the likes of
Jim Lee
,
Wendy White
, and
Chris Martin
.