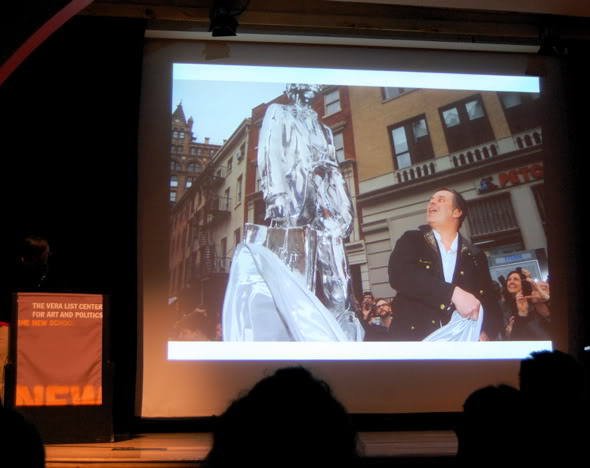 Rob Pruitt, at left in the New School's Tishman Auditorium on April 20, 2011, showing a photograph of himself unveiling his Andy Monument in Union Square on March 30, 2011. Photos: 16 Miles [more]
It has been only three weeks since
Rob Pruitt
stood on the northwest corner
of Union Square and pulled a white sheet off of his chrome sculpture of
Andy Warhol
,
The Andy Monument
, but it already feels safe to say that the work is a hit, at least judging by the gleeful reactions I have seen from passersby. "It should have been there all along," as writer and artist
Rhonda Lieberman
put it rather aptly Wednesday night during a panel discussion at the
New School
. "There's a certain inevitability to it. It's like being in Athens and thinking about Socrates."
"Andy Touched Me" was the rich title of the evening's
Public Art Fund
–organized affair, which included the panel and an introductory slide show by Pruitt about the making of the sculpture. Depicting 1970s,
Interview
-era Warhol, it is based largely on the Cincinnati car-dealer-turned-art-collector
Andy Stillpass
, making the work's title a double tribute. Stillpass is slim like Warhol, an ideal body double, but Pruitt said he also selected the collector because he wanted to "infuse the monument with a personal love of my own." Stillpass is known for
adventurously integrating his art into his life
— commissioning, for instance, a personal uniform from
Andra Zittel
and installing a bloody
Karen Kilimnik
installation that was inspired by the Manson murders in his kitchen. "It made me fall in love with him," Pruitt said of Stillpass's commitment to contemporary art.
Despite his prized status, Stillpass did not escape some abuse. "I kept telling him to hold in his gut," Pruitt said, showing a photograph of his rail-thin model wearing a blond wig and being scanned by computer–modeling cameras. "He didn't laugh," he added, noting his own "beer gut" and insisting it was a joke. "I think I really hurt his feelings." To construct Warhol's face, Pruitt used archival images of the artist, and the initial mold featured deep cheekbones and wrinkles, which Pruitt removed from the final sculpture, wiping away flaws just as his subject had done in his own commissioned portraits. The work is identifiable as Warhol, though only barely, and according to Pruitt, one woman walked by and said, "Oh my God, why is there a monument to
Rachel Maddow
?" He added cheerfully, "I do love Rachel Maddow."
Most responses seem to have been markedly more positive. According to Pruitt, Public Art Fund president Susan Freedman told him, "It's the perfect bookend to the Statute of Liberty — a monument for the disenfranchised." At that moment, he said that he thought, "My God. I am a genius." Jokes aside, Pruitt seemed genuinely pleased with the final product. Near the end of his talk, he paused for a moment, looked up at an image of the monument, and said lovingly, "Isn't it great?" And then it was on to the panel discussion, to hear how critic and poet Wayne Koestenbaum, Public Art Fund director and chief curator Nicholas Baume, Lieberman, and Pruitt himself had been touched by Warhol.


Baume batted first, speaking of his youth in Australia in the 1980s, when Warhol's work was known through "reputation and reproduction." He noted, "That reputation was really quite low," and lauded the work of
Richard Meyer
and others who helped change that, taking up Warhol's legacy to ensure that it was "rescued from an art history uncomfortable with sexuality," that central element of the artist's work that was ignored for so long. Baume also offered a rousing tribute to Pruitt's monument, describing it as "glistening," "hollow," and "with the nose job that Andy always wanted." And chrome, he pointed out, is "the cheapest of all the metals."
Koestenbaum was up next, sporting orange pants and bright glasses of a similar shade. He oozed enthusiasm as he offered a six-item list of cultural categories that Warhol's career had altered — garbage, sex, publicity, community, collecting, and work — and then launched into
a rousing panegyric to Warhol
. "Warhol cheers me up about family, its absence and its antidotes," he declared. "Opt out of the nuclear family or convert it into the Factory. Live with your mother as long as you please, and forget public verdicts on your backward ménage." Warhol embraced a "ludic schizophrenia," he said, "a madness that might be good for you." As he ended his talk, the crowd applauded.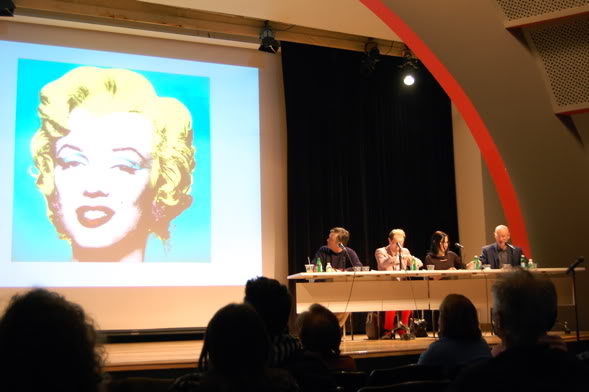 As works by Warhol cycled through on the scree, Rob Pruitt, Wayne Koestenbaum, Rhonda Lieberman, and Nicholas Baume (listed left to right) spoke of being touched by the artist.
"I'm the one Andy would be least likely to touch," Lieberman, the next speaker, deadpanned. "I'm just saying." She spoke of spending her "childhood reading about Pop," hunting in library books for gossip on Warhol and his set. Like her fellow panelists, she had been moved at a young age by Warhol, the strange aura that had been produced in downtown Manhattan and then disseminated around the globe — to Australia, to neighborhood libraries, and to the heart of careers. A soup-can poster found its way into Pruitt's childhood home, the artist revealed as he spoke on the panel.

Like Lieberman, Pruitt was taken with Warhol at a young age and read extensively about him. "I thought, that can be my future life," he said. "I can move to New York, I can go clubbing, and go to great parties." He came to New York for college in the early 1980s and found a $200-a-month room in the Chelsea hotel. Looking for a job, he strolling into the Factory and was let up the elevator and into a meeting with Warhol, who asked him about his job experience. It consisted solely of working at an ice cream store in Washington, D.C., he told the artist. "There's a kid here who says he can get us as much Häagen-Dazs as we can eat!" Warhol shouted to a neighboring office. (This is not, Pruitt emphasized, what he had told him.) He was offered an internship, but not knowing what that was and unhappy about the fact that it offered no salary, he turned it down. "I should have taken that job," Pruitt said. "Or maybe not." Lieberman nodded. "Andy liked to get paid," she said.

Instead, Pruitt ended up working in the glove department at Macy's, selling gloves to Prince and LeRoy Neiman. Interestingly, the Warhol in Pruitt's Andy Monument carries a Bloomingdale's shopping bag in his hand, a sterling example of how we all construct our own version of Warhol, picking from the dozens of roles he played — commercial artist, painter, filmmaker, publisher, partier, entrepreneur, and voyeur, to name a few — and adding our own interests. Pruitt takes the body of a friend, adds an idealized face, a Polaroid camera, and a shopping bag, and covers it in chrome, a mirror finish that reflects the city surrounding it.
The sculpture is scheduled to remain on view through October 2, though some, like
Jerry Saltz
, have
called for the work to remain indefinitely
. It took some ten years for Pruitt to see the monument to completion. When he first pitched it to the Public Art Fund, it was declined. "I have a lot of ideas — not all of them good," Pruitt said at one point. "But when one is, I don't let go of it." Nevertheless, he refrained from calling for it to remain forever, but shared an idea offered by artist
Rachel Harrison
, who suggested placing a sculpture of a gun-toting
Valerie Solanas
across from Warhol. Koestenbaum mused about having Bryant Park's
Gertrude Stein
statue meet Union Square's Warhol. "I prefer to take it one day at a time," Pruitt said.
What would Warhol want? He was, on the one hand, a publicity hound, the man who remarked flippantly, "Don't pay any attention to what they write about you. Just measure it in inches." That Warhol would probably love the possibility of endless attention. But, as always, there's another Warhol, another quotation, that offers a contradiction. "I always thought I'd like my own tombstone to be blank," he told an interviewer. "No epitaph, and no name. Well, actually, I'd like it to say 'figment.'" For now, the sculpture occupies a space somewhere in between those positions: a solid, shining monument that may soon exist in its current location only in the form of memories, which endure far longer than even the finest chrome.