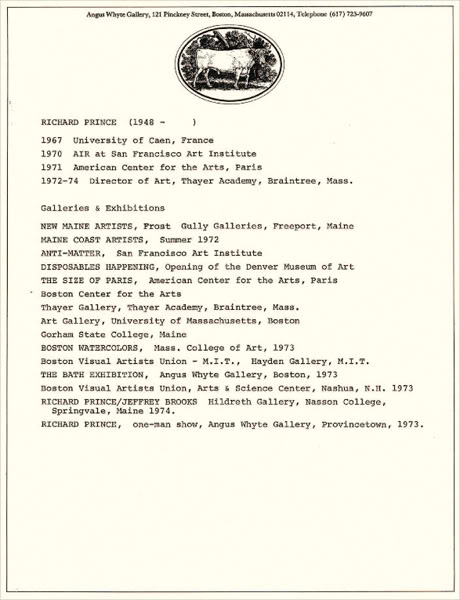 Richard Prince's CV from the mid-1970s. Courtesy Specific Object.
Paul Taylor: Let's talk about the late 1970s.
Richard Prince: I didn't like the work I did ten or so years ago.

Paul Taylor: What did you do with it?
Richard Prince: I think everything has been, you know, destroyed.
– Flash Art 142, October 1988
The interview excerpt above comes from an essay published by curator
Michael Lobel
in the catalogue for "Fugitive Artist: The Early Work of
Richard Prince
, 1974–77," a show he organized at the
Neuberger Museum of Art
in 2007. As Lobel notes, Prince was wrong, or he was engaging in some wishful thinking. Not all of his early works were destroyed, and, through the end of the day today, a handful of them are on view in "Richard Prince: Pre-Appropriation Work, 1971–1977" at
Specific Object / David Platzker in Chelsea
. (Thank you to
Martin Bromirski
for recommending the show.)
Platzker's exhibition is a trip back to a bizarre time, when Prince was working as director of art at the
Thayer Academy
in Braintree, Maine, and showing with
Angus Whyte Gallery
in Provincetown, Rhode Island. "I can remember when I was not able to sell a print, drawing, or etching by Richard Prince for $100," Whyte quips in another essay that is available to peruse at the show. Times change. One of Prince's 2004 "Nurse" paintings sold at
Phillips de Pury & Company
earlier this year for $6.4 million.
As Platzker notes in his press release, these early works "reveal Prince to be a skilled draftsman" and a solid painter. For example, his 1973 watercolor "Caster," which depicts its title, is a capable
Claes Oldenburg
rip-off. There is also a painting of a swooping bird and a drawing of a woman with an immaculately rendered face. They are impressive representational studies and nothing to be embarrassed of (except, perhaps, if you are an artist that decided to base your career on appropriation).
There are some weird things here, like Prince's typed "flavored letters." In them, the artist asked the recipient to check a box to inform him whether a subsequent letter should carry "American hippie" or "Jamaican" pronunciation. The latter "flavor" would prove to become an enduring influence for Prince and an inspiration for
controversial paintings recently shown
at
Gagosian
, making these letters a fascinating early view on that interest, as well as Prince's nascent interest in using language in art.
Those historical connections aside, the show is also fascinating for the difficult questions it raises. How, for instance, should critics and art historians deal with this body of work, or any work that an artist has attempted to destroy? Prince has disowned these works. He refused to allow Purchase to reproduce the pieces for its 2007 catalogue, and the shows listed on his mid-1970s CV (posted above) have
disappeared from the list included on his current CV
. He quite clearly does not want people to be able to see these works. And yet, if you are willing to call in sick or take a long lunch to make it over to Specific Object today, you can take a peek and form a slightly altered idea of Prince's career.