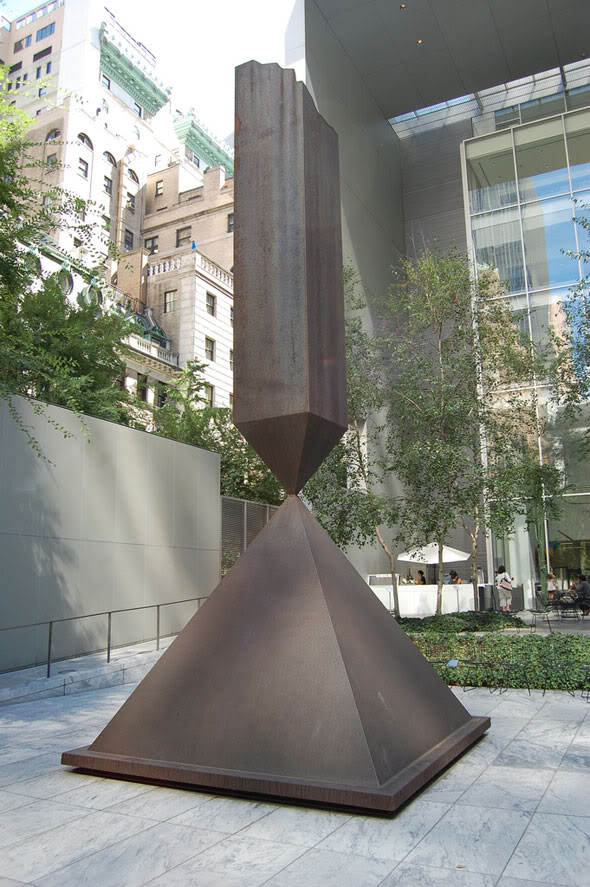 Barnett Newman, Broken Obelisk, 1963–69. Cor-Ten steel, 24 ft. 10 in. x 10 ft. 11 in. x 10 ft. 11 in. Photo: 16 Miles
The
Museum of Modern Art
acquired its copy of
Barnett Newman
's
Broken Obelisk
(1963-69) in 1971
from an anonymous donor
. The
Rothko Chapel
has one too, but it only came to own it after a fairly torturous series of political fights. As the
Washington Post's John Kelly
and
The Stranger's Jen Graves
(another lifetime cast of the sculpture is at the
University of Washington
) have explained in great detail, the sculpture almost never made it to Houston.
In 1969, to help acquire the statue, Houston had received a $45,000 federal grant, funding that philanthropists John and Dominique de Menil offered to match on the condition that the work was dedicated in honor of MLK, who had been assassinated the year before. The city council rejected the idea. The de Menils then proposed that the biblical line "Forgive Them, for They Know Not What They Do" be added to the pass of the statue, a suggestion that was also rejected. The work was supposed to sit in front of City Hall, and, as an activist told the
Houston Chronicle
in 2006: "[Mayor]
Louie Welch
was
supposed
to take it personally."
The de Menils eventually decided to purchase the work for the
Institute of Religion and Human Development
, which is now the site of the
Rothko Chapel
. They dedicated it to Martin Luther King. Next month, the
Menil Collection
is publishing
Art and Activism
(an image of the book is below), a thorough, impressively even-handed look at the couple's philanthropic and cultural pursuits, and it contains two particularly great items that tell us a little bit more about what the de Menils and Newman were thinking.
First, a report from the
Houston Chronicle
, August 20, 1969:
"Arts patrons Mr. and Mrs. John de Menil today challenged City Council to tell them why a modern sculpture they propose to help the city acquire should not be dedicated to the memory of Martin Luther King, Jr.

"'We understand you want to know why we have asked for this dedication,' de Menil said in appearance before council.

"We cannot understand your objections and were deeply surprised when the proposed dedication was not approved."
Second, a complete reproduction of the August 26, 1969 letter from Newman to John and Dominique de Menil, in which Newman shared how he actually felt about the plan to memorialize MLK:
"When you honored your gift by dedicating it to the memory of Martin Luther King, you also honored my work by rescuing it from the Philistines, who would have destroyed it as a work of art and made is a political 'thing.'

"I am very moved by what you have done and I feel with you, I am sure, a very special sense of happiness. After all it is not every day that we can stand up to the Philistines and win."
Knowing all of that, the
Broken Obelisk
looks even more exciting and even more rock solid in its current home in MoMA's sculpture garden.
More: MoMA curator
Ann Temkin
has a
nice audio piece on MoMA's site
that discusses the work in the context of the political climate at the time that Newman was working on it.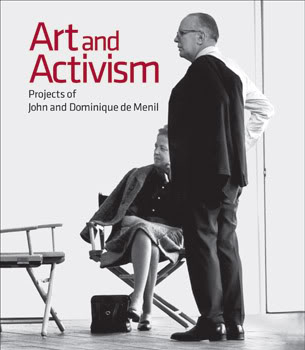 Art and Activism: Projects of John and Dominique de Menil, published by the Menil Collection
On an unrelated note: How great is this photo of John de Menil and
Andy Warhol
at the
Expo 67
in Montreal? It's on the back cover of
Art and Activism
, and
Wikipedia came through with it
.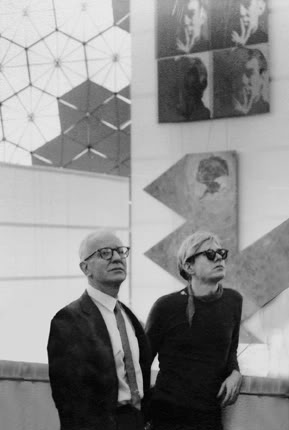 Unknown photographer