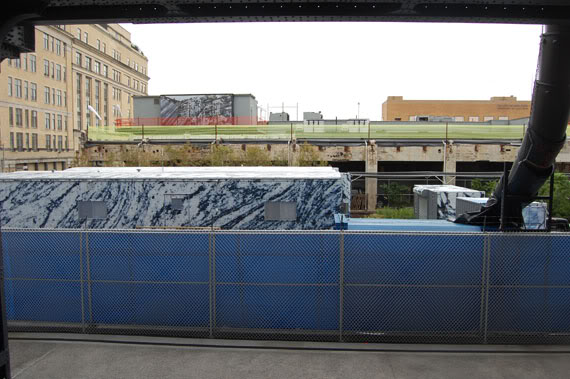 Tauba Auerbach, Quarry, 2010. On view at 820 Washington Street, New York, as part of Whitney on Site." Photos: 16 Miles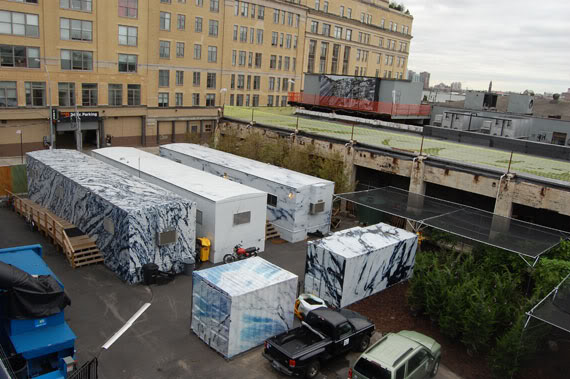 For an installation at the site of the
Whitney
's
future downtown branch
,
Tauba Auerbach
has wrapped trailers and storage sheds near the
High Line
with high-resolution photographs of marble, transforming those temporary structures into huge blocks of the precious material. It is another strong piece to set alongside the uniformly sumptuous, meticulously crafted works that have filled her oeuvre. (It also doubles as a low-budget riff on
Martin Creed
's
luxurious and ostentatious marble floor
at
Gavin Brown's enterprise
, which will
soon be installed as a staircase in Edinburgh, Scotland
.)
The shift from shed to block is not seamless: the ripples of the metal storage sheds are visible, and air-conditioners jut out from the trailers. Auerbach is not aiming for a perfect transformation. Her most fascinating work has to do with the gap between sight and knowledge, things as they appear and things as they actually are. By changing the spacing of dots in her Op art works she
gives the appearance that they have been damaged
. In her "Greater New York" pieces
she turns canvas into other textiles
, painting minute folds and creases.
Auerbach knows that close inspection will always reveal the artifice of her creations. While Op art aims to lead eyes into optical illusions, her art mimics that optical play and then alters it just slightly. The trick breaks down. That is a remarkable feat: finding new material in Op art, a movement that has long been thought of as an artistic dead end, and it has earned her spots in the 2010
Whitney Biennial
, the
New Museum
triennial, and
MoMA P.S.1
's "Greater New York."
Unsurprisingly, she has also been anointed as a possible art-market superstar. "I feel like it's a
LeBron James
announcement," art adviser
Lisa Schiff
told Bloomberg earlier this month
, speculating about the lucky dealer will represent Auerbach in New York, now that her former gallerist,
Jeffrey Deitch
, has left town. Her Whitney commission, which closes on Sunday, will do nothing to dull that excitement.