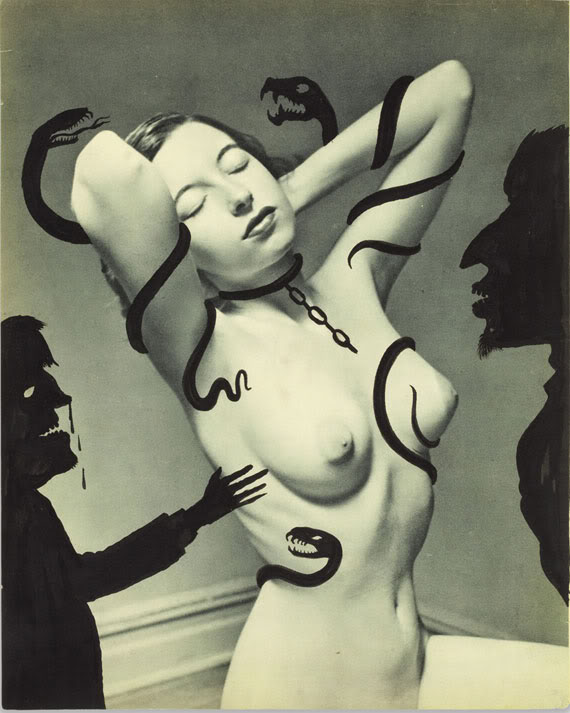 Dr. Lakra, Sin título / Untitled (Mujer encadenada), 2009. Natural black pigment on paper, 11 ½ x 9 ¼ in. Collection of Ignacio Perales. Photo: Institute of Contemporary Art, Boston
The
Institute of Contemporary Art
in Boston is currently hosting the first U.S. retrospective of the Mexico City–based artist
Dr. Lakra
, whose art tends to involve reworking vintage pin-ups and advertisements with the addition of intricate and sometimes grotesque material. In one drawing, he wraps the body of a posing beauty with two black, venomous snakes, and in another surrounds a nearly naked woman with
large, circling mosquitoes
.
Often, Lakra adds full-body tattoos to these models, using the skills he mastered in his original career as a tattoo artist. His real name is
Jerónimo López Ramírez
.
Lakra means
"delinquent," and Lacra means, fittingly, "scar." (He alternates between these pseudonyms when he signs his pieces.) It is brilliant work: ornate, unusual, and a few multiples more carefully crafted than it needs to be. It is also unashamedly, disturbingly pleasurable.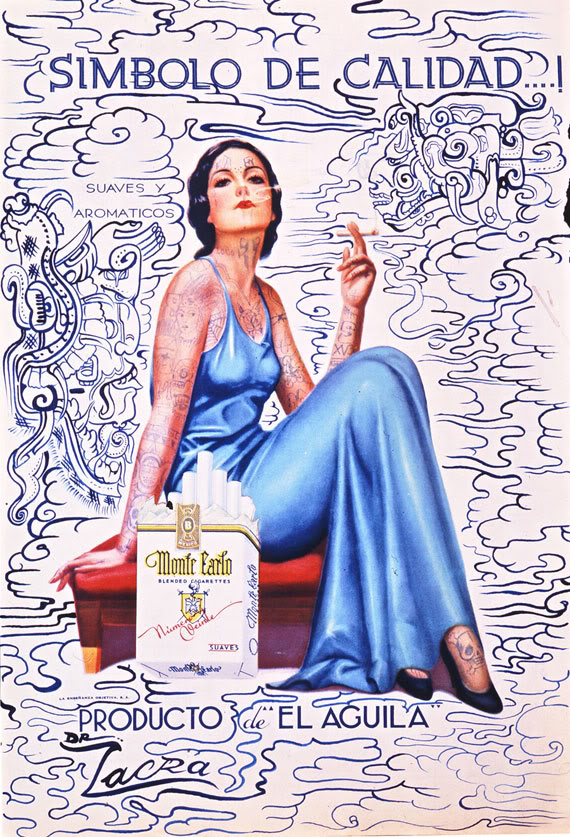 Sin título / Untitled (Simbolo de calidad), 2005. Ink on vintage magazine, 7 ¼ x 7 7/8 in. Collection David Teiger. Courtesy of kurimanzutto, Mexico City.
Richard Prince
's "Nurse" paintings, which have now been around for about a decade, provide a helpful point of comparison. Writing about those drippy, decadent works, curator
Mia Fineman
proposed that they were part of a trend
in which art was becoming "both less subversive and more seductive — a revelation of what happens when irony turns into its opposite." In Prince's paintings, "…the beauty of the work itself overrides the artist's irony…" she wrote.
Lakra's art works in a similar way. Handpicking the most immaculate models he can find, he seems intent on seducing the viewer. However, he is more engaged in the politics of visual culture than Prince. Lakra also adds bloody, sometimes even violent tattoos. There are skulls and crossbones on one cigarette model's foot, and two macabre men (one dripping blood from his nose) leering at the model, who poses for the viewer's gaze, seemingly unaware of the snakes around her body, the collar on her neck, and the voyeurs peering in. He is searching for the exact moment when beauty breaks down, pinpointing the level of degradation that has to occur for an image to lose its initial ability to please and titillate: to sell itself. In some images, it never does.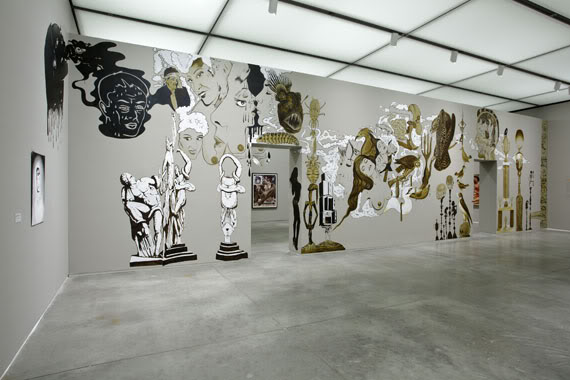 Sin título / Untitled, 2010. Ink and paint, both sides of wall, each: 13ft. 6in. x 49ft. 7in. Courtesy of the artist and kurimanzutto, Mexico City.
One wall in the ICA has been covered on both sides with new, site-specific pieces (a description that would seem to perfectly apply to tattoos, as well). Lakra's trademark subjects are visible: bare-breasted women, clouds of smoke, and skulls. But he has also drawn images of sculptures from various indigenous cultures — "tribal" art, to use a common but unsatisfactory term. They tower over visitors and bring to mind
MoMA
's much-lambasted 1984–1985 show "'Primitivism' in 20th Century Art: Affinity of the Tribal in the Modern," which juxtaposed works of art by
Picasso
,
Brancusi
,
Giacometti
, and others alongside objects from non-Western cultures.
Attacking that show, art historian
James Clifford
wrote that the museum had failed
to adequately convey the complicated histories of these non-Western pieces, merely setting them next to modern works and letting them take on meanings far estranged from what their makers intended. The move was ignorant at best, racist at worst. "The relations of power whereby one portion of humanity can select, value, and collect the pure products of others needs to be criticized and transformed," he wrote, calling — at the very least — for exhibitions that are "radically heterogeneous in their global mix of styles" and in which the "principles of inclusion are openly questionable," in which "nature remains 'unnatural.'"
Lakra's ICA exhibition approaches Clifford's criteria. Tossing symbols and representations from commercial advertising, Western art (note the marble statue at left, above), indigenous cultures, the tattoo subculture, and a variety of other sources, the artist frustrates any straightforward reading of his source materials. (Do these works function as critiques, tributes, or both? Regardless, I suspect you won't be able to stop looking.) The objects are not so much set aside each other (and made to conform to a single, definitive reading, as in MoMA's show), as they are radically intermixed and combined into a captivating, pleasurable haze of of sex, death, drugs, and formal iconography.
At the same time, there is an element of Prince's wanton approach to meaning: Lakra's work is, after all, avowedly ahistorical. At its root, though, it highlights the way in which any object of culture is fetishized and celebrated as it moves through various contexts, whether it be a Maori tattoo viewed in its native culture or a Maori sculpture gazed at in a Western museum.