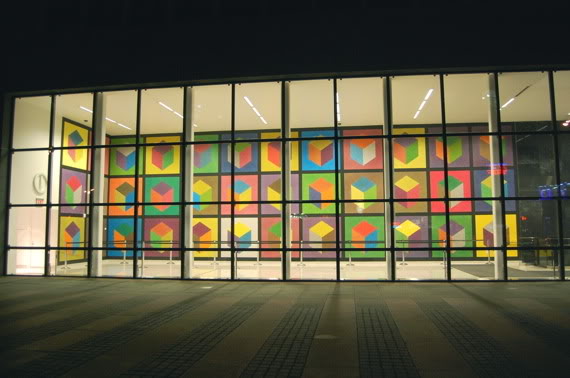 Sol LeWitt, Wall Drawing #746, 1990s. Acrylic on prepared wall, 71 ft. 6 in. x 19 ft. in current installation. Photos: 16 Miles [more]
Walking down Broadway to a friend's Wall Street apartment last night,
I happened to pass the Jacob K. Javits Federal Building, once home to Richard Serra's
Tilted Arc
(1979-81). The plaza behind the building's Broadway entrance, where the sculpture sat until it was
removed and destroyed in 1989
, has been filled with benches, but the U.S. General Services Administration (GSA) installed a large LeWitt wall drawing last year in its lobby. (For the record, I guessed at the date of the work:
SFMOMA has a "working drawing"
for
Wall Drawing #746
, which is dated 1999, though works numbered in the 700s seem to have been made around 1993-94,
based on MASS MoCA's site
. I'll update this when PaceWildenstein is open.)
While searching around, I learned about the fabulously comprehensive OnBid, which tracks open fulfillment contracts around the word. The
proposal to create the LeWitt drawing was posted there on April 8, 2009
. In it, the GSA explains that it is "considering the award of a sole source contract [otherwise known as a no-bid contract] to The Estate of Sol LeWitt." It says:
"The Estate's authorized painting crew is the only team approved by the Estate to create the work because they have a unique ability to create the work that is not possessed by any other source."
That's certainly not a bad deal for LeWitt's estate. Is that the case with every public LeWitt project? Could a renegade team of skilled draftsmen and -women file a bid and try to undercut the estate's "authorized painting crew" on the project? It sounds like that's not an option.
On a related note, I heartily recommend the GSA publication
"Art in Architecture: Selected Artworks 1997 to 2008."
It contains an informative essay on the program, which was started by President Kennedy in 1963, and gorgeous photos of works commissioned from artists such as Ed Ruscha, Ellsworth Kelly, and Maya Lin. Best of all, it appears that you can request a copy for free, since it is a government publication. I just requested a copy via e-mail. We'll see.