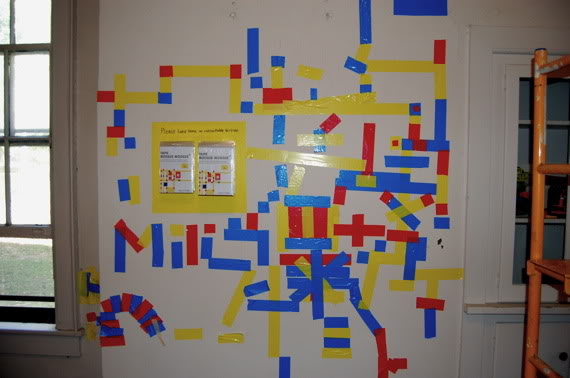 Platform21,

Tape

Sample installation of

Tape

Boogie Woogie

, 2009. Photo: 16 Miles [more photographs]
Piet Mondrian's
Broadway Boogie Woogie
(1942-43) is
ensconced within the walls of the Museum of Modern Art
in New York, but Dutch design collection Platform 21 is now offering you directions for making your own out of three rolls of tape. The group showed off their work as part of a design exhibition entitled
"Pioneers of Change"
that the Kingdom of the Netherlands organized the past two weekends on Governors Island. It's all part of the Dutch governments
NY400
, celebrating Henry Hudson's visit to New York Harbor in 1609. Interesting fact: The Dutch prefer to the artist's name with a double "a" at the end.
More information, photographs, and self-promotional material about the event
are available
., which included an Atelier Van Lieshout piece, a pop-up Dutch design store, and a very, very (intentionally) slow restaurant.