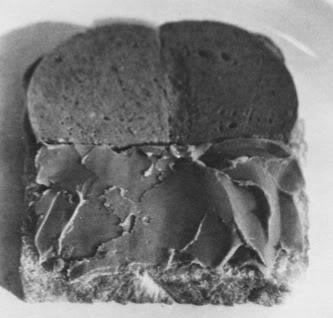 Mark Rothko,
Brown and Gray Sandwich
, 1963. Liverwurst and peanut butter on white bread, with crusts removed.
I spent most of yesterday coveting each of the delicious,
artist-themed burgers served up at
The Laundromat
over the weekend.
C-Monster
and
Winglike
have wonderful coverage. The Robert Smithson burger was shaped in a spiral (and featured pickles embedded in the bun), the giant Rachel Harrison burger was an awkward assemblage of burger staples (and a plastic army figure), and the Jeff Koons looked like a Jeff Koons.
It reminded me of one of my all-time favorite pieces ever published in the staid journal of art history
October
back in 1981 called
"The Sandwiches of the Artists."
Part of the
Art World Follies
issue that included Douglas Crimp's infamous "The End of Painting" and Rosalind Krauss's seminal attack on biographically-grounded art history, "In the Name of Picasso", the piece, by curator and canon
E. A. Carmean Jr.
, was a work of rigorous, joyous frivolity, featuring sandwiches in tribute to the century's great modernists, prefiguring this weekend's cookout almost three decades in advance.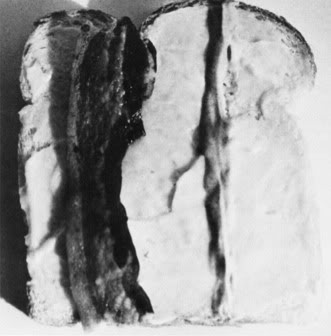 Barnett Newman,
Sandwich 9
, 1964-1965. Bacon and mustard on white bread.
In Carmean's detailed research on the eating habits of the artists, we learn that Gorky initially ate sandwiches like Picasso and Cézanne before coming under the influence of de Kooning and Miró, who introduced him to the pastry tube and thin spreads of condiments. Still, he was a traditionalist at heart, Carmean emphasizes. "Gorky continued to create his lunches in the nineteenth century fashion, by first making small cracker versions..."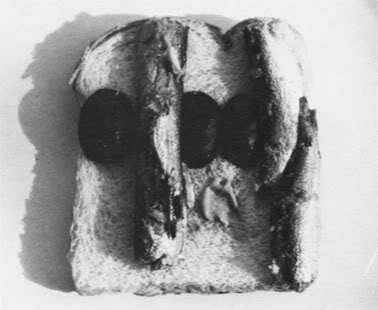 Robert Motherwell,
The Anchovies for the Spanish Olives, No. 78 (Moutarde)
, 1957. Anchovies and olives on mayonnaise, with mustard, on bread.
There's no free online version, unfortunately, but I've posted four of Carmean's most delightful creations. (You can access the
full version through the redoubtable JSTOR
.) There're also sandwiches by de Kooning and David Smith, alongside photos of Motherwell enjoying lunch, Gorky and Breton brandishing bagged lunches and truffle forks on a picnic, and Rothko fretting on the telephone over the cost of liverwurst.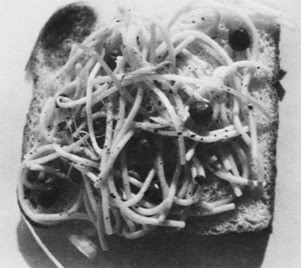 Jackson Pollock,
Sandwich No. 20 (Almond Ribbons)
, 1950. Pasta and vegetables on bread.
"Between 1940-1945 Pollock began to stack this meat, inspired by Picasso's Jambon quiches of the surrealist period. ... Breaking with previous traditions [in 1950], he created the meatless meal on bread; 'I am a garden,' he once said to Hans Hoffman."