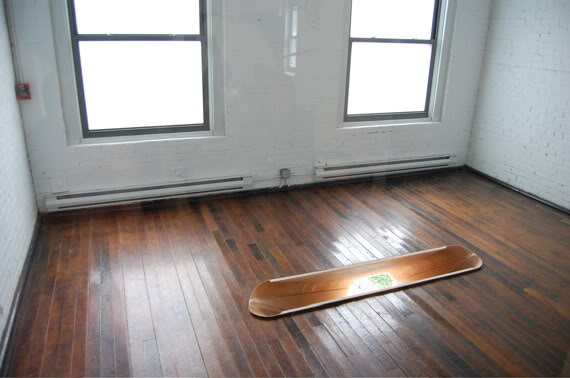 Sarah Oppenheimer,
610-3356
[installation views from fourth floor], 2008.
Photos: 16 Miles
[more]
A locked, glass door sits to your right when you emerge from the elevator
on the fourth floor of Pittsburgh's incomparable Mattress Factory. Peering through the glass, you can just discern the outline of
Sarah Oppenheimer's
610-3356
. When I first saw the piece on Tyler Green's
Modern Art Notes
(
Part 1
,
Part 2
), it seemed completely unreal. I could barely process that the hole in the floor was providing a window view of Pittsburgh's North Side.
Oppenheimer's masterpiece bores through the fourth floor of Mattress Factory and, using plywood, frames a view of the local community through one of its third floor windows. A very helpful gallery attendant unlocked the door for us and let us see the work up close. It's elegant and arresting, taking a Gordon Matta-Clark-esque cut and filling it with clean, crisp architecture.
Mattress Factory is best known for its Yayoi Kusama mirror rooms (which are both freer and quirkier, though a bit more dated, than
the one at Gagosian
this year) and James Turrell light pieces, all strong works that transform galleries to create completely-encompassing simulations.
610-3356
, composed of a careful cut in the floor, some plywood, and a view out of an open window, provides a perfect counterbalance to these complex constructions. It has the potential to be an institution-defining installation. Unfortunately, it won't last forever. Leftover from Mattress Factory's
Inner and Outer Space
show, which closed at the beginning of this year, it is scheduled to come down at the end of the year. While we were told that it may stay up a bit longer, the wood is deteriorating and the museum eventually plans to remove it. See it now.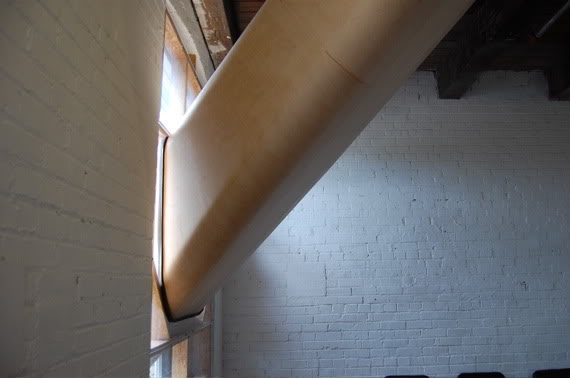 View from the third floor, off to the side.
Through December 31, 2009
500 Sampsonia Way
Pittsburgh, Pennsylvania