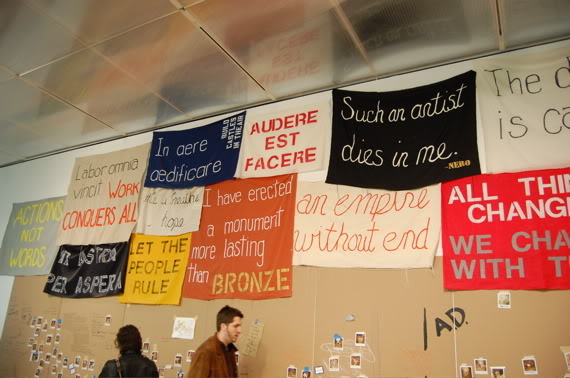 Writer, curator, and
MacArthur Genius Award Winner
Dave Hickey
has a reissue of his collection of essays
The Invisible Dragon
out right now, which comes coupled with a new piece entitled "American Beauty," based on
this essay
.  It veers around from Robert Mapplethorpe to Caravaggio to Shakespeare: a pretty great time, especially when he's angry.  He's equally entertaining when speaking publicly.  Here are five choice examples:
April 27, 2009, on KNPR, featuring Libby Lumpkin
"I really thought that Libby and I could contribute something to the culture here, and we have not managed to do that, so I apologize."  
"This is a really great moment for anyone who is twenty-five or under.  I would want to go to the beach and sit up all night with some guy playing the trombone, and some rich guy's wife...  My rule is Leo Castelli's rule.  You can't be right all the time, but you can never be wrong... Leo's idea of being wrong was to sell something for too much money."
September 24, 2007, on KNPR, via Las Vegas Art Museum
"All of this can fall down.  I've seen it fall down before... I think there will ultimately come a divergence between the public art world, which is mostly devoted to being fair, and the private air world, which is mostly devoted to things that are good."
"Good art is really expensive.  Good art we can look at for a long time.  Good art we can look at forever.  Good art we know we will never understand."
"If you have something that people recognize as beautiful and new, you have an object that represents desires that have not yet been embodied...  I don't think this should be handed off to the administration of curators and professors.  My job is to help what I like survive and make what I don't like go away.  In other words, my job is to win."