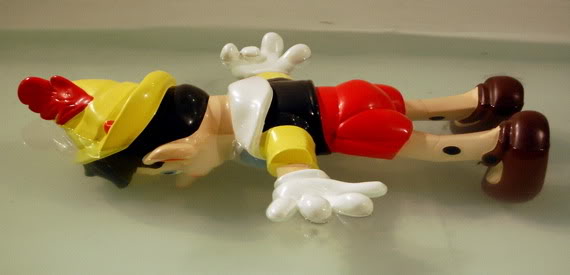 Maurizio Cattelan,

Daddy Daddy

, 2008 at the Solomon R. Guggenheim Museum.
"I don't like to sell paintings to museums because then I can't get them back."
Brandeis University's
Rose Art Museum
(RAM) was founded in 1961.
 This summer it will cease to exist.  The university announced today that they would be closing the museum and selling off the 8,000 pieces in its permanent collection to help close what is reported to be a $10 million budget deficit.  
University President Jehuda Reinharz
shared his peculiar logic
with the 
Globe
:
"This is not a happy day.... The Rose is a jewel. But for the most part it's a hidden jewel.  It does not have great foot traffic and most of the great works we have, we are just not able to exhibit."
Public attention is a questionable measure of value for any cultural institution devoted to education and preservation, but it seems particularly bizarre when judging a university art museum.  Also, even accepting that line of argument, I find it hard to believe that the Rose Art Museum receives less "foot traffic" than many other departments at Brandeis.  
You might think that a university that owned works by de Kooning, Johns, Hofmann, Lichtenstein, Warhol, Goldin, Judd, Serra, and Sherman, among numerous others, would want to highlight and embrace that collection.  Instead, Reinharz and the trustees decided to do exactly the opposite, reasoning that closing the museum was actually a sound academic decision in a letter to the Brandeis community: "[O]ur response to the crisis is to focus and sustain our core academic mission."

Exchanging its art collection for cash, Brandeis should easily get the money it needs.  (As Paddy Johnson
points out
, the gap could probably be closed by one of a few works in the collection.)  In doing so, it will liquidate nearly half a century of public trust.  Suddenly it's hard to get too excited about the 
National Academy controversy
.