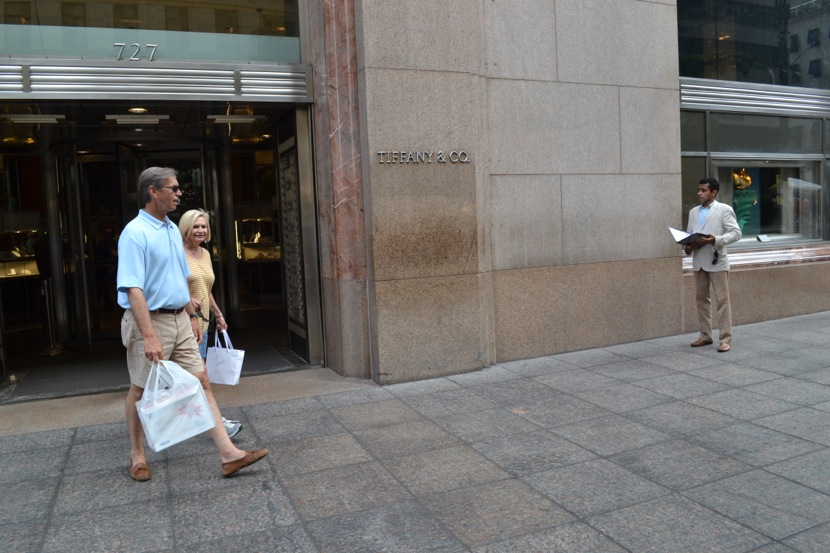 Performance view of Edgardo Aragón, La Encomienda, June 23, 2013, outside Tiffany & Company, New York
.
On June 23, at 4 p.m., a young man walked in front of Tiffany & Co., at 57th Street and Fifth Avenue, and started singing. A performance by the young Mexican artist Edgardo Aragón had begun. The musician, hired by Aragón, was dressed discreetly, in khaki pants and a blazer a slightly lighter shade of khaki, the sort of outfit that many of the men walking out of Tiffany with robin egg blue bags were wearing.
Peering down occasionally at sheet music in a binder, he sang a composition made of mining-protest songs from Mexico. Almost no one noticed him. A very small group of art types watched from down the block, apparently alerted by announcements from Aragón's New York dealer,
Laurel Gitlen
(his solo show there closed that evening, and this was the second of two planned performances outside the store he organized during its run), but otherwise he was pretty much ignored. Scores of tourists strolled past him. A doorman from the nearby Trump Tower walked by, smoking a cigarette. A gentleman standing next to me—one of the few clued in to the performance—leaned on the wire stand of a vendor selling various comic-book knickknacks and souvenirs (visible at the start of the video below), and even after the vendor asked him pretty nicely to stop, that he was afraid his merchandise would get knocked off his stand, he refused to stop leaning, and they started bickering at each other. The man told the seller not to interrupt him, that he was watching the performance. After asking the man to move quite a few times, the vendor called him a "fucking faggot," and threatened to beat him up. Eventually the guy moved away from the stand. All the while the singer kept going, pretty much completely ignored except by the occasional curious look from a passerby, or someone posing for a portrait next to the store's sign.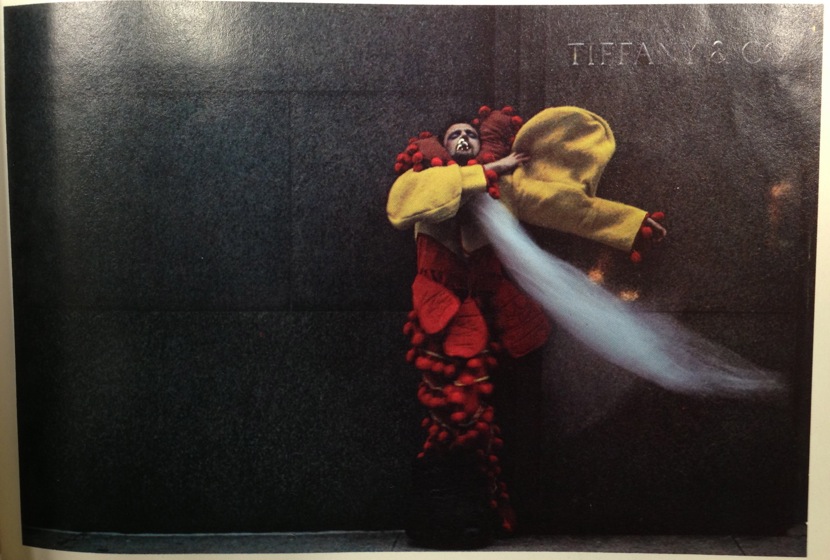 Stephen Varble in front of Tiffany & Co., 1977. Photo by David Mayer, Art in America, July/August 1977, p. 63.
That sign seemed oddly familiar, but it took me a few days to figure out why it was stuck in my head. Looking through old photos—big thanks to
the Flickr map tool
—I came across an image of Stephen Varble in almost the exact same spot in 1977 that I had come across in an old
Art in America
. Varble was so inventive, outrageous and generally out-there that if you wrote him into a novel, people would roll their eyes. You could call him a performance artist, though that would be far too constraining an identification. In the mid-1970s, he gave tours of Soho galleries dressed in various outré outfits, many composed of garbage, and gave various self-degrading performances. (One involved playing around in a swimming pool at a party while being sprayed with yellow water from a penis-shaped shower nozzle as he asked people to urinate on him. Think of him as a one-man proto-Gelitin.)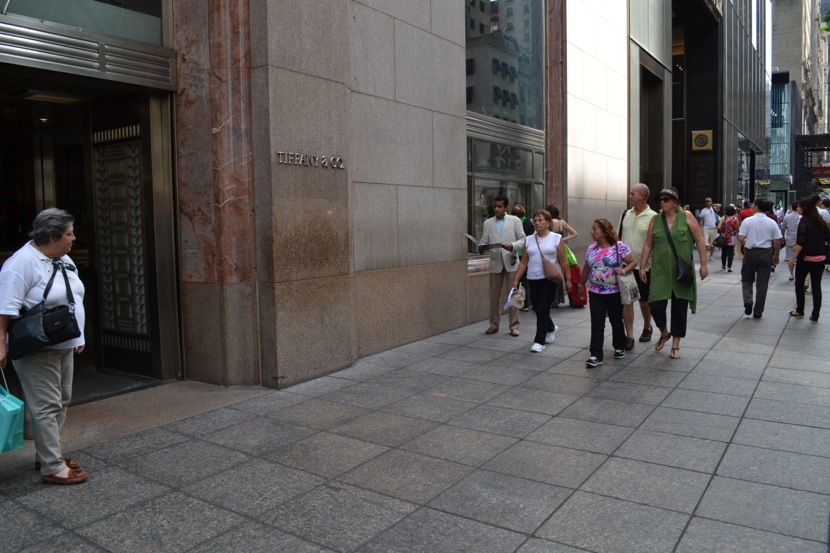 After spending a few years doing performances throughout downtown Manhattan, according to Hayden Herrera, in her excellent "Manhattan Seven" piece in the July/August 1977 in
Art in America
, he moved uptown and found two wealthy patrons. (He showed up to one performance, which involved washing ink-splattered dishes in a gutter outside a gallery, in a silver Rolls Royce that he had borrowed.)
In 1977, he started visiting Tiffany in costume, and on the second stop there was banned from the store. "On his third sally he wore his elephant costume," Herrera says, "but barely got his elephant-foot in the door." (Her report is the best—and only account—I've been able to find of the incident, and is also the most in-depth profile of Varble that I'm aware of. It also includes some quotations from him about his practice and American life that are just absolutely epic—like, "I am as shameless as nature"—but I'll save those for another time. Herrera's piece is also the source of information for the other performances I've mentioned.)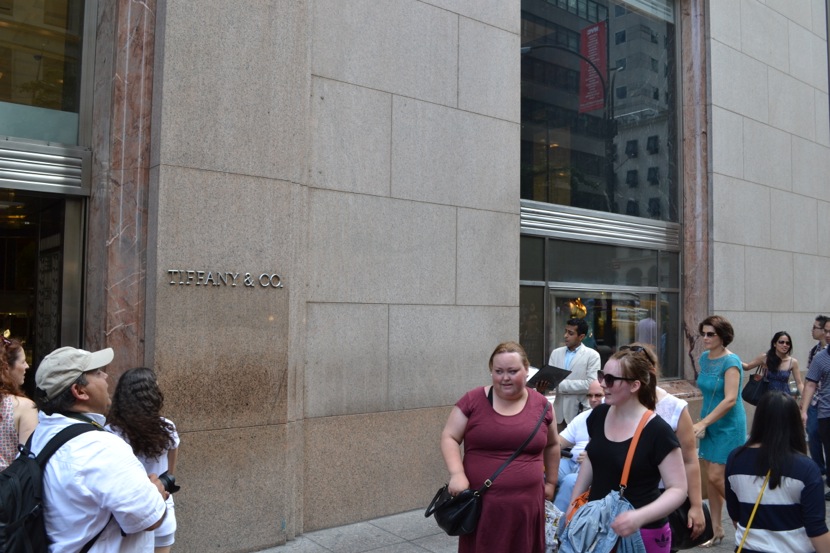 "I adore Tiffany's," Varble told Herrera. "It institutionalizes the horror I hate the most. It's really a five-and-dime." Guards reportedly met him at the door the third time he tried to visit. He continues, "They kept me in the revolving door and I just kept revolving. The elephant hoof made a noise like a sledge hammer. Finally I went and stood outside the door and did my dance." I would love to be able to see a video of that dance, but I haven't heard of one. We can get at least a hint of it from David Mayer's photo, above.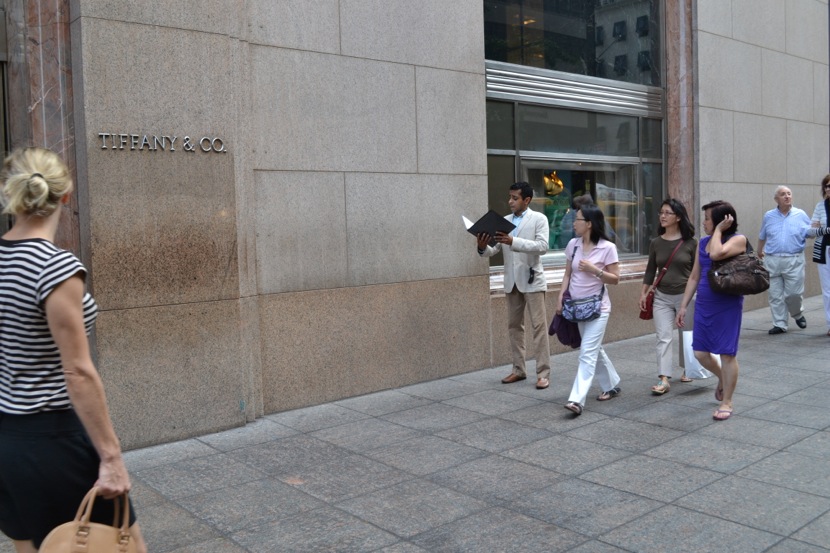 Varble, who died of AIDS in 1985, and Aragón, in numerous ways, offer intensely different, almost absolutely opposite, approaches to the famed jeweler. Varble's the outrageous, costumed extrovert, throwing himself into the belly of the beast, humorously and abjectly begging for the attention of the crowd, and the authorities. Aragón, in contrast, handed off duties to a trained professional, who was completely nondescript, in the midst of the crowd (though not part of it), ready to regal you if you paid attention, but content to do his own thing, to voice protests songs to no one but himself and the silent building, so that they ultimately become songs of mourning—memorials to failed political intentions. The tone of the performance was far removed from Varble's, but it was, in its own way, just as abject.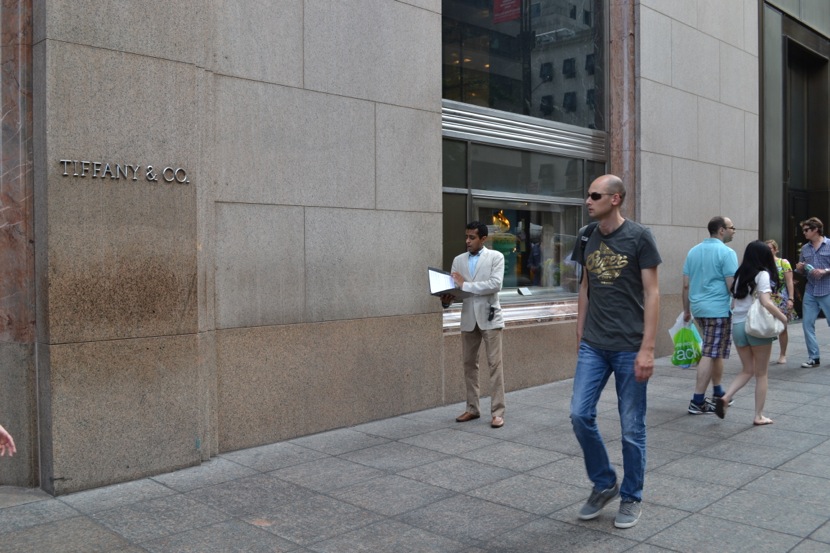 He sang forcefully, almost without hesitation, and with good posture, enunciating and projecting, letting his voice travel. But he was still apparently so easy to ignore that, as I watched, holding my camera and filming a bit of the performance from the edge of the sidewalk, a woman came up and asked me to snap her and her friends in front of the Tiffany sign, as if nothing of note was going on around them. Who could refuse? They posed in front of the sign, smiling as the man sang just a few feet away.
Eventually he closed his binder and walked briskly up Fifth Avenue, disappearing into the crowd.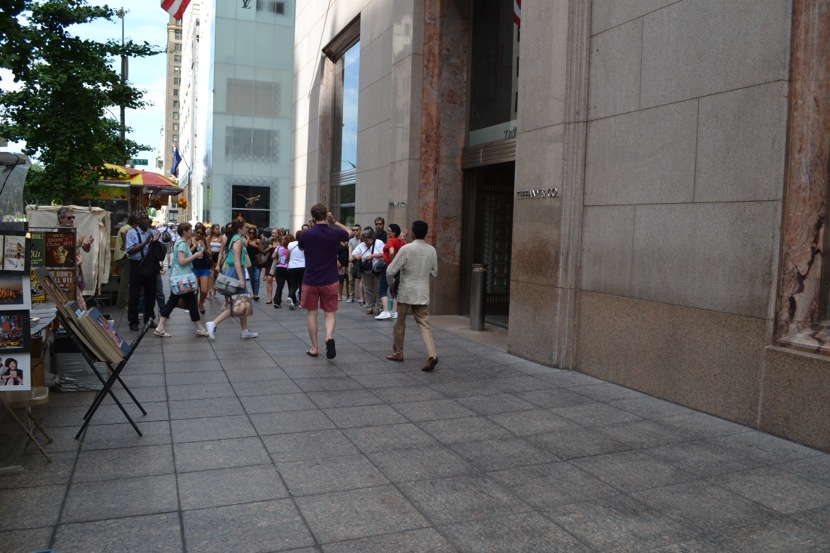 Update: An earlier version of this post incorrectly stated that the performer was Aragón. In fact, the singer was a musician hired by the artist. The post has been changed to reflect this.