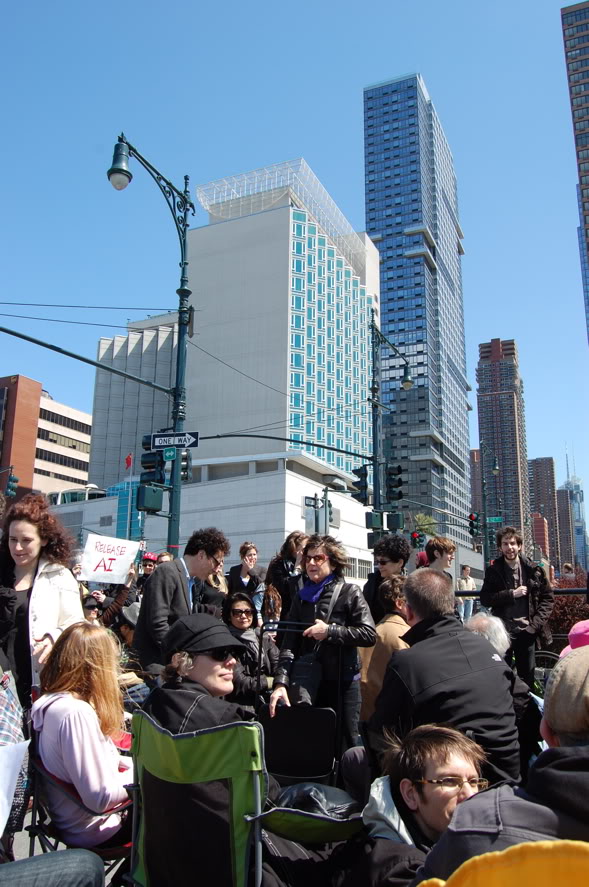 1001 Chairs for Ai Weiwei

, April 17, 2011, 1 pm, organized by Creative Time, outside the Consulate-General of the People's Republic of China to the United Nations, 42nd Street and the West Side Highway. Photos: 16 Miles [more]
Most of the few hundred people who gathered to protest the arrest of
Ai Weiwei
were sitting in chairs outside of China's UN consulate by 1 pm this afternoon, the official start of the action. They were there for
1001 Chairs for Ai Weiwei
, an event suggested by curator
Steven Holmes
as a tribute of sorts to Ai's installation
Fairytale: 1001 Qing Dynasty Wooden Chairs
, which featured just that number of wooden chairs and was staged in 2007 at
Documenta 12

.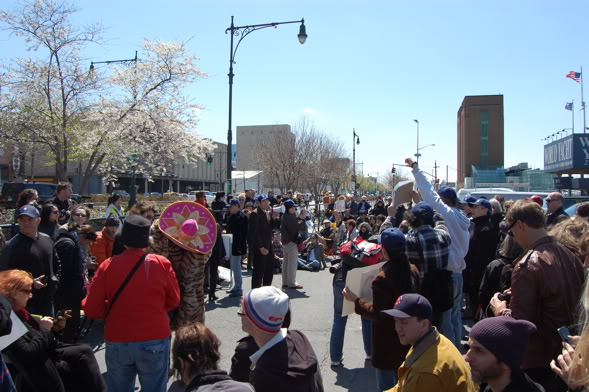 Reports had come in throughout the morning of successful protests elsewhere in the world, including in
Berlin
,
Hong Kong
, and
London
. (As New Yorkers gathered,
Greg Allen
was on the scene in Washington, D.C.
, at the Chinese Embassy.) The local nonprofit
Creative Time
— whose director,
Anne Pasternak
, had sparked Holmes' idea while soliciting responses on Facebook — took the helm of the protests in New York, assembling a fairly sizable turnout given the short notice. (The official announcement went out only four days ago.)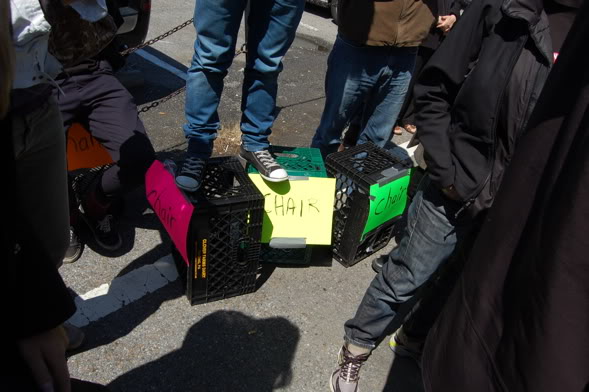 One group offered an unusual twist on

Joseph Kosuth

's

One and Three Chairs

(1965).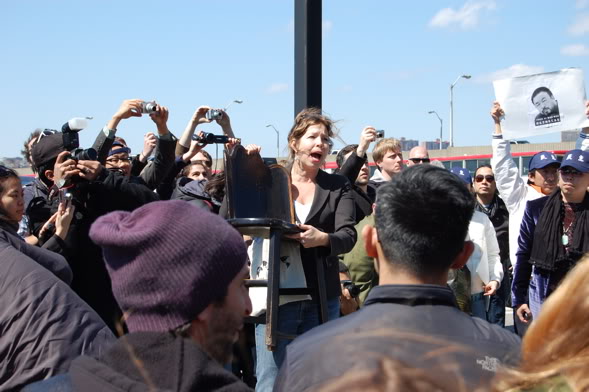 Those accustomed to seeing Falun Gong protesters assembled directly on 42nd Street, across from the consulate may have been surprised to find that the protest had actually been situated across the West Side Highway because of the size of the expected crowd. The consulate was located diagonally across street, making photo-ops of the masses and their chairs somewhat tricky. Some people marched, trying to win attention from passersby, while others sat comfortably in their chairs, reading books, playings with their phones, and speaking with — and making — friends.
After negotiating with the police, Pasternak led everyone with chairs just a few feet north, almost directly across the highway from the consulate. She held a black chair that had actually been used by Ai. "Leave it to
Alanna Heiss
to have a chair by Ai Weiwei," Pasternak said, holding it aloft, referring to the
P.S.1
founder who had supplied it. She placed it down in the front of the seated crowd, letting more than a dozen photographers get to work.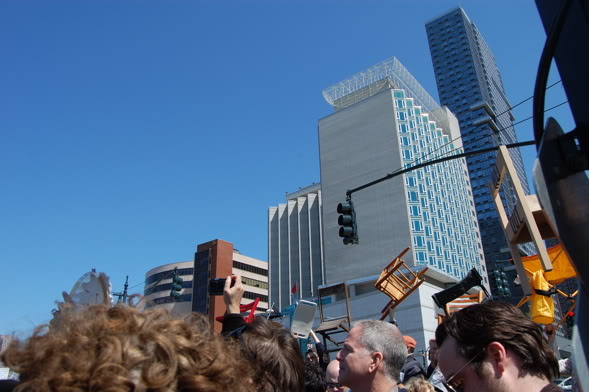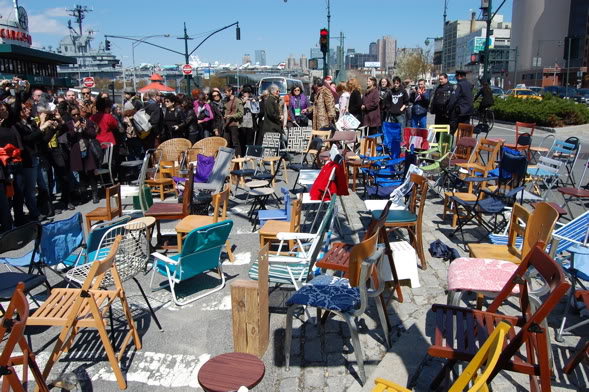 Then, at the suggestion of a man among the protesters, the crowd stood up, leaving their empty chairs,
a partial, temporary re-creation of Ai's

Documenta

piece
.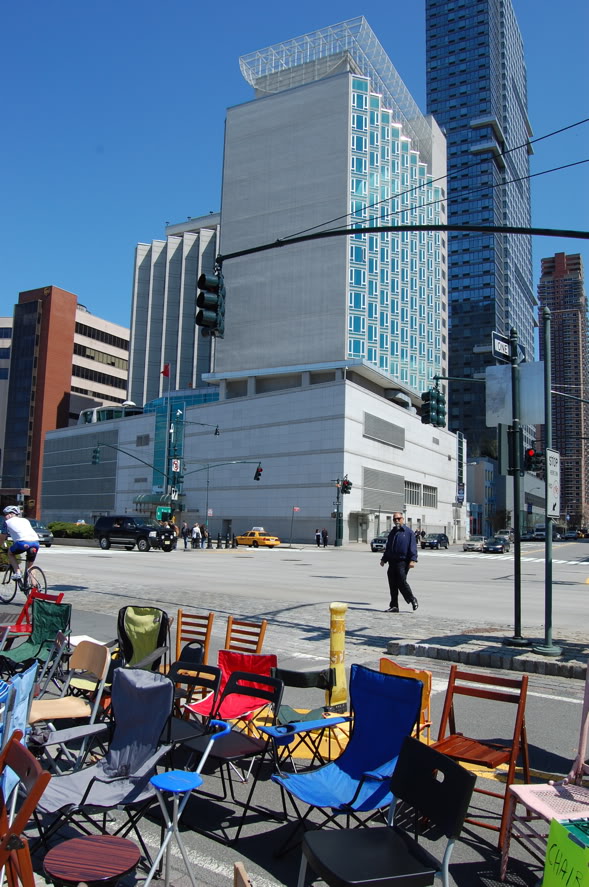 A few hundred people in New York are, of course, not going to free Ai, but the mood seemed cautiously optimistic. Still, in a city with thousands of artists, curators, and people working in various ways in the arts, one person wondered aloud, why weren't there thousands of people out today? And will this momentary action actually amount to anything?
There were long walks to the subway and long bike rides ahead for many in the crowd. People picked up there chairs and started off, discussing what had just happened. Not far from my home, I was passed on my bicycle by a gentleman, pictured below, who had smartly perched his small seat on the back of his bike, a visible reminder that each chair from today's protest is safely on its way back home right now.